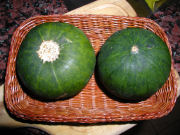 Buenos Aires – Face it, you're stuck learning Spanish vocabulary with me. The Zapallito Redondo is a "summer squash", i.e., zucchini, but in globe shape. It's native to the southern part of South America. You can find "regular" zucchini, but they're not near as common. The redondo is a bit more dense and a touch sweeter. When cut open, as you can see, it has a fascinating shamrock pattern to the flesh and seeds.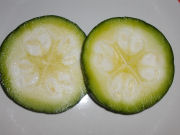 The Zapallito Redondo can be used pretty much in any way that other zucchini or summer squashes can. One of the simplest recipes is Milanesas de Zapallito. Milanesas are very common in Argentinian cuisines – most meats, even fish, are commonly made this way. It's based on a classic Italian milanese, essentially lightly breaded and pan-fried. It differs somewhat in that it's typically served nude, i.e., with no sauces or condiments. Also, like much of the food here, they tend to be cooked until it's difficult to tell that the meat was once part of a living organism.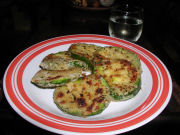 My take on Milanesas de Zapallito is quite easy to prepare. Slice the squash into rounds roughly 1/4″ thick. Beat an egg or two in a bowl. Mix plain bread crumbs with salt, white pepper, and what is locally called provensal, which is a readily available and very commonly used (here) blend of dried garlic and parsley. Dip the rounds into the egg, then into the crumbs. Sauté in a blend of olive oil and butter. Drain and eat while hot!
Opened up a bottle of Viñas de Balbo Torrontés, no vintage listed on the bottle. Dry, crisp, with flavors of fresh pears, light citrus, and a touch of wildflowers. I'm assuming that Viñas de Balbo is related in some manner to the famous Susana Balbo wines, though I've been unable to access their website. Torrontés, by the way, is a white grape that has become "the" white grape of Argentina. A small amount is also grown in Chile, but its origins are, like many wine grapes, in Europe. In particular, Torrontés was one of the original Madeira grapes, though most of the plantings were lost in a volcano explosion many moons ago.