Actually, I'm not a poet, so no ode. But, I do love a good sandwich, and as many of you know, I've spent quite a bit of time out searching for the best of the best here in Buenos Aires. And I've found some delicious sandwiches. But. Even the best of them have been, let's say, a bit short in the creativity department. What I'd really love to find is someone taking much more unusual ingredients and making them into a sandwich, something, well, "different". Something more elaborate. The most elaborate sandwiches here tend to simply be chivitos uruguayos, which are, in the end, a steak sandwich with lots of fixin's, and they can certainly be delicious, but they still come down to pretty basic toppings like ham, cheese, lettuce, tomato, etc. And besides, it's really an Uruguayan sandwich, not an Argentine one.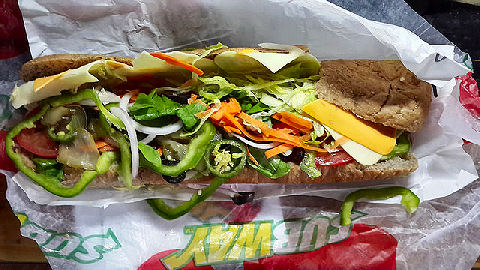 It's kind of telling when the most elaborate toppings I can find (and it's still just a selection of different vegetables and dressings, are on a sandwich from Subway.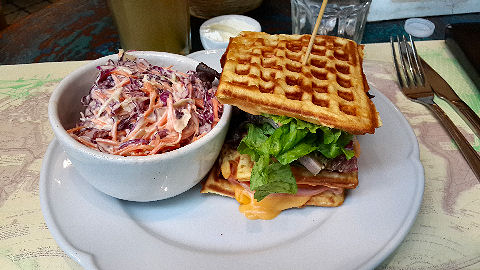 Now, we're headed into the right territory at Pani, where they offer up a "waffle club". I'm not sure there's much about it that qualifies as a club sandwich – which traditionally is either turkey or chicken based. This is a roasted pork loin sandwich with egg, bacon, cheddar, caramelized onion, avocado, mixed greens, and tomato. I have to say that it's better than I expected a waffle based sandwich to be, and I applaud them for doing something a little outside the box, but at the same time, I'm not overly fond of Pani's adamant "no substitutions" policy when it comes to bread – I'd love this sandwich far more on something like rye or a good whole grain bread. I'm also not overly fond of the 126 peso price for a sandwich, reasonably creative or not.
So, I'm hoping to find more sandwiches that get more creative, and on my side, I'm going to start playing with more in the kitchen and posting the results. Some will, hopefully, be a bit more off the reservation, while some will probably just be minor twists on personal favorites. Here's a selection of ones already played with, more to come. I have a list of ideas from an idea to open a sandwich shop that I toyed with a couple of years ago, and why not experiment with them a bit more. Maybe I'll even open that shop?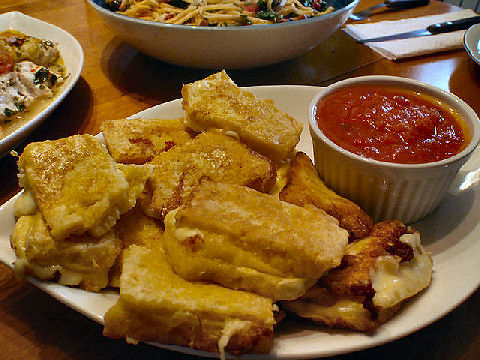 When it comes down to it, mozzarella en carozza is a grilled cheese sandwich, but oh what a grilled cheese sandwich, packed with gooey mozzarella, the whole thing dipped in egg and griddled like french toast. And served up with a mildly spicy tomato dipping sauce.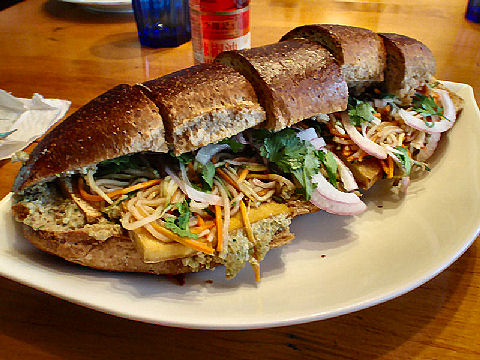 Who doesn't like a banh mi sandwich – and it's something that BA could definitely use. A few years ago I was challenged to come up with a vegan version, and did, with fried, smoked tofu and a mushroom-pistachio pate filling in for the roasted pork and liver pate. In fact, that could pretty much be the star vegetarian sandwich on the shop's menu.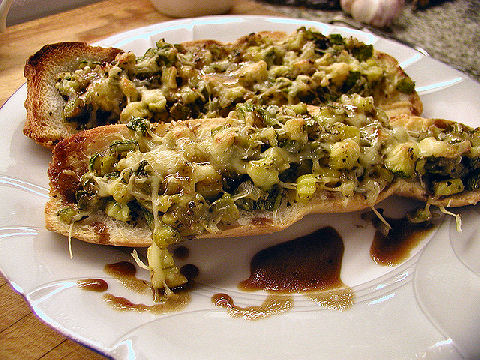 Staying vegetarian for a moment, perhaps a broiled zucchini and parmesan sandwich with balsamic vinaigrette? Not really that out there, but just something a little different.
Smoked salmon sandwiches here tend to be wimpy – a single slice or perhaps two of smoked salmon, some faux cream cheese, not much else. Here, on a brioche bun, a whopping half pound of smoked salmon, homemade cream cheese, kimchi, red onions, fresh tomato. Love what the kimchi brings to the sandwich.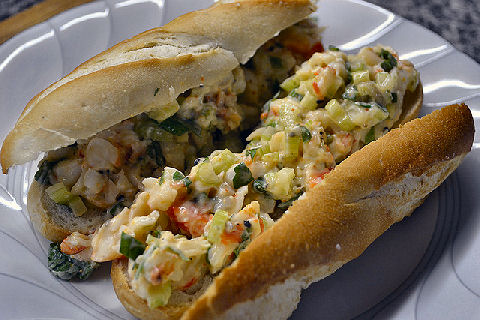 A bit basic by norteamericano sandwiches, but I can't imagine that locals wouldn't love a juicy, packed shrimp salad sandwich – fresh shrimp, celery, spices and mayo. I don't think anyone here is offering up any kind of shellfish sandwich. I wouldn't mind a great egg salad sandwich either.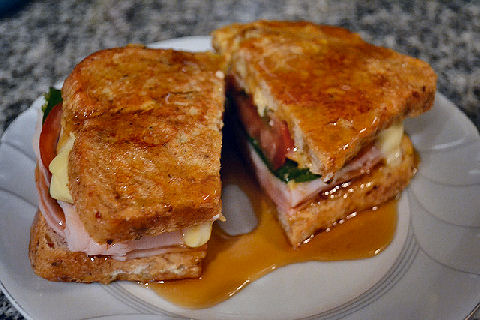 What's not to love about a Montecristo? Smoked turkey, ham, swiss cheese, tomato, spinach, spicy mustard, and once again dipped in egg and griddled, and the whole thing served with maple syrup. Don't knock it until you've tried it. Hmmm… reminds me of another sandwich from childhood that sounds bizarre but really works, a BLT with mayo on one slice of bread and peanut butter on the other.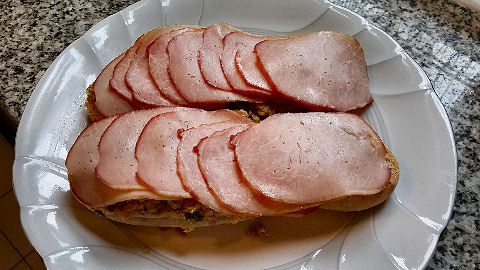 Black olive bread, roasted pork loin, Moroccan cauliflower spread – part of my testing out of my new Nomiku sous vide circulator.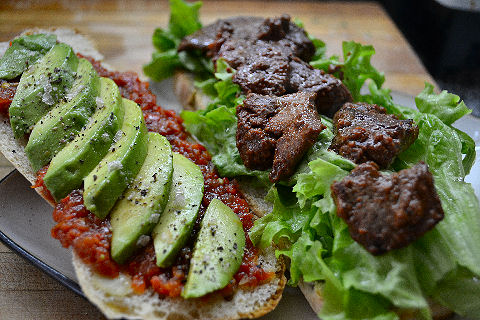 Henry had his birthday party this last weekend and the star of the food, I think, was the anticuchos de corazon – spicy marinated beef heart, grilled up to smoky perfection. We had some leftover and I thought a nice little sandwich on olive bread with matbucha (Israeli charred pepper, tomato, garlic and chili paste), greens, avocado, freshly cracked black pepper, and smoked sea salt, would work. Oh boy did it. Now that's the kind of sandwich I'm looking for.
And that's where I leave off for the moment, but I'm pulling out the list now and perhaps we'll have a "sandwich of the week" feature coming up shortly.