It had to happen sooner or later, the one thing that we get asked about regularly – "Aren't you afraid that someone will steal from you?" We never have been, not really. But, it happened. I had a little display of a few Chinese ritual jade pieces that I've collected over the years and, sometime over the last week, during one of the dinners, someone lifted one of them (and my favorite one too). Can't say that that bucks up my faith in human nature, you know? Really? You're invited into someone's home and you steal from them? Should whomever you are happen to read this, send it back, no questions asked, show yourself to be some level of upstanding human being. Needless to say, despite the fact that we've gone over nine years without any previous incidents, we feel a bit violated and we've decided to remove any of the more valuable things from our display of collectibles, at least while dinner guests are here. A shame that, but it's how we're feeling right now.
So last week was "Peruvian Week in Buenos Aires". I'm not sure who or what organization invented it, but there were very few Peruvian restaurants participating in it, mostly of the new, modern, fusion style places, "Nikkei" cooking. While we weren't invited to participate in anything organized, it seemed like a good week to focus more closely on some of our Peruvian favorites, and some new ideas.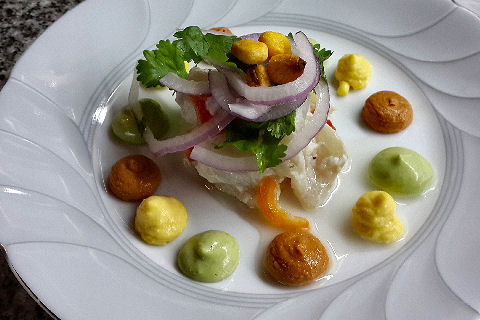 Started off with our take on a classic ceviche – lenguado, sole, cured in lime and lemon juices, ginger, garlic, celery, salt and white pepper; topped with a salad of red onion, cilantro and fried corn kernels; accompanied by our trio of sauces – spicy guacamole, corn butter, and a puree of toasted cashews, tomato paste and chipotle chili.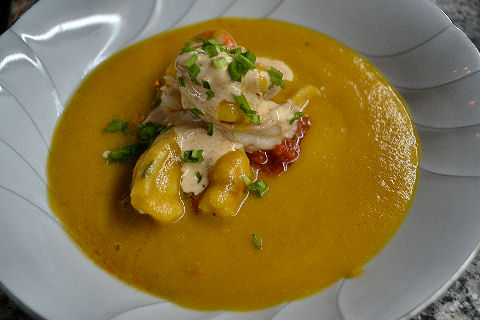 Revisiting and completely reworking our concentrado de langostinos – a more bisque style broth made with a blend of shrimp stock (quick simmering of shells in salted water, then strained), onion, red bell pepper, tomato paste, celery, carrot, hot paprika, cider, thickened with a little potato starch, pureed and strained. A scoop of matbucha, which I mentioned in yesterday's post, a paste of charred bell pepper, tomato, garlic and chili in olive oil; prawns sauteed in olive oil with smoked paprika; topped with sour cream spiced with salt and sweet paprika; garlic chives
A new dish – the first night it just looks too busy – it's a white and red quinua cake (quinua cooked in chicken stock, mixed with a local criollo cheese, lemon peel, salt, pepper, and egg – packed into ring molds and baked. The sauce is our egg lemon sauce, drizzled with a little ají panca puree; a sous vide egg; a mix of peas, red beans and lima beans sauteed with serrano ham; and all topped with fried rosemary and hierbabuena and a saute of fresh lemon, pepper, garlic in olive oil. Whew!
I liked all the flavors, as did the folk the first night, but a couple of people commented that it seemed overly large (which we'd already decided) and a bit all over the place visually. So the rest of the nights we combined the beans into the quinua and made smaller cakes, plus put a depression in the top to coddle the egg. Then we combined the serrano ham and the two herbs into the saute with the lemon, garlic and pepper. Same flavors but simplified, easier to plate, and cleaner presentation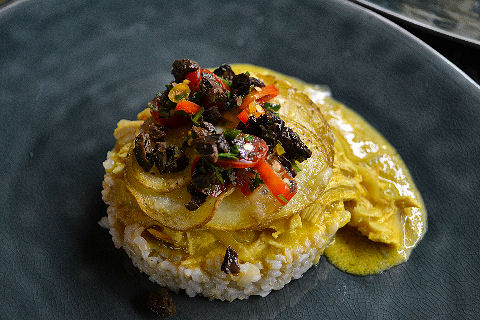 A new presentation for our ají de gallina – served over yamani brown rice instead of white rice, topped with a potato galette, and a salad of salt-cured black olives, cherry tomatoes, ají limos, oregano, and parsley.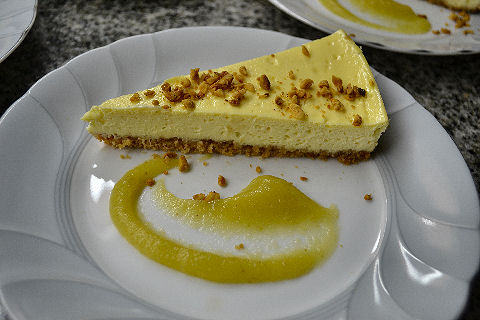 And, while not particularly Peruvian, the flavors are – mango cheesecake, lime puree, spiced peanut crumble.
All in all, a great week, even with the robbery.