Last post on BA Food Week(s), as, well, I've had enough. Not that it was a bad experience or anything, I've just had enough of eating out three course meals, fit in between everything else I'm doing these last two weeks. And six spots seems like a nice little sampling. Three standalone spots and three hotel restaurants, the latter I might not normally give a shot at as I tend to assume that they're going to be too pricey – tourism and all that.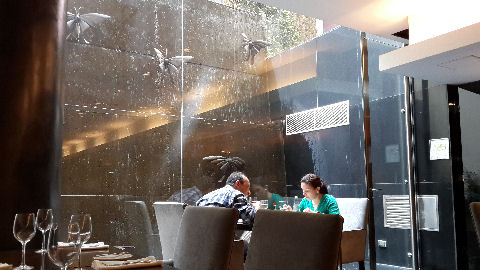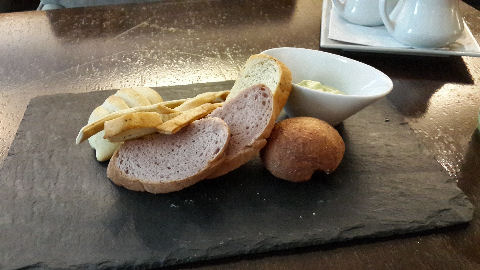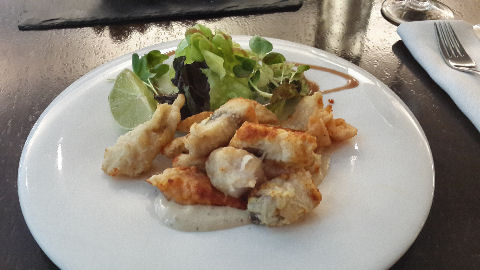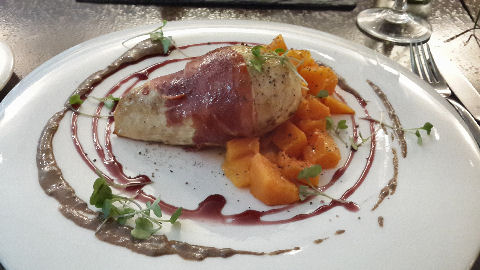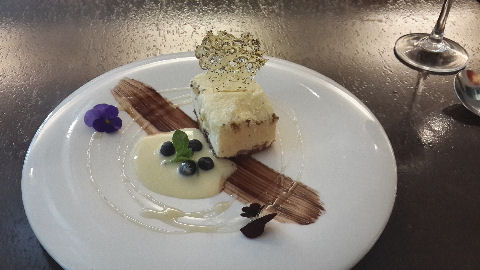 Let's start at
Sivela 465
, the restaurant in the Mio Hotel, at Quintana 465. The name, apparently, taken from the Finnish
sivellä
, meaning to brush, to daub, to paint. Pretty place, it's the first time I've stepped into the hotel that I can recall. Nice little waterfall at the back, outside. While normally lunch is served in the upstairs lounge, because they expected (but didn't get) a flood of people for Food Week, they planned it in their downstairs dining room, normally only open at dinnertime. Service is quick. Really quick. I sat down, got my menu, ordered, and within five minutes the waitress delivered my bottled water, bread service, and appetizer, all at the same time. Neat trick that, given that the appetizer was "tempura" fish – actually not, as there's no batter, it's just pieces of fish dusted with a little flour and spices and a whole lot of salt, tartar sauce underneath. Cut back on the salt and it would have been really good appetizer. No sooner had I finished my way through the pieces of fish and lettuce and the waitress whisked that plate away, returning within seconds with my main course, a breast of chicken wrapped in a strip of prosciutto, served up with "confit" of squash (which I gather just meant it was cooked in oil in the oven) and a black olive cream. The chicken was juicy, just the overall dish was a little blah – there definitely wasn't enough sauce for a whole chicken breast on the plate, so most of the time I was just eating plain, lightly seasoned chicken breast. The dessert, likewise arriving immediately, hmmm… it was listed as an orange mousse with cardamom – I couldn't taste any orange in the frozen block of what I'm guessing was "mousse", nor did I get any sense of cardamom anywhere – it was all pretty tasteless, other than that sugar tuile, which while it looked like it had cardamom seeds in it, tasted like garlic – I don't know if something slipped into the pan, the seeds maybe were something else, or someone hadn't washed their hands from cutting raw garlic before handling the tuile, but it was off-putting. So here I am, done eating a three course lunch, 26 minutes after having been seated – rather rushed – but I figured, okay, I'll make an early showing of a movie I want to see – except, now having served up three courses to the two tables that were in the dining room, waitress and kitchen staff (open kitchen) simply disappeared – 25 minutes went by before anyone reappeared and it took her 10 more minutes to bring the bill and then 15 after that before she returned with change (which apparently she had to go upstairs into the hotel to get). The process of getting and paying the bill took double the time of the meal. So much for the movie.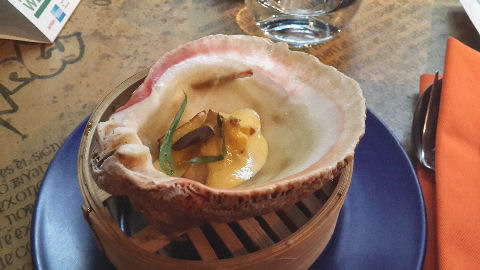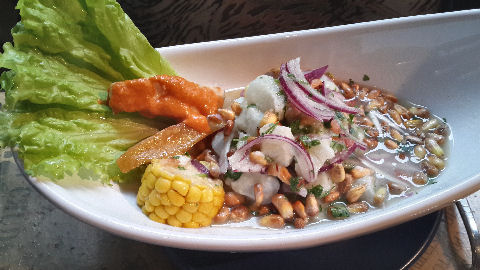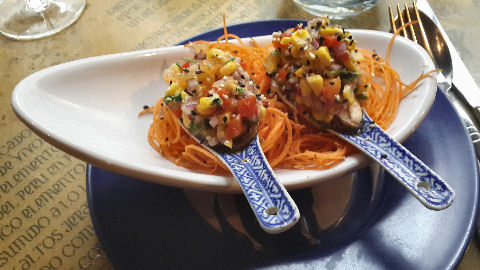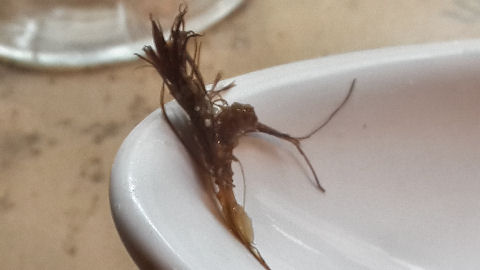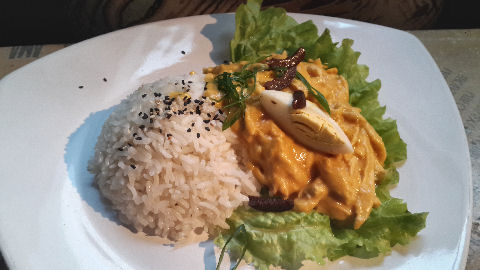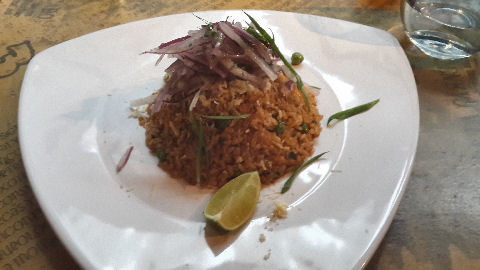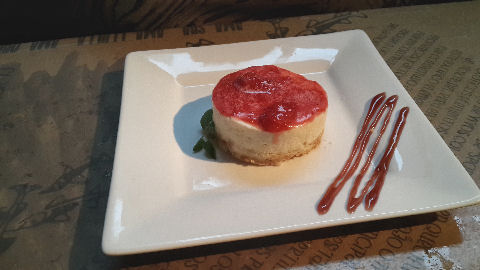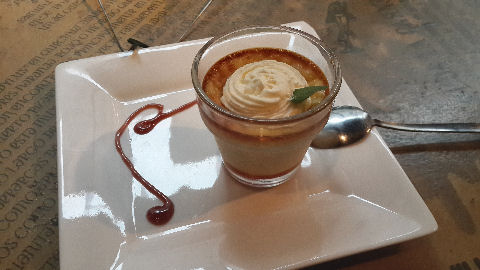 I didn't pick going here. I ended up going with a friend who picked it, insisting that it sounded amazing (I'm not sure why, the menu listed was simply pretty ordinary sounding Peruvian dishes). Now, I wasn't overly predisposed to return to
Mullu
, after
my first visit
last year, but the chef who opened it (and who is also the chef behind Osaka, Sipan and Olaya, the first of which I like but it's too expensive, the second of which I haven't liked either branch I've tried and they're too expensive, and the third I haven't tried because it looks too expensive) has cut his ties with the place and the whole menu has been revamped. It's much more classic sounding Peruvian dishes, the menu is a simple half-page plasticized card instead of that monstrosity they used to have. It's still all "sharing plates" on the regular menu, though now the appetizers run between 200-240 pesos apiece and the main courses from 240 to 300. If they were really sharing plates, maybe – but the guy sitting next to us ordered two plates of sushi, each of them over 200 pesos, and all he got were five pieces of salmon nigiri and a normal sized sushi roll – he was not happy, and clearly not in love with whichever roll he got as he left half of it, paid around 500 pesos with beverage, cubierto and tip, and walked out. On to what we had… 
[Closed in late 2014]
Once again, a little amuse bouche of papas a la huancaina, this time with one cube of potato in it, but still the insipid, watery sauce on it. The ceviche wasn't bad – a little out of balance, lacking salt and having absolutely no chili in it, but the waiter brought over a chili paste for us to add, which was at least mildly spicy – we went through two ramekins of it over lunch just to try to get some flavor into the dishes… you see where I'm going. The choros a la chalaca, just two mussels (admittedly the waiter warned us of that, but we wanted to try more than one appetizer, and the third choice was a caesar salad) was decently flavored, lacking in spice, but, as you can see, not lacking in mussel beards – pointed them out to the waiter and got nothing more than a shrug of the shoulders. The aji de gallina, basically the same sauce as on the huancaina above, a little more flavor, but not much. And, the arroz con mariscos was pretty much just a pile of soy sauce soaked rice – I found two small mussels (no beards, thankfully), one shrimp, and two small calamari rings in there. The desserts – a "cheesecake" with the texture of foam and no flavor, and leche asada, or baked milk, which was curdled, so had the texture of rice pudding, but no flavor other than the little bit of caramel on it. So, hmmm – the food wasn't inedible and packed with salt, as it was on that visit last year, instead, it's uninteresting. Service was still friendly, but not particularly efficient or effective (and the kitchen is far slower – there were only two other people eating there other than the guy with the sushi, our appetizers took 50-55 minutes to arrive and our main courses 30 minutes after the waiter cleared our appetizers – by the time we finished dessert we'd been there for 2-1/2 hours). And the place is still too expensive – even on this deal they tack on a 30 peso cubierto (more than 20%, and that's not the tip, remember), and another 25 each for small bottled waters, bringing our bill to 390 pesos for mediocre food and service – though there was a 10% discount for paying in cash, at least.
So, last thoughts on my Food Week adventures? Mostly good food, and while there were a few dishes I wouldn't order again at some of the places, it's not that they were terrible. No question the best meal was at Marieta, and, I think in general, all the places put their best foot forward, in that they didn't select dishes that were cast-offs. It's a nice way to try places that I might otherwise not, generally because of expense, but in the end, I wonder if that then accomplishes what the participants hope for in participating – given the normal pricing at most of these restaurants, I probably wouldn't go back for a normal a la carte meal (other than Marieta), so they haven't gained a new customer.