Continuing on with my explorations for BA Food Week – I'm actually getting in a decent number of spots. Now, this week doubles up with the Semana de los Bodegones Porteños, or week of classic local pubs, sort of (bodegón loosely translates as taproom, let's call it a step above a dive bar). I probably won't spend much time exploring those – looking through the list of what's on offer, first off, the "deal" isn't much of one, you're pretty much paying the same price for a three course meal as you'd pay anyway, the only plus is that because it's a sponsored event by a winery, you get a free glass of wine thrown in, and second, most of them are offering pretty much the same menu – not overly surprising given the style of restaurants, they all pretty much have the same menu to begin with. We'll see. Keep in mind that these "reviews" are specific to what the places offered up for their Food Week menus – which may or may not be reflective of their regular fare.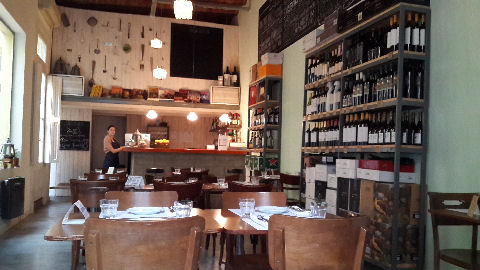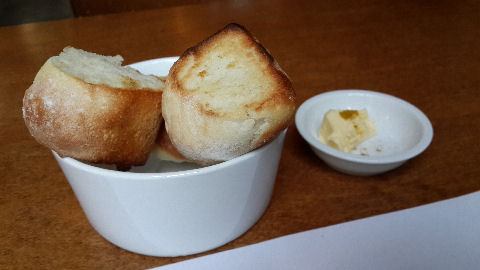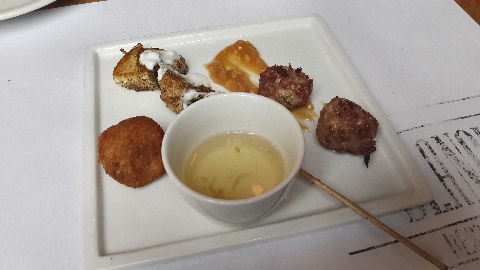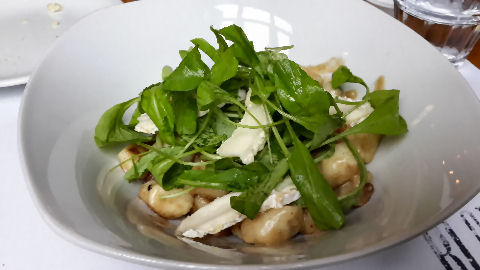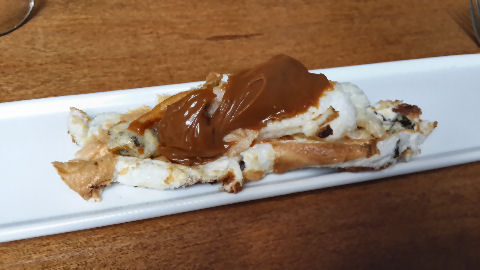 I've had Blanch, A.J. Carranza 2181 in Palermo, on my list to check out for some time, particularly for what is touted to be a great brunch. It's a cute place, off to the side of the picture above is a small open kitchen. Not many folk wandered in (actually, so far, not many people have been at any of the places that I've been to for these Food Week deals, which seems odd). Once again, the gratis cocktail never showed up, at any of the three tables of us who were having lunch (I wonder if it's supposed to be only at dinner and that just isn't stated on the menus that the Food Week crew put together?), but a lovely little pot of freshly baked and rockingly good bread rolls did. They make their own daily. I picked the trio of signature appetizers – a smart move on the part of Blanch (who is not, as I surmised, a person, but actually refers to the cooking process, as in quickly parboiling something and then, generally, "shocking" it in ice water) – two tasty little pork meatballs with a somewhat bland peanut sauce, a crabcake that was mostly filler accompanied by an excellent vinegar and chili dipping sauce, and the best of the three, yogurt and herb covered chicken skewers. For a main course, brown butter sauteed gnocchi with bacon, brie and arugula – good, but could have definitely used some sort of sauce or something – it felt a little just thrown into a bowl together. I noted, too, that each of the other tables, got things plated completely differently, it was almost as if they hadn't decided how they wanted to send these out of the kitchen – the guy at the table next to me got a dinner plate with some gnocchi on it along with a few bacon lardons, 2 slices of brie, and just a few leaves of arugula for decoration – he looked at my bowl with lust in his eyes. The dessert was just odd – not at all what I'd expect from the menu name of "plum cake" – it turned out to be what I'd guess was meringue ladled over some pieces of prune on a griddle and cooked like a pancake on one side only, then scraped off the griddle, deposited on a plate, and topped with a scoop of dulce de leche. Bizarre texture, like chewy egg white, and way too sweet, overall. I can't say that the place lived up to its reputation.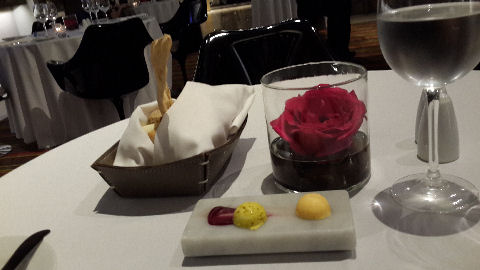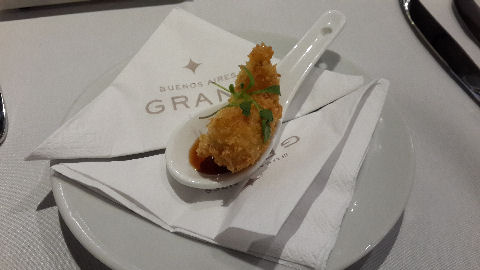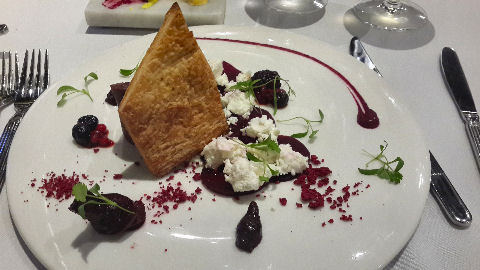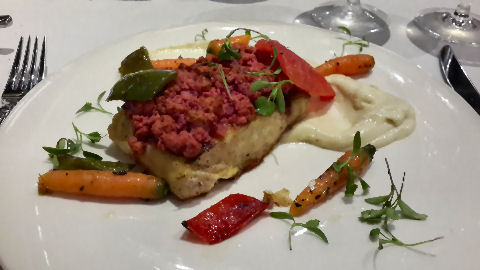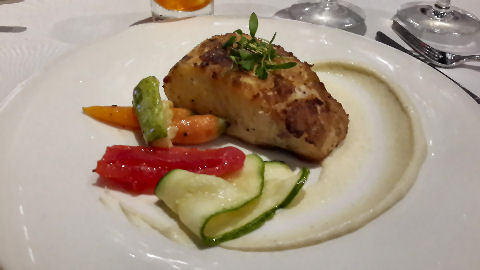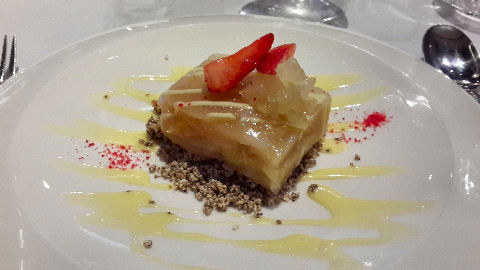 I've popped into Club 31, Las Heras 1745 in the BA Grand Hotel here in Recoleta a couple of times before – once to try their club sandwich and once their burger – neither of which were anything to get excited over. But I hadn't tried anything other than those, which are basically the bar menu, so figured let's see how the dinner menu goes. It's a pretty space, and was, at least initially, nice and relaxed, with just a few of us having dinner – then a dozen folk who were staying at the hotel and apparently in town for a conference decided to deposit themselves in the dining room – shoving tables together, ordering drinks, walking around, being loud and obnoxious – kind of made the next hour pretty unpleasant, until they finally got up and left. The waitstaff are friendly though a little clueless about what they're serving. Oh, and the now infamous cocktail? Showed up during my main course – there were three other tables having the dinner menu – one got theirs almost as soon as they sat down, one got theirs between appetizer and main course, and one never got theirs. On to the food. They started us off with a little fried prawn with a honey sauce, a nice touch. The beet salad was a medley of textures of beets, and some raspberry and goat cheese, the accompanying piece of puff pastry had obviously been cooked far earlier and was limp and chewy, the piece of morcilla sausage, hidden away behind it, was as refrigerator cold as everything else on the plate – not a pleasant thing – come on, cold blood sausage? I was very curious to see how the sous vide surubí, or tigerfish, came out – fish is one of those difficult things to cook sous vide if you're not really careful. So, in the first of two fish photos – it had been cooked so long and at so high a temperature that all the juices had come out – it was the texture of mostly dried out mush – and it was topped with a lurid red "crust" (wet and chewy, did they sous vide that at the same time as the fish?) that was supposed to be made of chipas – the delicious little cheese puff breads that we all adore here – no one seemed to know why it was bright red. After two bites I just couldn't, called the waiter over, and explained why – no problem, they'd fix it. It took about 20 minutes, but I'm assuming that's because instead of another piece of sous vide fish, they sent out a perfectly grilled and absolutely delicious, sans the mistake of a crust as well. The heart of palm "hummus" was tasty, though why it's called hummus when it was just a simple puree, I'm not sure – marketing I suppose. The pear terrine was a nice little finish to the meal. So, missteps, but corrected, and, by way of apology, they comped both my bottled water and glass of wine. It's clear that whoever's in the kitchen can cook, but may not think everything through when it comes to the final dish.
More to come later this week….