Just a look back at last week's dinners, bringing back a few favorites, adding some tweaks, bringing in some new ideas too….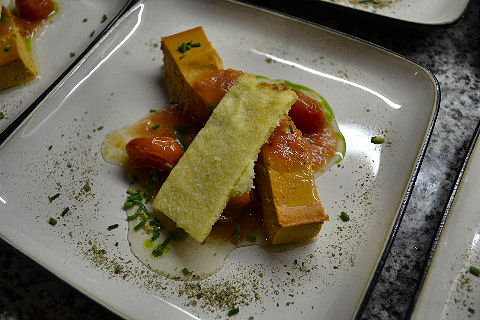 Minor changes to our smoked tomato cheesecake plate. Infused the cherry tomatoes with kombu. Replaced the dehydrated tomato crumble with a dehydrated caper crumble that adds a nice little sharp note to the dish. We had a couple of folk asking for "gluten light", so made the polenta crisps with a gluten free flour mix to help bind rather than regular flour – they come out a little more crumbly and delicate which made them hard to handle – maybe a touch of xanthan gum next time around.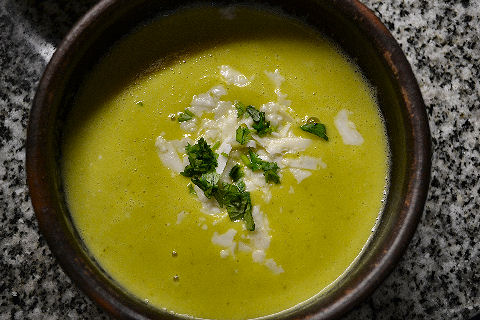 We've served our avocado soup chilled a few times in the past, however the weather turned chill and rainy, the former surprising for this time of year, and I decided to serve the soup just warmed – not to hot as I didn't want to start boiling the avocadoes – weirdness might ensue. Roasted the corn with onions, garlic and jalapeños, then cut the corn off the cobs and simmered everything together (cobs too) to flavor the liquid well. Removed the cobs, pureed the rest with cilantro, avocado, lime juice, sour cream, and adjusted the seasoning with salt and white pepper. Garnished with cilantro and crumbled goats' milk feta cheese.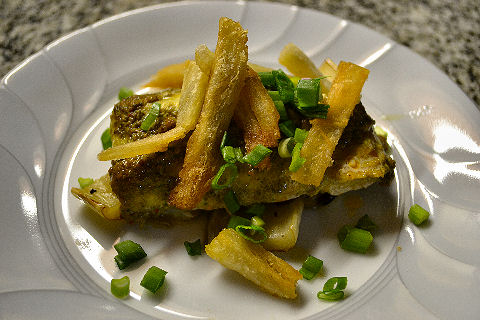 I see a lot of gatuzo, a houndshark, in the fish markets – pretty much all the time, but much rarer to see pez pollo or pez gallo, literally chicken or rooster fish, which is an angelshark. It has more flavor and meatier texture – almost like skate. Marinated fillets of it in a mint and parsley chermoula and then baked in the oven. Served over ginger and garlic sauteed white eggplant and topped with more chermoula, yuca fries and green onions. My fave dish of the week.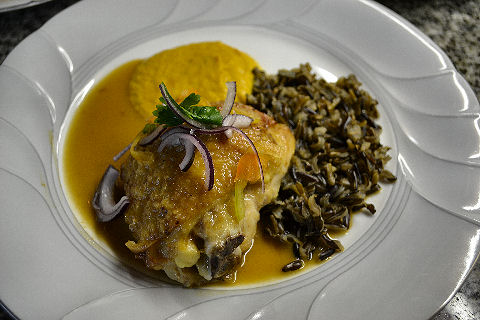 Pan roasted chicken thigh in a reduced garlic sauce – pretty much the same one we use to make our mollejitas al ajo, but rather than cooking the chicken in it, I just made a sauce out of the ingredients, pureed it, strained it, reduced it, and finished it with a little butter whisked in. Wild rice cooked with hibiscus flowers, roasted carrot puree with oregano.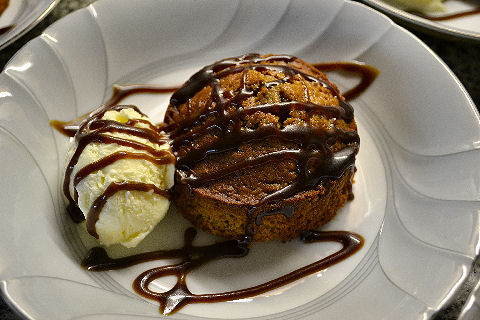 Traditional English style ginger cake, sour cream ice cream, dark butterscotch sauce. Need one say anymore?