No, that's not a misspelling, I didn't mean poached. After the last post on more local fish varieties, I decided it's time to get back to my promise to start trying out more Argentine recipes, both classic and modern, to show off what local folk are or have done with their fish around here. I'm going to pretty much base it on what fish are currently showing up in the market, and go back and stick in links to the recipes on the three (so far) fish variety posts so that if you're looking at one of them and thinking, "so what do I do with that fish?", you'll have some thoughts to play with.
I don't know what my fascination with pejerrey is (maybe because it's a fish that's so different from any that I used to encounter in the States), but, since there was a display of them at my neighborhood fishmonger yesterday, I nabbed some and spent part of the afternoon playing around with some of the remaining recipes I garnered in searching back when this all started. That, and I was waiting for Fedex to show up with a package, you know how that goes. Actually, he was very good about it, he showed up right in the time bracket he said he would.
Now the first recipe I tried out this time around isn't one that is likely traditional, though it may well be based on an older classic. I say that mostly because it involves a packaged soup mix. My guess would be it's a recipe created by or promoted by the Maggi soup and seasoning folk, a division of Nestle, to show off an interesting use for one of their mixes. For that reason I'd kind of resisted trying it out, but the truth is, I grew up with a lot of different dishes seasoned by soup mixes, it was the 60s after all and that was the way a lot of people were adding flavorings to dishes, and, judiciously used, they do actually provide some interesting flavors. And when I looked at the recipe carefully, that was really the only "home ec" shortcut, and the recipe eschewed additional salt added, a smart move as those soup mixes tend to have a fair amount already.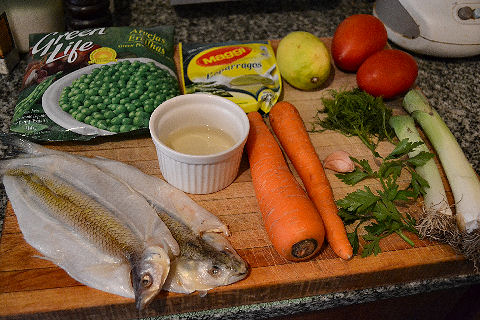 Papillote de Pejerrey y Verduras
(Papillote (in paper packet) with Pejerrey and Vegetables)
1/2 bag (150 gm) frozen peas (I have no problem using frozen vegetables if they're of good quality)
2 tomatoes
2 carrots
2 leeks
3 small pejerrey, cleaned and filleted
juice of 1 lemon
2 tablespoons chopped fresh dill
1 tablespoon chopped fresh parsley
1 large garlic clove, chopped
120 ml dry white wine
1 package (65 gm) cream of asparagus soup (the recipe I've seen in several spots touts the Maggi brand, but whatever you have available where you are)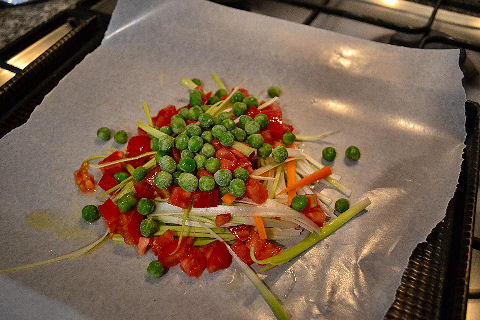 Cut the carrots and zucchini in "julienne" – like a matchstick and cut the tomatoes in small dice. Place pieces of parchment paper or aluminum foil that are big enough to wrap everything up and lightly coat with some olive oil. Atop the olive oil place the carrots, zucchini, tomatoes and the frozen peas (doesn't matter if they're still frozen, they'll cook). Could you use fresh peas if in season? Absolutely, though I think I'd give them a quick 3-4 minute blanching to soften them and then shock them in cold water to set the color before adding them to this dish, otherwise, even though likely they'll cook through, they'll end up grey-green.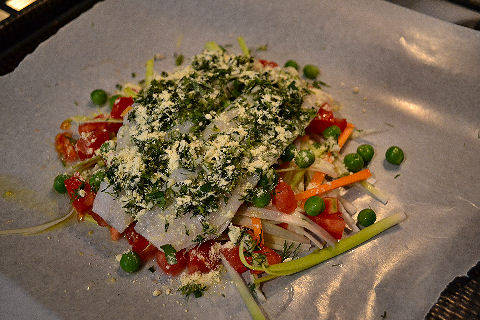 On top of the vegetables place your fillets – one or two per person depending on the size of the fish. Sprinkle the fish with the lemon juice, then scatter the chopped parsley, dill and garlic. Finish with a bit of the asparagus soup powder and a spoonful or two of the white wine.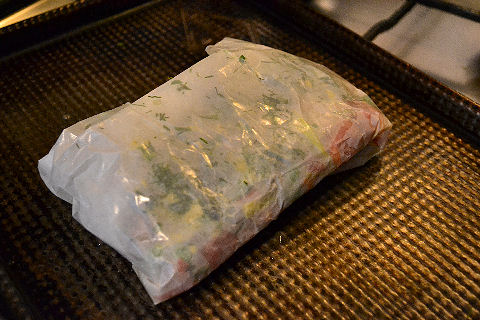 Close up the packets – this is easier to do with foil, but works with parchment paper too. You can get fancy if you want and fold it up like an empanada, but I tend not to like to serve the final dish in the paper or foil, so it's not as relevant, even if it's traditional.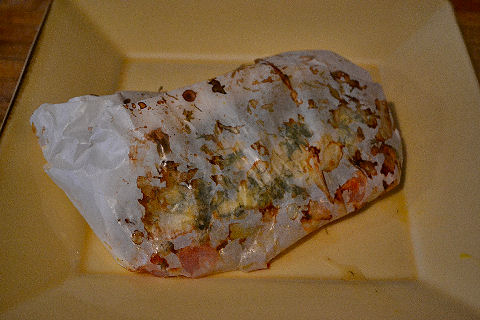 Bake for 35 minutes in a hot oven (180C/350F). The outside of the paper will start to brown, obviously the foil probably won't. If you want to serve it traditionally, put the whole packet on the plate and let each diner open it themselves for a big puff of steam and all those beautiful aromas.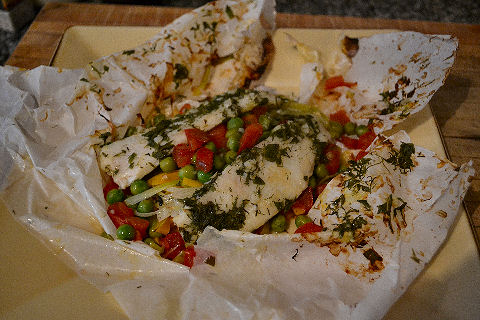 And this is what that would look like when opened up. Fine for a casual dinner. If you want it a little fancier…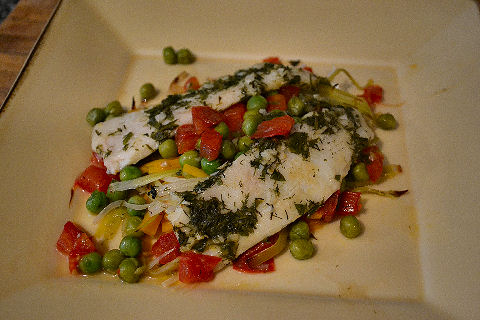 …use a spatula to slide all the contents onto the plate and serve that way.
So, overall thoughts? Delicious. Great mingling of all the vegetable flavors with the wine and the herbs, which really make the dish. Personally, I found it a little light in salt and I think if I were to do this again I would lightly salt and pepper both the vegetables and the fish fillets. Not too much, but just a touch. And, I'm still, at times, a little leery of packaged soup mixes, in season I might put short segments of fresh asparagus (also blanched and shocked like the peas) instead and just up the salt and pepper a little. Still, it wasn't by any stretch bland and what a great healthy dish for someone who does want a low salt dinner that's still packed full of flavor.