This week we finished off the northeast and north-central five-session series of lunch classes with Tuscany. Probably the best known, or at least most thought about region of Italy by outsiders, there's a wide range of cooking that I could have picked to showcase. Decided on a slightly trickier pasta to form – casarecce – and a favorite chicken dish, plus a little sweet something to go with our coffee at the end.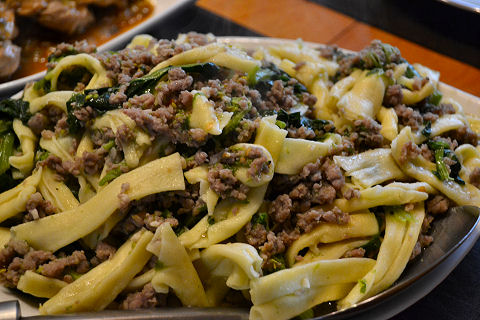 Cassarecce are a double scroll form – I think of it as a torah scroll – essentially a rectangle rolled in from the two long edges. Most commercial ones are extruded from a die that mimics the form, and most home cooks opt to simply make it a single scroll just lightly attached together – looking a little like a misshapen penne. We went classic all the way – and then made our own Tuscan style sausage to go with some sauteed broccoli rabe and garlic, all tossed with the pasta and some high-test olive oil – Casarecce con cima di rape e salsiccia
For our main course, Pollo con Salsa Picante – now, picante in this case doesn't mean spicy in the chili sort of sense, but more "piquant" – a sauce made from vinegar, capers, gherkins, garlic, anchovies, parsley, onions and wine. Not a bad sort of chicken, nor of picante, to grace the table.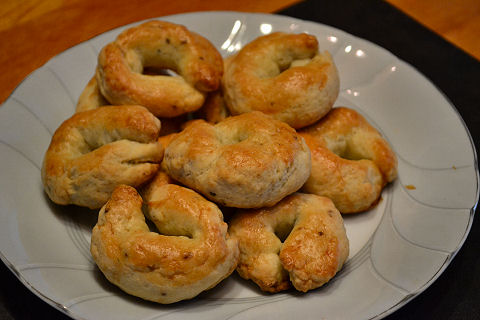 And, to finish up the lunch, some Ciambelline Rustiche, or, as one of my students exclaimed, "oh, wine cookies!"
Next week we launch into south central Italy with the area around Rome – Lazio. There's space in the classes – my most regular student over the last few months is departing our shores for the ones across the river and a new life in Montevideo for a year or two. Come join us!