The weekend's dinners were a bit on the quiet side. One night we just had six folk, and two of them were friends who jumped in to the rescue at the last minute; the second night was fully booked, but a trio backed out due to one of them having food poisoning from lunch, at around 7 p.m., we were able to fill in just a single spot; and, the third night two couples cancelled a couple of days beforehand, one because we wouldn't change the menu for them as they didn't like the sound of anything on it, the other because they'd "forgotten to mention" in advance that they were vegan and that just wasn't workable with the menu – with only four folk left we offered it at their option and they decided to postpone and come on a future date. When you do this every weekend, every combination of things is going to happen sooner or later. Upcoming weeks are already filling up quickly.
Actually, it's strange. This whole "I don't like the menu you've planned, cook something else for us" type of request has become more and more common recently. I've even had people send me a list of dishes that they wanted on their menu (which might have been at least mildly flattering had they been dishes that were from our repertoire, but they weren't). I suggested that they hire a private chef (even me for an evening), and their response was, "that's what we thought we were doing". People really don't read our website to understand what it is we do – I think it's pretty clear, yet almost every week now we get someone who's completely misunderstood the concept in some fashion.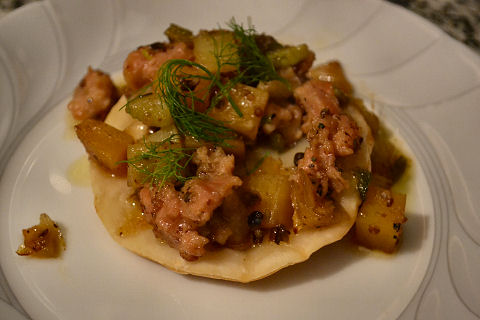 A bit of an experiment. You may remember we've served up my take on a dish that I'd had at a local restaurant of honey and spice sweetbreads over sweet potatoes and fennel. This is more just a bit of a change in presentation, turning it into our tarte tatin style. It works, but the sweetbreads lose that nice surface crispy texture from being sauteed, so I think in the future I'll stick with the original way of presenting it.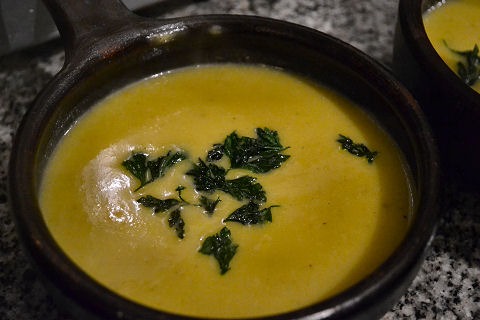 Brussels sprout bisque, topped with fried parsley leaves. Great winter soup. We made an extra half pot of it for ourselves, and Saturday night, two big bowls of it was my whole dinner.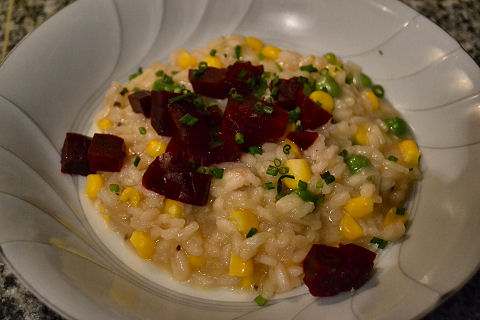 When it comes to making risotto, the key flavor to my mind is the liquid used to make it – that becomes the entire flavor palate underneath everything else that gets added. In this case, a roasted pork bone and garlic broth, inspired by the ramen dish I had back in my visit to NYC recently. Simple vegetables added at the end – diced roasted beets, sauteed fresh sweet corn and peas, caramelized shallots – and the risotto was finished with butter and grated cheese. Two guests (our friends) mentioned that they would have liked more cheese in it – was hard to imagine as I'd put 200gm of cheese into the pot for servings for the six of them, that's verging on a half pound. But, the next night, I added a bit more per person. No one else either night mentioned anything about the cheese quantity.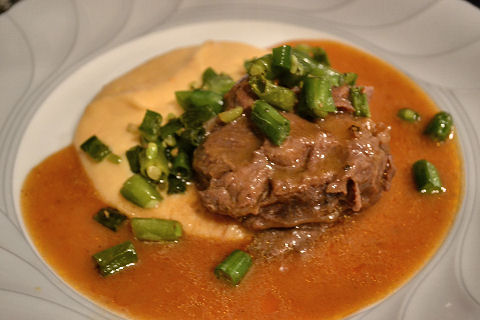 Slow-braised lamb, cauliflower puree – you saw this in my post two days ago from our private dinner. I'd planned a different braised lamb dish but it had been so good that I scrapped that idea and went with this one.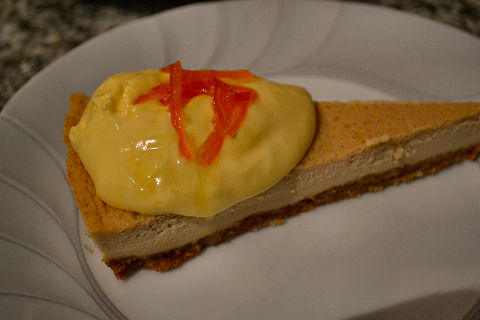 Cheesecake. Crust with a touch of orange peel. Filling flavored with white chocolate and espresso. Topping a limoncello mousse. It was decadentely, overkillingly, rich. The second night I scrapped the mousse and went with just simple whipped cream flavored with limoncello. It's a strange commentary when topping something with a large scoop of liqueur spiked whipped cream constitutes "lightening the dish up".