Not my family, but, we've been doing a series of dinners for a group of local executives from Banco do Brasíl and one of the couples who has come to them had family in visiting for the weekend for their son's high school graduation, and booked a private dinner. He's headed off for my alma mater, University of Michigan, to study mechanical engineering, so we had a nice chat about Ann Arbor, the college and the campus. And "mama", or grandma to him, and I had a long, involved, and very stilted conversation between Portuguese and Spanish about cooking – I was game for her to come into the kitchen and show me some of her recipes….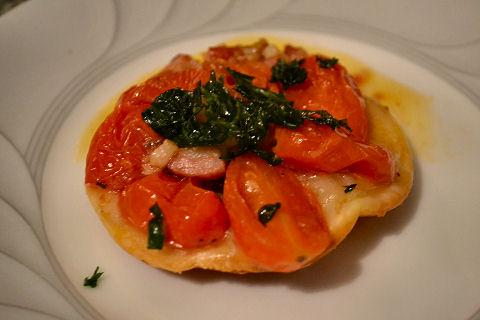 A cherry tomato, garlic and bacon tarte tatin, just a touch of spice, topped with fried celery leaves.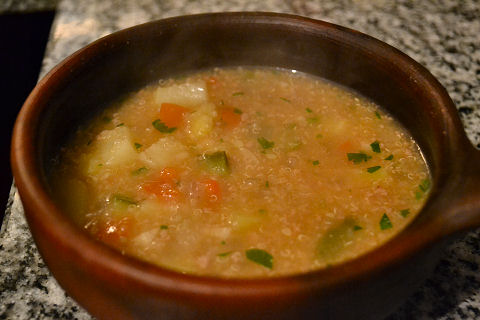 A quinua and potato rich
sopa incaica
, a soup we've made numerous times before that we picked up from a restaurant in
Puno, Peru
, with a few modifications for what's available here, plus we like it with more vegetables in it than the original recipe.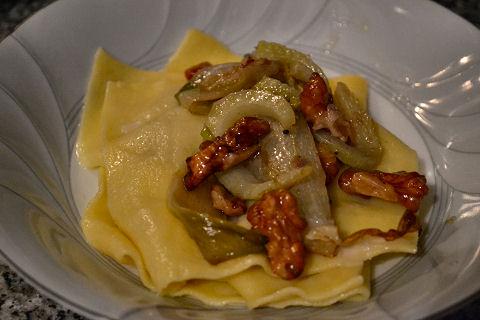 Semolina open raviolo or lasagna – I'm never sure quite what to call it – three layers of pasta squares, interleaved with our smoked eggplant hummus. Topped with oven roasted endive, fennel, walnuts and garlic – a play on a similar one we've done with radicchio, but there was none of the latter in the market. Flavor-wise, the endive works just as well, but I like the color provided by the radicchio version better.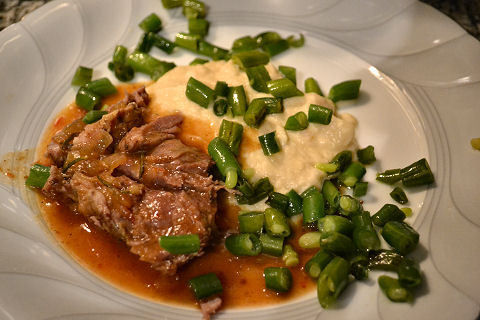 Slow-braised lamb shoulder in the style that I
picked up in Santiago
using lamb "forearms", a cut that's generally not used much, and not really available here that I've seen. It's cooked in very rich tomato, rosemary and wine sauce for about four hours, until it's falling apart. Instead of the traditional
papas rusticas
, mashed potatoes spiked with tomato and bacon, I made a cauliflower puree with the same, just to lighten up the starchiness of the meal a bit. Sauteed green beans scattered about.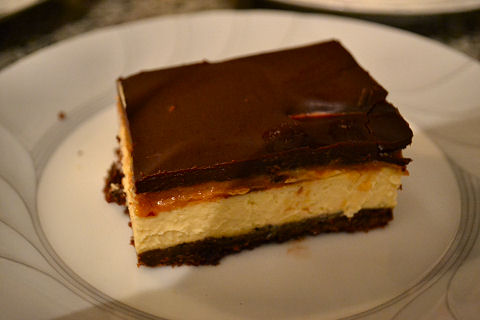 And, our Milky Way inspired cheesecake with a chocolate malt crust, vanilla cheesecake filling, dulce de leche and dark chocolate ganache.
Grandma loved it all, and I'm told she's the hard one to please.