Having called it an early night I was up bright and early, somewhere around 6 a.m., and decided to break fast in the lobby bar/cafe. More food? Yeah, I was hungry!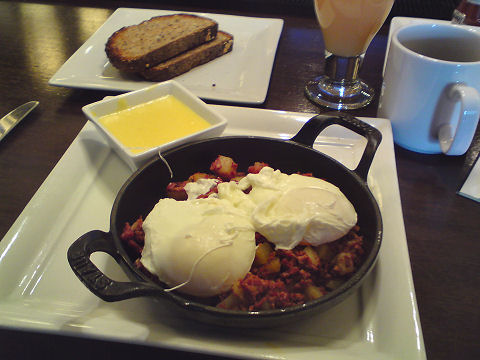 Checking out a traditional Boston corned beef hash and eggs sounded like a great way to start the day. This was good, really quite good, but not very traditional, served up with poached eggs and hollandaise sauce (waiter's tip – "use ketchup, not the hollandaise, seriously" – he was right). But, it mostly started my day off well. The bottled grapefruit juice, pre-packaged butter balls for the toast, and Starbuck's coffee, that the hotel serves, were less successful at that.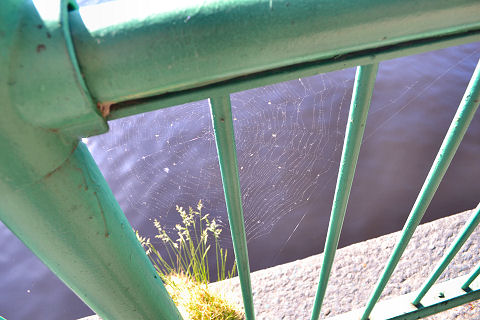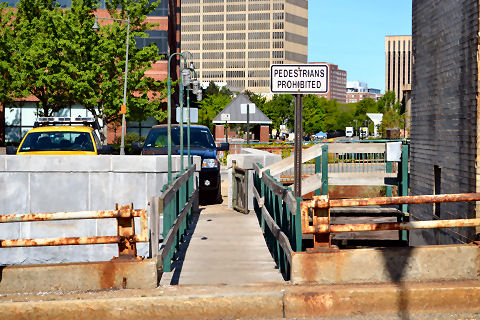 Really? Who is the bridge for then?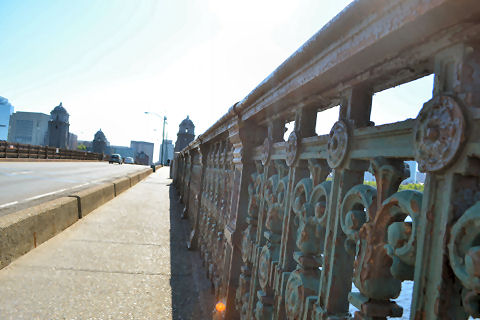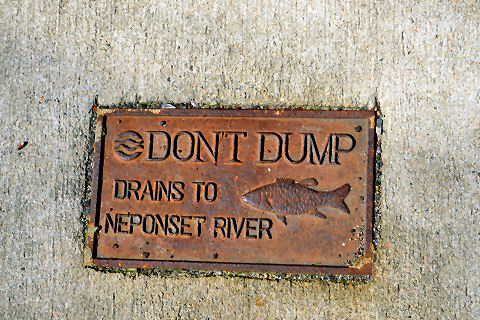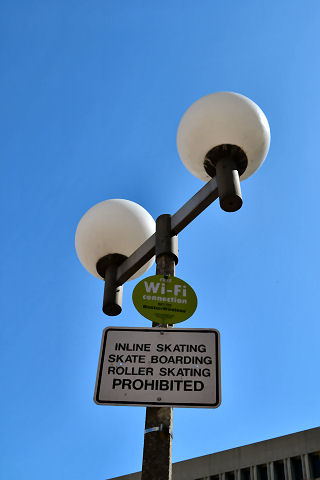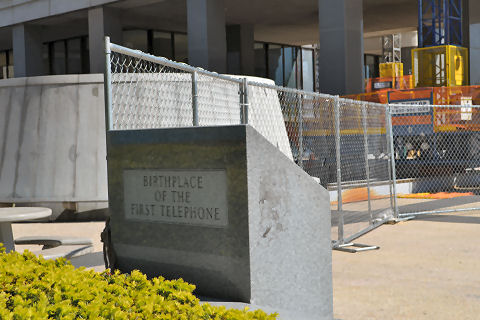 Took a walk along the river over to nearby MIT, wandered a bit, then across the Longfellow Bridge (apparently usually called the salt and pepper bridge because of the shape of the towers), along the edge of Beacon Hill and then into the center of town where I'd been the day before, to meet up with friend David and do a bit more wandering. We followed the Freedom Trail again, this time things were open, we poked in to one or two, but, freedom having a price and all that, of course, every building had a charge to enter it and really look around. Plus it was a glorious day out, we decided to spend most of it out of doors. On to North End, where we had plans…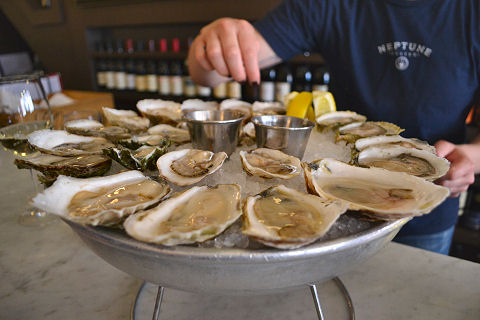 …to line up at 11 a.m. for the 11:30 a.m. opening time of
Neptune Oyster
, 63 Salem Street, a necessity that David was primed for – we were first in line at 11, but by the time 11:30 rolled around, the line stretched down the block. We grabbed a couple of seats at the counter bar, and proceeded to demolish a dozen different kinds of oysters each.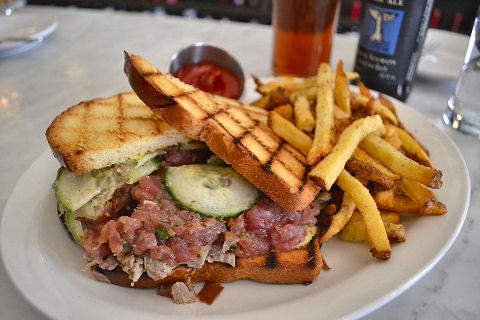 David had highly touted the "vitello tonnato" sandwich, though hadn't described in great detail, just asserting it was a sandwich that he dreams about. That's high praise, and so we both ordered one. And I can understand it – might just be the best fish-based sandwich I've ever had. A complete twist on vitello tonnato, the classic Italian dish of thin slices of poached veal with a tuna and caper mayonnaise spooned over it, this is a wickedly spicy tuna tartare (wasabi, horseradish, mustard, all three?) topped with shredded roasted veal and fresh cucumbers. Great garlic dill pickle on the side, good fries (and no blanching over my asking for mayo and then mixing it with my ketchup – salsa golf how I do love thee). And then, back into the streets to explore more of the North End and elsewhere….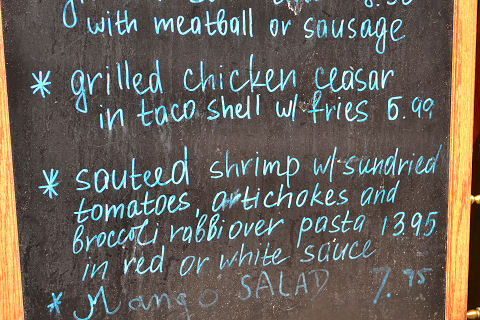 Setting aside the mis-spelling of Caesar, apparently this is the place to get your kosher crucifers.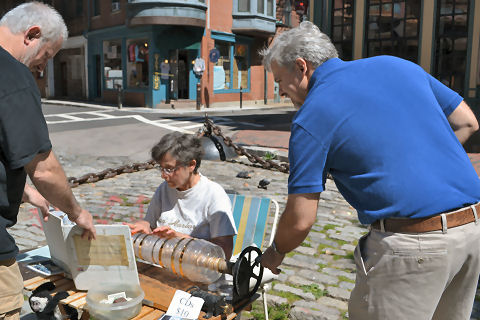 A little glass harmonica, with David helping out turning the crank and someone else holding up the song book – the woman has the music for "every" national anthem in her book, and proceeded to play me the Argentine one – albeit at double to triple speed giving it a slight pop edge versus its usual funeral dirge pace and feel.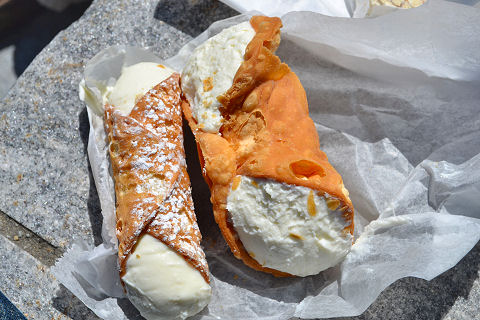 Our next stop, the two famed competing pastry shops of the North End,
Modern
and
Mike's
, where it was my task to decide on a winner between the age old
cannoli
debate. On the left, Modern's version – thin, delicate crust, very crispy – they fill the tubes to order – but seriously lacking in taste – the ricotta filling being a very light, whipped sort, with too much sugar. The Mike's version, which may not look pretty, and which admittedly given that they pre-fill the cannoli tubes was a little soft in spots, simply rocked on the tastebuds – the ricotta with some texture to it, just the right amount of sugar, some lemon peel, a touch of vanilla. For me it wasn't even close. Mike's won. Later on we heard we should have also grabbed one around the corner at a place called Maria's – next time.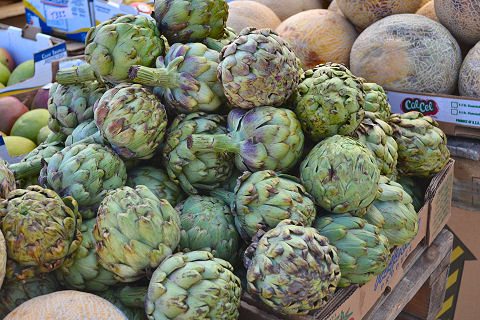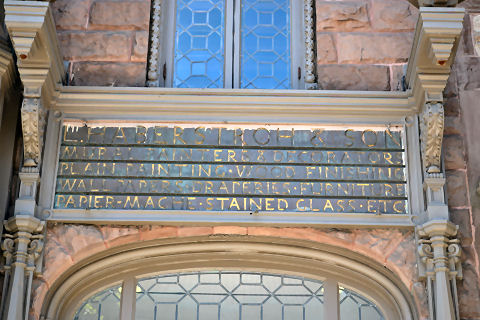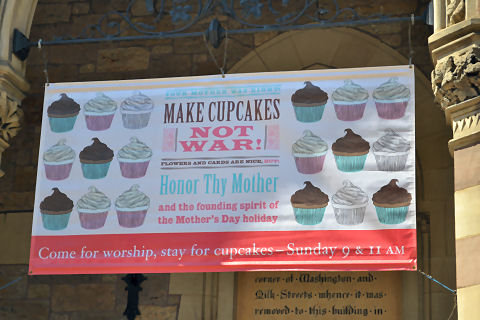 I understand what they mean, but in a way, the last line reads backwards to me of what it should, especially if you're trying to build a faithful church membership.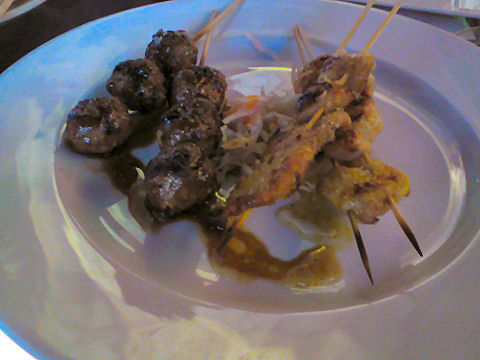 After wandering more and into other neighborhoods, we ended up with a bit of a refreshing beverage (housemade ginger ale for me, and a spiced lemonade for David), at L'Espalier, then off to his home for a brief visit with wife and daughter, the latter of whom I'd never met in her six years of existence. Then into the car and back to Cambridge for a drive around Harvard, and then over to stop in and have a drink with Patricia Yeo, whom I used to work with at AZ and pAZo in New York, many moons ago now. We plopped at the bar at
Moksa
, 450 Massachusetts Ave, and were treated to a parade of small plates, from spicy fish roti to beef shin noodles to fresh razor clams, roasted shishito peppers, and, my favorites, the skewers of lamb meatballs (hmmm, perhaps a dipping sauce to add in), and the best, grilled chicken skin. A nice chat and catch up with Patricia for an hour or two, and then we walked a chunk of the way back into central Boston, caught a cab, and headed for dinner (we hadn't planned on the Moksa dish parade). 
[Closed]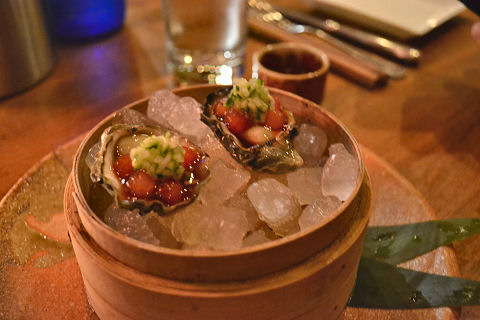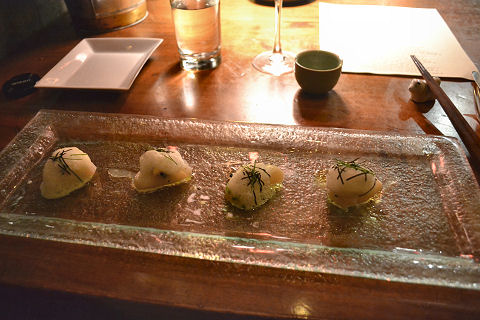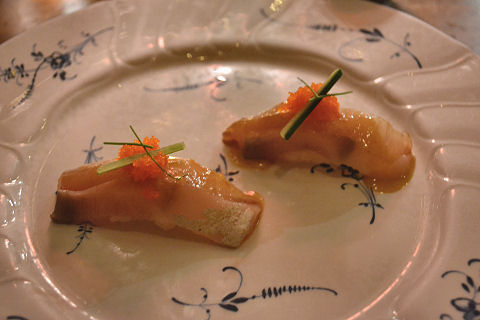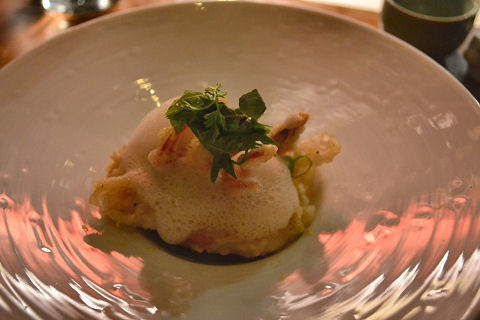 We had a reservation at O Ya, 9 East Street, just named the best restaurant in the northeast by the James Beard Awards. Easily, I gather, Boston's hottest Japanese-fusion spot, we had two spots reserved for us at the sushi bar, at the end where we could watch the sushi chefs at work and the whole room. There's an a la carte menu and two different omakase (chef's choice) menus, all of it pretty darned pricey. But we were there for a special night out. David opted for the 17-course omakase – the shorter of the two – which consisted of 14 individual pieces of sushi followed by two hot dishes from the kitchen and a dessert. I went a la carte with six sushi (2 pieces each), one sashimi (3-4 pieces each) and one hot dish. Either way that racked up roughly $175 each before beverages – a half bottle of a very delicate, delicious sake called Takasago Ginga Shizuku (Divine Droplets), a junmai daiginjo, and then two complimentary glasses of Dassai junmai daiginjo nigori – a milky, creamy sort of sake that was a nice compliment to the later dishes.
Let's see, what did I have: kumamoto oysters with watermelon pearls and cucumber mignonette (not part of what we ordered, but one each for us to start the evening); hamachi (yellowtail) with spicy banana pepper mousse (not spicy); tiny lobster eggs with white sturgeon caviar and tomalley aioli (they have a lot of different aiolis on dishes on the menu); ika (calamari) in uni butter, uni powder, micro-sea beans and shiso; Santa Barbara sea urchin with white sturgeon caviar; shima aji (striped jack) with spicy grapeseed sauce and masago (a fish roe); warm eel with Thai basil, kabayaki (eel sauce), and fresh sansho (green ash buds) from Kyoto; diver scallops with sage tempura, olive oil bubbles, meyer lemon; and shrimp tempura with bacon-truffle emulsion, scallion ginger oil.
I would say that I enjoyed all of it, it was all pristinely fresh, beautifully presented – but, I'm just more of a traditionalist with sushi – all the fancy aiolis and oils and emulsions and foams, aren't high on my list. Though, that said, I think the scallop was probably my favorite dish, even with olive oil foam. There were two dishes I just didn't care for much – the hamachi just tasted bitter and there was no spice to it; and the tempura at the end was just way too salty, though had nice flavors otherwise. David found things similar – he pretty much loved all the sushi, though had the same thought on the hamachi, but his two hot dishes from the kitchen were not up to the same standard – a tofu, morels and shoyu dish that had flavors that clashed and a braised short rib that was dried out and stringy, though had good flavors in its accompaniments. Overall a nice night out, though a hefty hit to the wallet.