"How do I explain this… well, way back in May of 1994, a few friends and I started getting together at my apartment for a monthly dinner. The company varied, though there were regular attendees. Over time, the group morphed this way and that, with the regulars slowly changing (though my friend Frank Rocca has remained a steadfast attendee throughout the many years). It became easier on a social butterfly planning basis to settle on a particular pre-scheduled day, and I chose the second Sunday of the month… mostly for alliteration's sake… and the Second Sunday Supper Circle was born. Very few months have been skipped, so there have been many dinners and many menus. Most of the dinners have themes of some sort, either related to a holiday or historical event particular to that day, or some ingredient or color or texture that I've been inspired to play with. Now that I'm in Argentina, and don't work every Saturday, I've moved the dinners to Saturday, and renamed them in Spanish (the alliteration works better) – Segunda Sabado Circulo de la Cena.
That was a little bit about the genesis of Casa SaltShaker from my personal website. When I first arrived here I had no thoughts of opening something like a puertas cerradas – once I'd decided to make Buenos Aires home I had full intention of opening a "regular" restaurant – some sort of small bistro-ish place. After discovering a couple of the underground spots – at that time I think I'd tried Verdellama and heard about Almacen Secreto and Caracoles para Da Vinci – I thought it might be a good idea to give things a tryout before committing to a fulltime venture. Who knew that we, and the "phenomenon" would take off like wildfire? At that time there were probably 8-10 places in Buenos Aires, all except Almacen Secreto, strangely, kept very secret and word of mouth. Now there are around 30 and many have come and gone – plus the idea has spread to other food capitals around the world – there are probably well into the 100s of them in the UK, more across Europe, lots in the US, particularly NYC, LA and SF areas, and we even hear about them in obscure parts of the globe.
So I was chatting online with Frank, mentioned above (who is also the cover illustrator for my books), a week or two ago and we were reminiscing about those early days. I was semi-lamenting the fact that I'd not kept any records, other than a single copy of each menu, of that whole eleven year period. I don't have guest lists, I didn't take pictures (Frank did for one dinner, he followed me around for the day from shopping, on through preparation and the dinner itself), nor even most of the recipes for the dishes served. He suggested that it might be fun to go back and recreate some of those dinners – and while true, it would be impossible – I look at some of the menus and haven't a clue what the plates were, and the wines, well, at that time I had access and finances to secure things that now are just fantasies for me. And, because the dinners were intended as experimental evenings, I know there were plenty of unsuccessful courses. But I thought it might fun, once or twice a month now, to go back and pick out individual dishes that I at least vaguely remember, and rework them from my perspective as a cook now, something that has changed drastically with experience over the last 17 years since it all started. Which brings us to this past weekend, where I cherry-picked from the first three menus ever served with the intent to be a regular dining club (I've left out two trial dinners that were just myself and a trio of friends before the idea occurred to us of the club, there wasn't anything on either menu that called to me, looking back).
Saturday, 24 September 1994 – Stilton, Leek and Roasted Garlic Tart served up with a bottle of dry Tokaji; Salmon, Eggplant Lasagna with Black Olive Salsa and another unknown bottle of Provençal wine, and a Black Cherry Trifle with a Marsala.
The following month, on Saturday, October 22, 1994 (we hadn't settled yet on the Second Sunday idea) – Smoked Trout in Caramelized Apple and Onion Broth with 1992 Marcel Deiss Pinot Blanc; Rabbit Braised in Chocolate and Port Sauce, Pommery Mustard Spaetzle with a bottle of 1985 Weinert Cabernet Sauvignon; a Devil's Rain Salad; and Butternut Squash Tartlets with Molasses Cream accompanied by the 1993 Rivetti "Bricco Quaglia" Moscato d'Asti.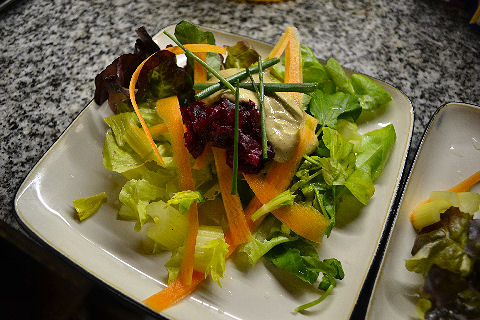 I don't know the story behind Devil's Rain Salad Dressing – I mean, in a sense I do, for those of you who are mystery book buffs, it comes from the legendary Fritz Brenner, chef to Nero Wolfe, and is served up in an unfortunate dinner that results in the poisoning of one of the guests (arsenic in the sour cream on another dish), in the book Poison à la Carte. I do know that it's one of my favorite salad dressings – a mix of garlic, walnuts, mustard, cayenne, chives, salt, oil, tarragon, wine vinegar, red wine and olive oil – all served up over mixed lettuces, watercress, celery, carrots and grated beets. How do I know that? The Nero Wolfe Cookbook, of course. So other than some minor adjustments to the proportions in the dressing to get a creamier texture and a little more intensity of the garlic and chives, this is the "classic". I did wonder if serving what is in essence just a simple salad would be perceived as a poor opening course by our guests but everyone pretty much licked their plates clean, so I think it did alright.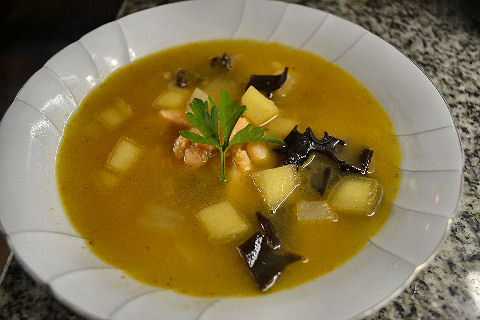 If memory serves me correctly, the original soup was likely a consommé of caramelized onions and apples, completely clear because I was kind of into that style of broth at the time, and probably not much more than some bite sized pieces of smoked trout, perhaps decorated with herbs. These days I tend to like my soups much richer and spicier, plus, it's cold outside! I started with a spice base in the pressure cooker, toasting them in peanut oil – cinnamon sticks, cloves, cardamom pods, coriander and cumin seeds, black peppercorns, dried red chilies – more or less the base for a curry – then added lots of thinly sliced onions and cooked them until they were well caramelized. At that point I added water to the pot, some parsley stems and salt and pressure cooked it for 20 minutes to extract the flavor. Strained into a pot with diced apple, daikon and Chinese black mushrooms. Brought just to a simmer to cook the vegetables through. In the bowls a mound of diced fresh trout, and scattered around that, slivers of smoked trout. Ladled the broth carefully over the mound in the center and let the heat from it just lightly poach the fish.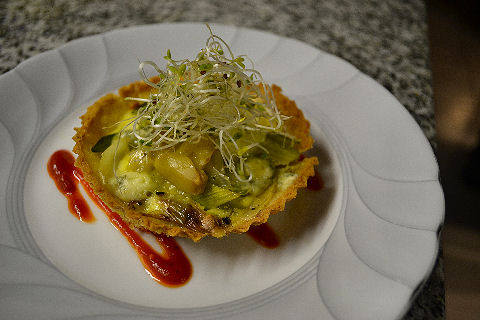 This may not be far off the original idea. I couldn't find any Stilton cheese, not a surprise here – though I did find some actual, real, imported Roquefort, however at 640 pesos a kilo ($71/lb) it was prohibitively expensive. I tasted through a trio of blue cheeses at one of my favorite cheese shops, Valenti, and settled on the Azúl de Santa Fé as being about the closest I was going to get, texture and flavor-wise. Roasted garlic in the oven. Sauteed leeks in butter. The one little piece that came from one of those two "pre-dinners" that I mentioned was a potato rösti, and I decided to make a potato tartlet crust – it's much more delicate than a typical crust and is a bit harder to work with, but I love the flavor and it worked well. Into each parbaked shell I put a good scoop of the leeks, a couple of whole roasted garlic cloves, and a good crumble of the blue cheese. Poured a mixture of beaten eggs and cream over the top and cooked until just set. Served over a piquillo pepper puree and topped with broccoli sprouts.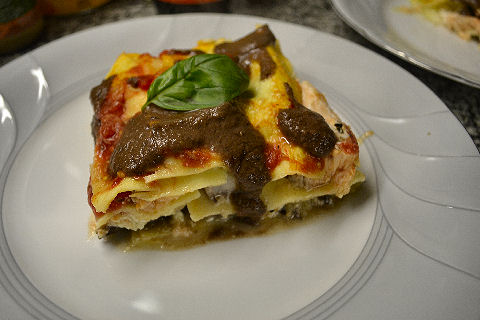 I remember that salmon and eggplant lasagna – it was a lasagna in name only – it was simply layers of white eggplant, salmon, basil, and black olive sauce all baked together. I don't recall it being a particular wow, but interesting enough. Here, from the bottom up, freshly made tomato sauce flavored with star anise and garlic, homemade semolina lasagna noodles just parboiled to set them, grilled Japanese eggplant slices, fresh ricotta and more sauce, then another layer of pasta, alternating strips of salmón rosado and blanco, lots of basil leaves, more sauce, more pasta, more sauce and a grating of romano cheese. Now that's a salmon and eggplant lasagna. The olive sauce I served spooned over the top and while I don't recall what went into my original, this was essentially a loose tapenade – pitted black olives, anchovies, garlic, dried peperoncini all blended smooth using the brine from the olives as the liquid.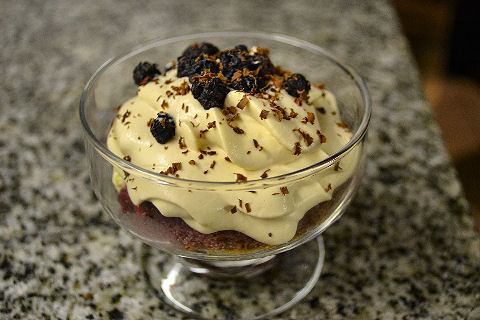 I know the trifle that I used to make back then because it was the one we made at The Kitchen Club where I was the chef at the time – it consisted of mashed up prepackaged pound cake, a scoop of mascarpone cheese with some egg yolks mixed into it, dried fruits soaked in brandy, and sugary whipped cream atop. It was like a dorm-food version of the dish. Here I made cocoa sponge cake and cut out discs that went into the bottom of the glasses, macerated fresh blueberries, raspberries and blackberries in brandy and then spooned them over the cake, then a scoop of the mascarpone with egg yolks, some of the dish did used to work well, more of the macerating liquid, and then whipped cream sweetened with a touch of brown sugar and vanilla. Topped it all off with dried blueberries and grated chocolate. A whole lot better!
And so that's the first of my historical "re-creations" – next week will be another, and then we'll have a couple of other themes, and we'll see if I go back to this. It was kind of fun to think about what I might have done then versus how I'd do it now.