"You can't be a real country unless you have a beer and an airline. It helps if you have some kind of football team, or some nuclear weapons, but at the very least you need a beer.

– Frank Zappa
So, let's see, Argentina has an airline, of sorts. It has quite a few football teams, or at least playing a game they think is football. As far as I know, no nuclear weapons, though there are certainly spots around town that might qualify as radioactive. What about beer? Sure, they have Quilmes and all its derivatives, none of which (well, actually, I kind of like the red ale, and their Patagonia amber isn't bad) are worth drinking as long as there's a water tap nearby. And there are a few artesanal beers I've had that I've liked – in particular Beagle Rubia from Patagonia and a couple from the BarbaRoja line – but really not much else so far. One of these days I'll have to get together a group and we'll do a real, proper tasting or series thereof.
Now, despite having been open for some four years or so now, somehow or other I've never made it before to Buller Pub and Brewery, R.M. Ortíz 1827, Junin 1747 (moved a block away in 2016), just a couple of blocks from my home here in Recoleta (they also have a pub downtown at Paraguay 428). Likely it's because it's on the strip of tourist traps that is Village Recoleta and so I've ignored it on the assumption that it would be overpriced and not all that interesting – that, and I'm not a big beer drinker, I much prefer wine and/or cocktails, such is life. But now and again…..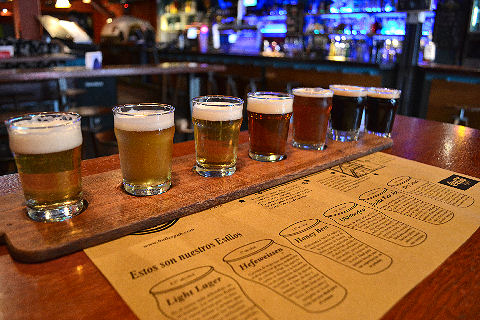 Not having tried any of their beers before, the sampler option seemed like a fun way to try them all out. Also figured that somewhere in the six offerings I'd like at least one or two, you know? It arrives on this long board with a mat that explains each of the beers – how they're made, what they should taste like (in Spanish, I don't know if there's an English version of the mat), and some notes about the brewery – which is on premise (or at least there's brewing equipment on premise, though it didn't smell like there was anything being brewed up there, so that could be for show). They were also tossing in a free sample of a seventh beer that they're adding to their line. At 35 pesos, it's actually not a bad deal for half a dozen different beers – in quantity it's not, because all told you probably end up with only about two pints, if that, but the chance to sample them all adds some value (I note that the first time I heard about the place, four years ago, was from local friend Alan Patrick, who
wrote up the same sampler
, which then cost 17 pesos).
The beers, in order… a Light Lager – insipid, tasteless, watery, something that perhaps on a really hot day in midsummer would go down fine as a source of alcohol and refreshment, but not much more; a Hefeweissen – probably my favorite style of lighter beers, this one wasn't bad, it has a nice fruitiness to it, a touch of bitterness, and decent length; Honey Beer – I found the honey to be overwhelming in this, completely out of balance; Oktoberfest – my favorite of the tasting, nice and rich, lots of hops with their associated bitterness, great complexity, I could easily put away a pint or two of that; India Pale Ale – this was so bitter I wanted to just spit it out on the floor; Dry Stout – not bad, not great, a decent stout with nice aromas of roasted coffee and some decent complexity, drinkable but I wouldn't order it again; and, the extra, a Porter – great dark, bitter chocolate notes, really nice balance, well made.
So, 3 out of 7, about what I expected.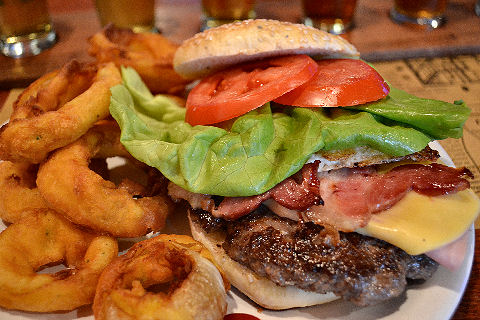 Part of the reason I was there was that I was just in the mood for a burger and figured they must have one, which, indeed, on the menu posted outside, they offer two – a plain burger and a big burger – you can guess which this is. You know I love this kind of thing – packed with cheese, fried egg, ham, bacon, lettuce and tomato. Overall, pretty damned good. It suffers from what many of the Argentine style burgers do, which is that the meat is too finely ground, so the patty has a texture that's almost sausage-like. But the flavors were good and it came out cooked the way I wanted it. Plus, they were happy to substitute onion rings for french fries, no extra charge. And, the rings aren't bad – they could have been a little bit crisper, but the onion to batter ratio was good, they weren't oily and they were nicely seasoned – I'd just ask them to cook them a little bit more and they'd be perfectly fine. Condiment-wise, Hellman's mayo and ketchup in packets, Savora mustard the same – a shame on the last, it's too sweet for me – a good mustard would have been great. For a tourist joint in Village Recoleta, and a burger of this size (I'd guess it was around a half-pound burger, before toppings), 46 pesos is about what I'd expect to pay – though admittedly, for the same price, I could walk a block north and have the big burger at Hard Rock, which is certainly better. But, ambiance and some interesting beers…. it could be a tossup in some ways.
Service, typically slow and inattentive. It was a solid ten minutes after being seated before any of the waitstaff came over to my table, despite their being more of them than there were customers in the place – they were busy chatting amongst themselves and talking on their cellphones – and food and drink were dropped off on the table perfunctorily without comment – in fact, I think the only thing my waitress ever said to me beyond asking what I wanted was when she dropped the bill making a point of that her tip wasn't included (which the bill also states in large letters in three different languages). Overall though, recommended if you're in the mood for a pint (Oktoberfest or Porter I think) and decent burger. Hmm… on the other hand, though much further afield, I enjoyed the beer sampler for the same price (and each glass at least double the size of these) at BarbaRoja out in the 'burbs.