"Italy's small towns and villages are famous for their local color, but every spring a handful are literally turned into gardens when local artists carpet the piazzas and streets with multi-colored mosaics made entirely of flowers. In the 18th century, a number of small towns in Italy began celebrating Corpus Christi by paving their streets with mosaics made from the petals of local flowers.
Umbrian cuisine is not well-known outside of, well, Umbria, but it's among my favorites in all of Italy. The flower festival, religious overtones or no, seemed as good a reason as any to offer up a dinner of some classics – tweaked here and there. These are the recipes that I teach in my Umbrian cooking class as part of our regional Italian dishes series.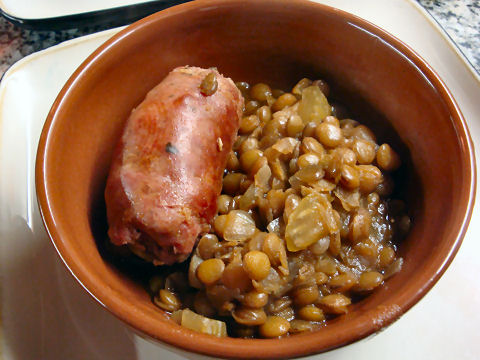 Here we have slow cooked lentils with onions, celery, bacon and tomato served up with Italian sausage links (homemade, of course) that are first browned and then finished in the pot with the lentils.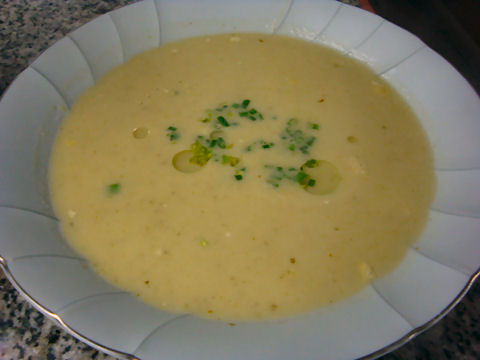 Umbria is famous for both its black celery and its black truffles, the latter actually black in color, the former, not, though different from "regular" celery. Either way, neither item is available here, but a reinterpretation of a classic soup using a broth made from pureed and strained celery, leeks, potato and various herbs, finished with a touch of cream, and then drizzled with black truffle oil, at least brought a touch of the idea to our table.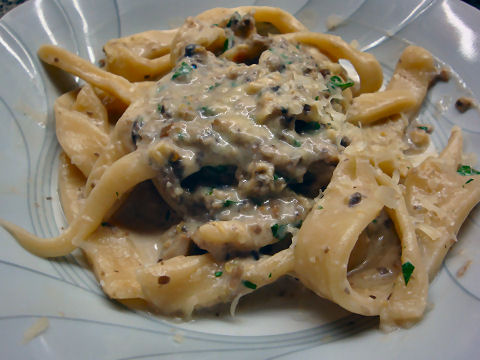 Certainly in the top ten of my favorite Italian pastas, umbricelli – thick, slightly chewy, squared off long strands of plain semolina pasta are served with a cream sauce flavored with sauteed coarsely chopped portobellos, green olives, garlic and peperoncino for a bit of a kick. The pasta is almost the same as what is known in other areas of Italy as strozzapretti, strangolapretti, pici or strangozzi, or in English sometimes referred to as "priest stranglers" – the major difference being that umbricelli are never rolled after cutting, but left with square edges.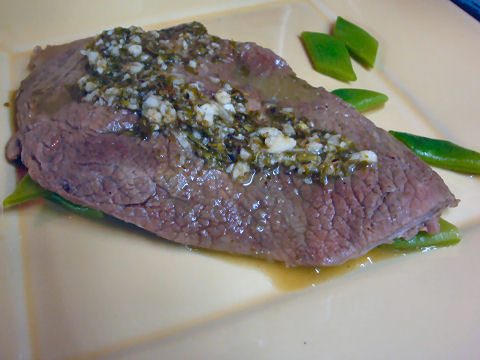 We don't serve much in the way of veal or beef dishes most of the time, but this one is too good to pass up. And really simple. Thin scallops of veal are quickly sauteed and then I put them in a pot with some intensely flavored stock (I had leftover pork stock from making the lentils above) just to keep warm and absorb the flavors. At the last minute a quickly warmed sauce of fresh lemon juice, white wine vinegar, lots of garlic, onion and a mix of chopped herbs – rosemary, mint, basil and oregano – and just a touch of mustard and anchovies, is poured over the top. For some color, and just to get some veggies into the dish, blanched and shocked Italian green beans that are finished at the last moment with a quick saute in olive oil, butter, salt and pepper.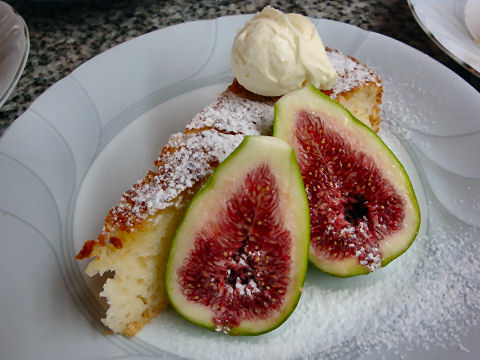 A classic dessert of the region, pizza dolce, here gussied up a bit. The base is a simple focaccia dough that's allowed to rise once, then it's kneaded again with lemon zest, sweet wine, sugar, egg yolk and olive oil, forming a thick batter. Poured into a cake pan or deep dish pizza pan that's coated with olive oil and breadcrumbs, and then baked to a golden brown. Often served simply with a sweet wine (into which many folk dip the pizza dolce), I opted to serve it up with some fresh green figs, the whole thing dusted with confectioner's sugar, and the topped with scoop of sweetened homemade mascarpone.