Anyone who has spent time here in Argentina has probably encountered alfajores, the lovely dulce de leche or chocolate or marmalade filled sandwich cookies that are what every Oreo dreams of being when it grows up. I've always noted that there were various kinds, particularly marplatenses, santafesinos, and maicenas – i.e., from Mar del Plata, from Santa Fe, and made with cornstarch – but I didn't really give any thought to what the differences were.
Class this week had three parts to it – each pair of us (we'd been split into pairs the week before as work teams) was to bring in homemade puff pastry to work with (thankfully Julio brought some, since I had an incredibly busy week last week and simply never got to it), with which we made cañones and cuadritos – little puff pastry cones and sugar covered squares; then we learned how to make the three different types of alfajores, more in a moment; and, we went through the process of costing out recipes – not new for me or the others who work in the restaurant biz, but new for most of the class.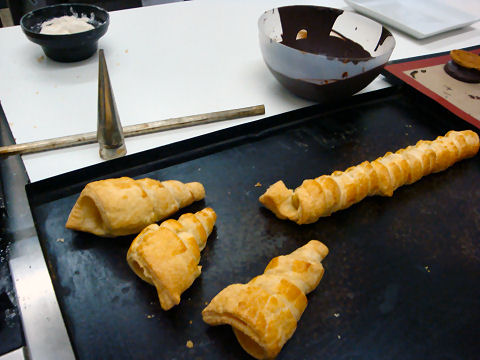 The cañones can be filled with either something sweet or savory. I saved mine for something savory here at home…a little cream cheese, smoked salmon, chives, no?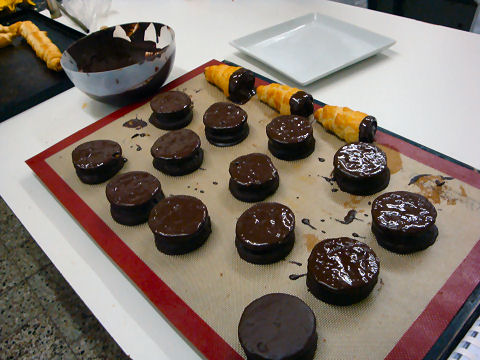 Dipping the alfajores marplatenses in chocolate.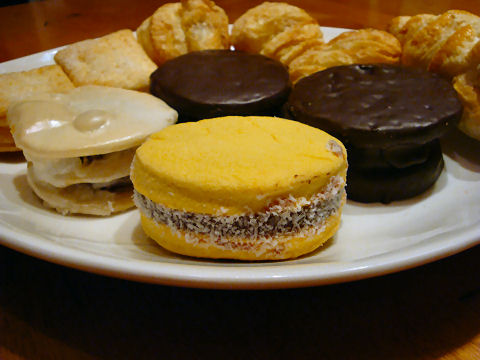 And, the finished products. In the back, from left to right, the cuadritos, mini-empanadas with membrillo paste, and cañones. In the front, the three types of alfajores. So here's the difference. The little white, stack of three, are the santafesinos – it's a trio of wafer thin cookies, not particularly sweet, layered with a blob of filling between each, and then the whole thing dipped into a simple vanilla, sugar and egg white glaze, one side only, which is allowed to then drip down. The chocolate covered ones are the marplatenses – soft, cocoa flavored cookies, which are then reversed so that they're top to top, and stuck together with dulce de leche – they look somewhat like a yo-yo, the effect, however, is that you end up with a flat top and bottom, both sides are dipped in chocolate glaze to completely seal it. And, the maicenas, or cornstarch ones, another soft cookie, generally vivid yellow with a touch of food coloring, put together with marmalade or quince paste or something of that sort (not that dulce de leche isn't an option, and many of them do use it), and then rolled in coconut. Now I know the differences, and, how to make them.