"I gotta work out. I keep saying it all the time. I keep saying I gotta start working out. It's been about two months since I've worked out. And I just don't have the time. Which uh..is odd. Because I have the time to go out to dinner. And uh..and watch tv. And get a bone density test. And uh.. try to figure out what my phone number spells in words."

– Ellen DeGeneres, comedian
Buenos Aires – I think it's pretty much every dinner that we host at Casa S that someone asks "Do you guys eat like this every night?" Let's face it, if we did, both of us would make Jabba the Hutt look svelte. We do, indeed, try out some of the recipe ideas for future dinners – not necessarily for the dinner coming up that weekend, but just simply ideas that at some point we may, or may not, incorporate into a tasting menu. And sometimes, we just eat something that sounds interesting or we feel like, or that takes no thought or effort to throw together.
Here, just to give you a sense… the last three nights' dinners: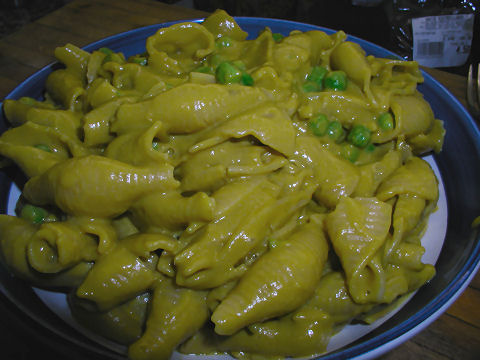 Saturday (prior to the Casa S dinner, we'd already eaten the same menu two nights running) – Avocado Shells 'n "Cheese" – the recipe comes from the Eating Consciously blog and is superb – I'm not going to claim it tasted like a four cheese baked mac 'n cheese with all the crusty bits, but the combination of ingredients gives the right consistency and a cheese-like flavor that was certainly as good as the "cheese sauce" in many boxed or frozen versions, and far better for you… and us.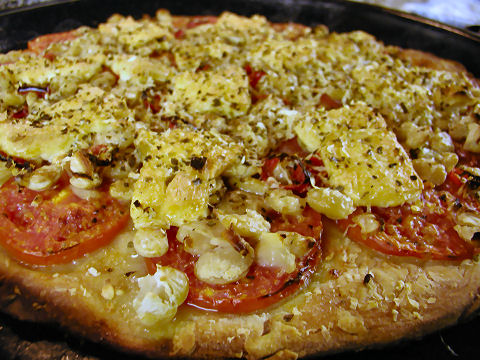 Sunday – Slices of fresh tomatoes, white butter beans, lots of chopped garlic and jalapeños, a grating of reggianito and cheddar cheeses, plus some slices of fontina, all atop foccacia – a tomato white bean three-cheese pizza, if you will….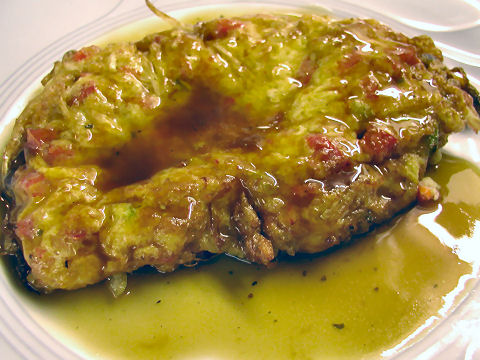 Monday – I've been having a yen for egg fu yung. Despite all the Chinese restaurants that abound in this town, it doesn't exist here… And why? Because it's not really a Chinese dish, it's a Chinese-American dish that was invented in the 1930s, mostly in restaurants that offered up sort of pan-Asian-ish cooking – some even call it a "Polynesian" dish… which is probably even further off the mark. Still, it's one of those comfort food favorites, and I happen to make a pretty decent one – this one with surimi (imitation crab) and plenty of vegetables.