"Whereas some of my contemporaries may be satisfied to embrace aging gracefully as part of the cycle of life, that is not my view. It may be 'natural,' but I don't see anything positive in losing my mental agility, sensory acuity, physical limberness, sexual desire, or any other human ability. I view disease and death at any age as a calamity, as problems to be overcome."

– Ray Kurzweil, Fantastic Voyage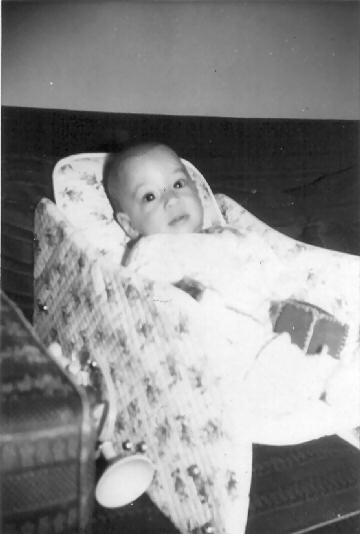 Madison, Wisconsin, September 19, 1958
– Coming into the world on the same day as rock star Lita Ford, Bollywood singer Lucky Ali, Actor/Director Kevin Hooks, and Ghanian boxer Azumah Nelson hasn't really done anything for me. Neither did the U.S. test of nuclear weapons in the Nevada desert that morning. My dad was tied up taking his medical board exams, his best friend accompanied my mom to the hospital, where I showed up somewhere around 2:15 in the afternoon. I accomplished little in my first year that wasn't accomplished by any of hundreds or thousands of others born on the same day. To the best of my knowledge, this is the earliest extant photo of me, taken about five months later, in February 1959.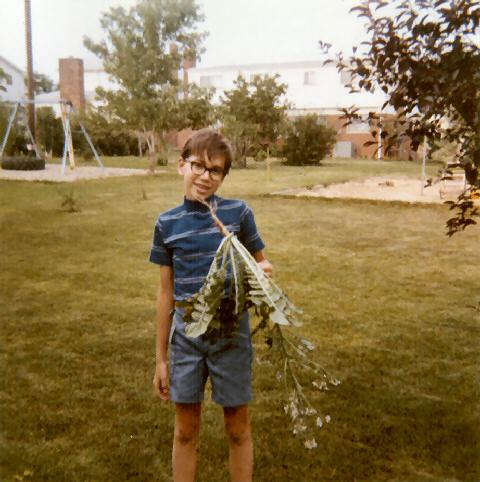 Ann Arbor, Michigan, September 19, 1968
– By this stage of life I'd lived in Kansas City, Joliet, and Lansing, as my dad moved around working for the Public Health Service, I'd begun to wear glasses, was a competition swimmer, and had taken up an interest in gardening in our backyard. This photo is the summer after my 10th birthday, presumeably near to my 11th given the look of late summer. I had two best friends, Stan and Mike, both of whom I'm still in touch with at least a couple of times a year.
Funny Girl
was released on my birthday, perhaps presaging my future. Singer "Red" Foley died that day. Someone placed a bomb in the Mexican consul's home in the U.S.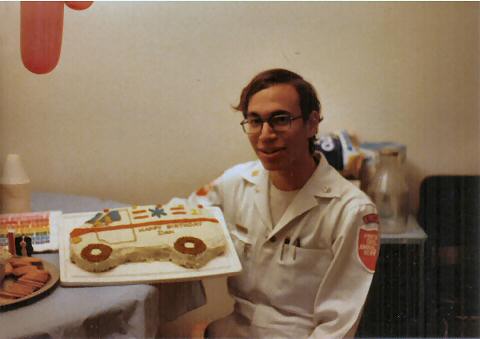 Ann Arbor, Michigan, September 19, 1978
– A year late here on the photo, my surprise 21st birthday party when I got home from a 24 hour shift as a paramedic, arranged by my roommate John and several close friends. And that pretty much tells you what I was doing at the time – I was in college, at the University of Michigan, part-time, and working, first as a campus security officer, and then as a county paramedic, to pay my way through school (and I'd spent high school and the first year of college working in a neighbor's Italian restaurant). Thankfully, given the $400 a week I was earning before taxes, U of M for Michigan residents was a mere $424 per semester when I started. I'd initially planned on a major in journalism, then switched to an aquatic biology major, and finally ended up, a couple of years after this photo, with a degree in biopsychology. I'd traveled a fair amount throughout the midwest U.S., and taken a senior year high school trip to Russia, as one of the first student gropus allowed in after Nixon negotiated for such things. I was definitely "out of the closet" by this point, though hadn't yet found myself a boyfriend (a brief and difficult relationship with an "older" man, nearly 30, had faded away quickly). Jimmy Carter held his famous meeting with Jewish leaders at Camp David, hoping for some insight into the Middle East's unrest.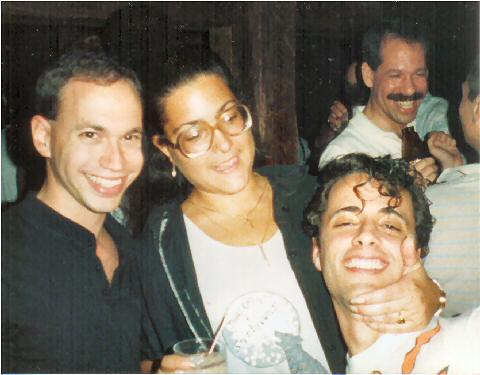 New York, New York, September 19, 1988
– Greg Louganis, a cutie if there ever was one, suffered a head injury at the Seoul Olympics but forged ahead and won two gold medals. I know I chose not to celebrate my 30th birthday party – and instead actually waited several years, having my first really big, blow-out party, on the date I turned 33-1/3, January 19, 1992. This photo is from somewhere around the time I turned 30, probably a year or so before, at some party that I don't recall, nor do I have the foggiest idea who the two folk in the photo with me are – I have a vague recollection that the young man's name was Robert… or Scott… he was a friend of a friend of a friend… By this point, I'd had three "serious" boyfriends – Brian whom I'd met shortly after my 22nd birthday, David who I'd met a few years later, just prior to moving to New York, so a short-lived relationship as he wasn't about to move, and Doug, whom I'd met somewhere in my late 20s and who I hear from now and again. I'd traveled a few times to Mexico, and shortly was to travel to Australia to meet up with my friend Gil who'd moved there for work. Trips to Europe were not on the horizon, but definitely popped up over the next couple of decades. I was back into the world of restaurant work, with occasional time doing temp word processing and real estate when I didn't have a cooking job.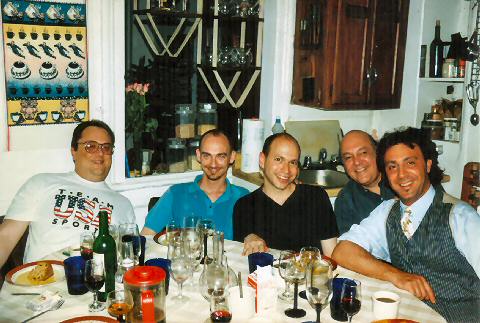 New York, New York, September 19, 1998
– This is probably a year or so before my 40th birthday, at one of my infamous
Second Sunday Supper Circle
dinners, the precursors to Casa SaltShaker. My boyfriend Mark is in the bright blue at my side, friend Bob next to him, to my other side, one of my closest friends of all time, Frank, and then Dodo, the chef from
Felidia Ristorante
where I was working at the time as wine director. Over the intervening decade I'd gone back to school to get a culinary degree, worked for Tom Colicchio in Mondrian's kitchen, been the sous chef at
The Sazerac House
and the chef at
The Kitchen Club
. I'd gone back to school again to get my sommelier's certification, been the wine director for
American Renaissance
and when it closed, move on to Felidia. I'd won the Eastern Region of the U.S.'s tri-annual sommelier competition and come in third at the national level. I'd traveled to France, Germany, and multiple times to Italy. In fact, I spent my 40th birthday on a solo vacation in Rome, at my friend Giuseppe's restaurant,
Bramante
, having dinner with him. I flew back a couple of days later, and my friends Bob and Frank, noted above, had arranged a surprise birthday party at Frank's house. The bigger surprise was, that though they'd invited all the guests and bought all the food, and even fired up the grill, they were awaiting me to cook it… Russia and the Ukraine were negotiating for peace with a major presidential summit the day of my birthday, and Kenneth Starr was busy prosecuting someone or other.
Buenos Aires, September 19, 2008 – Y'all know what I look like now from various photos here and elsewhere. Who would have predicted ten years prior that I'd travel again to Australia, decide to leave New York to live in Key West, get sidetracked while on vacation to Buenos Aires (which only happened because Continental cancelled my flight to the "Benelux" countries at last minute and I couldn't get on another one at a reasonable cost, so literally re-planned my vacation to take advantage of a cheap flight to Argentina the day before leaving), where, staying at a B&B, I met Henry who was filling in for a friend of his who'd gone on vacation, decide to come back and spend a couple of months before continuing on to Key West, and end up staying here – for 3½ years now. Or, the possibility of opening up an amazingly successful business like Casa SaltShaker. Or having a beautiful home and garden with Henry. Or traveling around South America, learning a new language, fitting myself into a new culture…
Today finds me in the kitchen once again, preparing a spread for tonight's 50th celebration. A quintet of friends have flown in from various points in the U.S. – Seattle, San Jose, Brooklyn, Boston – and we'll be joined by a couple, or a few, dozen friends from here, as well as those members of Henry's (and now my) family who are here in Argentina. For my 60th, someone else can do the cooking, you know? 'nuff said.
Life takes us on unpredictable paths, and I can but plan on, if Dr. Kurzweil is right, a couple more centuries of surprises!