"As Jupiter reached opposition earlier this week, it put on a spectacular show of cannibalism for anyone viewing with modest telescopes. Planetary specialists around the world have been watching with bated breath as a cataclysmic encounter between Jupiter's Great Red Spot (GRS), Oval BA (Red, Jr.), and the newly discovered Little Red Spot (LRS) unfolded at the beginning of July. Though encounters such as this are relatively common on the gas giant, this event was greatly anticipated because the LRS was strong enough to dredge up material from deeper within Jupiter's atmosphere, imbuing it with the same reddish color as the GRS and Oval BA."

– Sean Walker, Sky and Telescope
Buenos Aires – It's strange how different themes don't necessarily interconnect in my mind sometimes. At least to me. Here I was, with the Epulum Jovis, the ancient Roman festival to the god Jupiter, on my mind, which led me to think about the infamous January Red Dinner (January 12, 1997) back in New York that, while not involving Jupiter directly, had simply used an image of that planet's red spot as a background for the printed menu. So, I started thinking about a "red dinner" again, and it never occurred to me until around a day or so before the dinners that we'd just offered up a red dinner to celebrate the tenth anniversary of the Red Hat Society. Thankfully, there's more than enough red food to go around. The menu, eleven and a half years ago, more or less, was:
Roasted Red Pepper Soup with Prosciutto Bread
1994 Domaines Ott Château de Selle Rosé

Tomato Water & Lobster Risotto with Red Currants & Pistachios
N.V. Champagne de Venoge Princesse Rosé

Red Cooked Red Snapper, Jicama, Bamboo Shoots & Oyster Mushrooms
1993 Domaine Vacheron Sancerre Rouge

Braised Oxtail, Grilled Radicchio and Pickled Red Grapes
1975 Mastroberardino Lacryma Christi del Vesuvio Rosso

St. Andre & Cheshire Cheeses
1961 Château Citran Haut-Médoc

Sweet Tomato & Black Walnut Tart
1976 Parcé & Fils Banyuls "Domaine du Mas Blanc"
Keeping in mind that this was a different era in my life, those dinners were shared with a select group of close friends, once a month (and I was earning a near six-figure salary), the original menu could, at best, serve as an inspiration for a Casa SaltShaker dinner (lobster here, after all, only available flown in frozen and at the mere price of 400 pesos a kilo, or $182 per pound… and the wines… well, as I said, it was a different era, not to mention country). So, on with the show…
Now, the guests at Casa SaltShaker had one clear advantage over those who attended the Epulum Jovis. They got to eat. In the ancient festival, it is said, the rest of the gods were formally invited to a banquet, where they lay about on soft pillows carefully placed near to the table, which was set with a sumptuous feast. However, being gods, they did not ingest food, so they had servants who sat down and ate on their behalf. While a nice little nap on comfy pillows sounds delightful… lucky servants, no?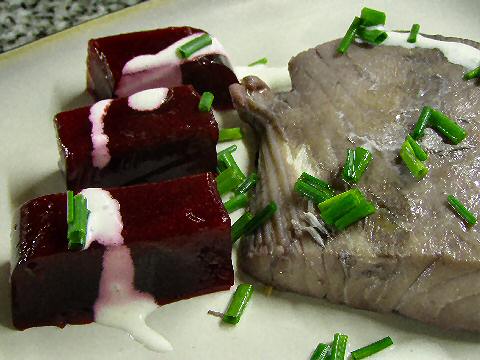 Red snapper, out of season. Red mullet, wasn't looking so good in the fish stores. But hey, the fish is being poached in a red wine court bouillon regardless – I decided on palometa, one of my favorite local fish. Poached, chilled, and served up with a beet and wasabi gelee (now that I'm getting the hang of gelees, you might have noticed I'm having fun using them), which by itself would have made a delicious little starter – peeled and coarsely chopped beets simmered in water with a little salt, pepper, and wasabi powder, strained, gelatin added, poured into a sheet pan and chilled. A little semi-whipped cream with salt and pepper and some chopped chives completed the dish.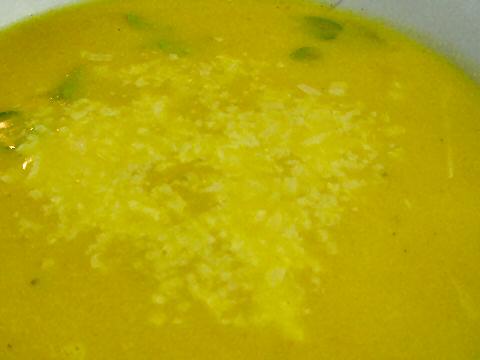 I decided to combine the prosciutto and red pepper into the soup rather than serve the former as a separate bread. A solid soup base of onions, celery, carrots, plenty of chopped prosciutto, and a mix of smoked, sweet, and hot paprikas, sauteed until lightly golden, then topped off with water and brought to a simmer. Meanwhile, I blackened a bunch of red bell peppers over a flame, peeled and seeded them, and then added them to the soup. I let it all simmer for awhile and then pureed it with the hand blender. To serve, I mixed in oregano leaves and topped the soup with a little grated reggianito cheese.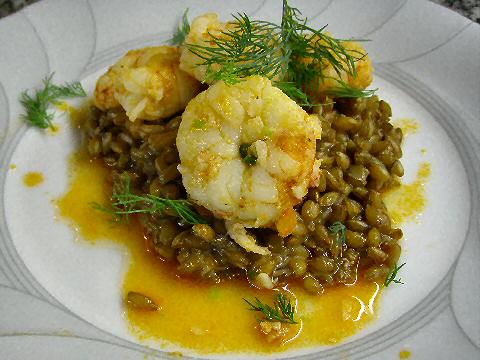 This was the most interesting dish for me, and, I think, for many of the guests. Starting from that lobster and tomato water risotto, I found myself thinking about a shrimp risotto. But then, not risotto, I wanted something… dark… like a brown rice risotto… no, wait, what about something like shrimp on rye toast… no, better, pumpernickel toast… but not toast, I was thinking about risotto… hey, what about "deconstructing" the pumpernickel…? I mean, my friends Aki and Alex having been playing with pumpernickel pastas… I think… This took a little experimenting to get right, I've never worked with rye grains before, I wasn't even sure I could cook them up like a risotto (and, it turns out, you can't really, unless you have hours to stand in front of the stove stirring – they need to soak overnight and then simmer in lots of water for a couple of hours to get plump and soft). So, soak them I did, in cold water, then into a pot I put lots of chopped shallots, just a pinch of salt, some pepper, plenty of caraway seeds, and a splash of oil and cooked until the shallots were soft and just starting to color. Then I added the drained rye grains, some cocoa powder and a dollop of molasses, topped it up with a good amount of water, brought it to a boil, and left it to simmer, covered, until the grains were getting soft, took the cover off, and continued cooking it until the water had evaporated. To serve, I reheated it and added in some whipped cream cheese with shrimp (one of those lovely flavored cream cheeses from the supermarket), and seasoned it with salt and freshly chopped dill. I sauteed up some prawns with chopped hot peppers, garlic, and dill seed, and, there you have it – shrimp on pumpernickel toast… deconstructed.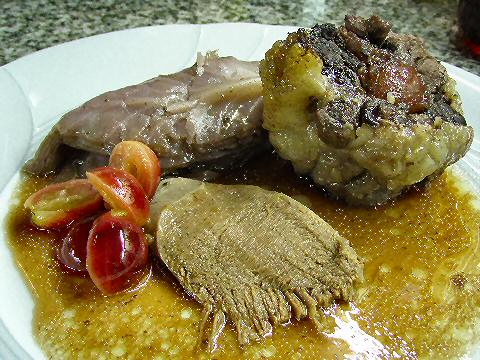 You might have noticed that I've been serving up a bit more of the offal, those cuts of meat that aren't as popular, "variety meats" as I've seen them termed. I was thinking about that original oxtail dish with the radicchio, but the latter looked anemic in the market, so I picked red cabbage, but not grilled, I decided to braise them together… and hmm, we were so successful with the tongue a couple of weeks ago that why not add one in to the mix – in fact, I saw an interesting looking braised dish of oxtail and tongue in one or another of my cookbooks, though I went with my own recipe – layered into the stockpot – wedges of red cabbage, the tongue, and the oxtails. Dropped in a couple of bay leaves, some slices of ginger, a crushed head of garlic, a couple of onions, some peppercorns and juniper berries, and salt. Added a liter of red wine and then topped it up with water, brought it to a simmer and let it go for 5-6 hours. Then I removed the meats and cabbage and put them in a covered roasting pan to stay warm – brought back to hot in the oven when dinner rolled around. Meanwhile, strained and skimmed the braising liquid, and reduced it from its couple of liters down to a couple of cups to concentrate the flavors and make a nice "gravy". Some pickled red grapes (same recipe as on the Red Hat dinner), and that's dinner!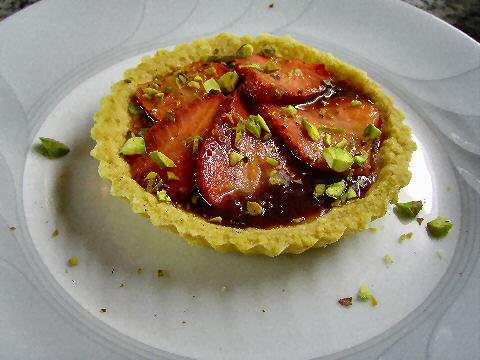 Tomatoes aren't in season right now, at least not really sweet, ripe plum tomatoes like I'd used in the original dinner's dessert. I thought about something like a cherry clafouti, as I'd been talking about one with a friend who's now visiting for the week, but cherries, likewise, not in season. Strawberries have just come into the market – not overly sweet, but sliced and marinated in kirschwasser and sugar they come out brilliantly. The dough, a simple pate brisèe – 5 parts low gluten flour, 4 parts butter, 1 part sugar, pinch of salt, all mixed together to get a crumbly texture, and just enough water to get it to come together as a dough, lightly chilled, then molded into buttered tartlet forms, baked until golden, left to cool. Filled with mixed berry jam, topped with the sliced, marinated strawberries, and chopped, toasted pistachios. Done. All Hail Jupiter!