"Sure 'Queen' was vulgar and sleazy and filled with bathos and bad taste," wrote producer Howard Blake in an article for Fact magazine. "That was why it was so successful. It was exactly what the general public wanted….We got what we were after. Five thousand Queens got what they were after. And the TV audience cried their eyes out, morbidly delighted to find there were people worse off than they were, and so they got what they were after."

– Shawn Hanley, December 16, 1996, Mass Media History Seminar
Buenos Aires – Almost exactly a century before Queen for a Day became a hit on radio and then later on television, one man was doing his own version, only it was "President for a Day". Now, the story is a bit of an urban legend, and there are various interpretations of what really happened, but the gist of it is that James Polk, the 11th President of the United States, ended his term in office at midnight on a Saturday. The incoming President, Zachary Taylor, refused to be sworn in "on the Sabbath", a Sunday, and therefore, wasn't sworn in until Monday at noon… the legend is that David Rice Atchison, the president of the Senate, became by default the acting President of the United States, even though he was never sworn in, and although according to his own memoirs he was informed that he was by a Federal justice – of course one with his own political motives, he wanted, during that brief period, to be appointed Secretary of State (which Atchison did not do). "I made no pretense to the office, but if I was entitled in it I had one boast to make, that not a woman or a child shed a tear on account of my removing any one from office during my incumbency of the place." The problem, if one wants to refute the whole thing – and I don't, but just to present the opposing case, is that his term as president of the Senate also ended at the same Saturday midnight – in fact, given the structure at the time, as some have put it, the country was actually simply without an elected government for 36 hours. Atchison was sworn back in as president of the Senate less than an hour before Taylor was sworn in as President of the U.S., so one might argue that Atchison was President for, say, half an hour… he also was/would have been the youngest President, at the tender age of 41. I was so fascinated by this little blip in history that I simply had to honor his 200th birthday this weekend with a tribute to the regional cuisine of his home state, Missouri.
One of the things that people who don't know American (and I'm using that in my home country sense) cuisine well don't realize is that there are true regional differences… and if you travel around the U.S. you find that out quickly. I can't claim vast knowledge of all the cuisine of Missouri in particular, though I did spend a short portion of my childhood living in Kansas City, but, for example, someone has collected together a list of the foods of St. Louis on the web… As usual, no intention on my part to duplicate the traditions, just to use them as inspirations – something I made sure to let three folk coming on one of the night who were from various parts of Missouri when they informed me… this ain't gonna be like your mama used to make.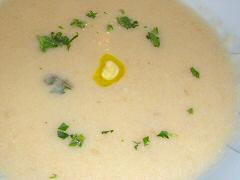 Okay, say repeat after me… "tirarira"… that's ti – ra – ri – ra… very good… and it's not an Irish lullabye… We'll get back to that in a moment… originally I wanted to make a crayfish chowder, but the conspiracy of crayfish here costing a bundle (little ones fresh from the river running 100 pesos a kilo, the big ones from the delta, almost more like small lobsters, running 150…), and two people coming who were allergic to shellfish and another two who simply refuse to eat it, and I moved on to another classic, a catfish chowder… and ran into an availability problem, I simply couldn't find a supplier who had either of the local catfish I'm familiar with – surubi or bagre – so I went for another strongly flavored fish, a wolf-fish, which I was able to find in a local market… here called, you guessed it, tararira. A difficult fish to work with it turns out, as the spines are all forked… which means they were a true pain to remove from the fillets. The chowder was fairly classic beyond that – I cooked some finely chopped smoky bacon until it had rendered most of its fat, added chopped leeks and shallots and cooked them until soft, then added potato, the fish, and a roughly 50:50 mix of milk and fish stock. Cooked it until the potatoes were soft and then used the hand-blender to coarsely puree it all – seasoned with smoked salt and white pepper. Topped with a little butter and parsley to serve. That works.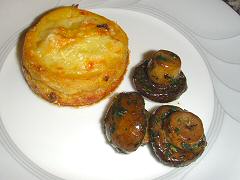 That doesn't look like any "Church Supper Cauliflower" I ever saw, and I've seen a few throughout the midwest. The traditional Show Me State version apparently consists of trying to turn a vegetable into something that doesn't resemble one, perhaps just so the family will eat it – fried up and then tossed with cream of mushroom soup, and then topped with crumbled crispy bacon and melted cheddar cheese. So this, obviously, is a radical reinterpretation of that dish – I first made a cauliflower souffle – almost in a way more of a baked mousse – I roasted the cauliflower and then pureed it into a bechamel sauce, then added some beaten eggs and baked it in ramekins. Then I let them cool slightly, and obviously collapse, flipped them out onto a silpat (or parchment paper would work, just so they don't stick), topped them with grated cheddar cheese, and stuck them under the broiler to lightly brown the cheese. The mushrooms are baby portobellos and are simply sauteed in a little olive oil with a mix of chopped curly leaf and flat leaf parsley, salt, and black pepper. Visually, I think it needs maybe some sort of sauce… but the souffle was moist enough that in practice it didn't really. Maybe something like a little creamed mushroom puree just squiggled onto the plate. Or mushroom foam, yeah, we could do a foam again…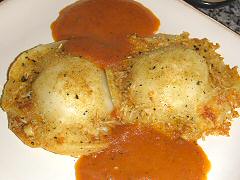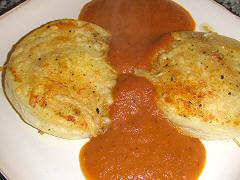 If you don't know St. Louis toasted ravioli, you have no idea what a heart-stopping idea it is. Fill ravioli with cheese and/or meat, cook them, cool them, dip them in flour, then milk and egg, and then "Italian seasoned" breadcrumbs, and then deep fry them until golden brown, coat with lots of grated parmesan (some folk mix the parmesan into the breadcrumbs as well), and smother in marinera sauce. Day one – I used wonton skins and sandwiched a filling of ricotta seasoned with a touch of salt and some sansho pepper – an interesting, slightly fruity Japanese pepper – between them. I laid them out on parchment pepper that was liberally coated with olive oil, then brushed the top with an egg and milk mixture and sprinkled them with breadcrumbs that had finely chopped nori seaweed mixed into it, then grated some reggianito cheese over the top, drizzled with a little bit of olive oil, and baked them in a hot oven until cooked through, then quickly flashed under the broiler to brown the topping. I served them with a sauce made from roasted tomato, onion, and garlic with a little reduced red wine added. Day two – I was lazy, I had run out of wonton skins, and the idea of trekking out to Barrio Chino for one package of them just seemed like more than I could face on a Sunday morning. Necessity is the mother of invention, no? I found some mini empanada skins and decided to give those a try. Everything else the same, but the dough, not surprisingly, puffs up and gets a bit too bready. Not the texture I wanted, they were more like mini filled pizzas or something. Note to self, stay with wonton skins or pasta dough. Flavor was fine, just not the presentation and texture I was looking for.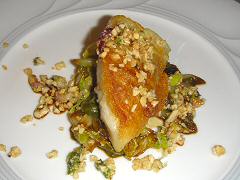 There was no way I could resist making an updated version of Springfield Style Cashew Chicken. This is one of those dishes left over from the early 60s when everyone was trying to be exotic and cook "Chinese food", the new rage, and oh so gourmet, you know? The original dish is a gloppy mess of chicken stewed in a sweetened oyster sauce, topped with cashews and green onions and shoved under the broiler to toast, or caramelize, the top. It was more or less a casserole style dish, and, as one of our Missouri rooted guests noted, in Springfield, it seems that every restaurant serves up their own version of it, each more gloppy and unappetizing looking than the next. I simply had to lighten it up – so the chicken was dusted in cornstarch and salt and then fried to give it a lightly golden crust, then drained. Meanwhile, I simply sauteed some Chinese cabbage in a little bit of brown butter, finishing it with a splash of sherry vinegar, a little sprinkle of sugar, and some soy sauce. I toasted chopped cashews and green onions in a pan in just a little bit of corn oil and then sprinkled them on top of the dish. Much better…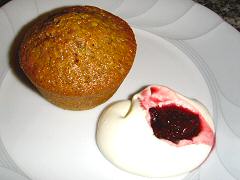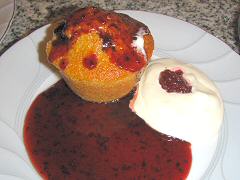 Simply, a dish that needs work. My first thought, I wanted to do a Cherry Pecan Crisp, a really classic dessert of the region, but cherries aren't in season, so that was out. A Blackberry Jam Cake sounded perfect – though I wasn't going to do the classic bundt cake ring. Individual cupcakes. I used my basic cupcake recipe (without the coconut filling on that link), but added some spices to it – 1 teaspoon each of cinnamon and nutmeg, and ½ teaspoon each of cloves and cardamom (allspice would have probably been more traditional). Night one – I forgot to add the melted butter to the recipe, so the cakes turned out a little more dry than I would have liked, though it was at least partially made up for by a nice dollop of blackberry jam that I settled on the batter and got swallowed up in the cooking process. But the presentation is a little too plain… So night two, I remembered the butter, but forgot, amazingly enough, the dollop of blackberry jam, and improvised, making a sauce of the jam mixed 2:1 with some simple syrup and warmed. Night three, were there to be one, combine the two – remember the butter and jam in the cakes, and add the syrup around it… that'd be a blackberry jam cake to remember.