Puno, Peru – It's been a long time since I went on vacation with someone else. Years. I'm used to just sort of throwing a few things in a suitcase and figuring it all out as I go. With three weeks to explore Peru, whow knows where I might have ended up. However… Henry likes things organized (surprising, I'm the Virgo in the family), and particularly with knowing when he's going to be where. So flights, hotels, transportation… all handled in advance. On the other hand, I'm well aware that things simply, rarely go the way they're planned. We were all basically packed when his sister showed up with a steamer trunk sized suitcase of clothes she'd made and kept samples of over time, all to be carted to their family… whom we weren't going to see for nearly two weeks. It also weighed in at roughly fifty kilos, there's a twenty kilo, single bag check limit, plus one carry on, these days – and a US$11 per kilo extra fine… so let's see, we'd be in for a couple of hundred dollars to cart about the same amount of clothes. I had to play bad guy, but such is life.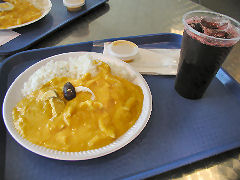 Early morning dawned on our day of our departure, and we got off to the airport with nothing more than the usual sorts of last minute things to do. There was virtually no one at the airport, so we were wayyyy early. No problem, and the flight got off on time. It was long (okay, four and a half hours or so) before we found ourselves zooming into Lima. Totally uneventful, and with time to kill, we re-checked our baggage to continue on to Juliaca, and headed to the airport food court, where we put away a couple of plates of ají de gallina and glasses of chicha morada at the only non-norteamericano counter in the airport…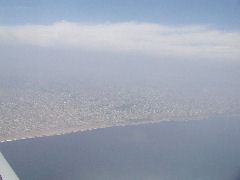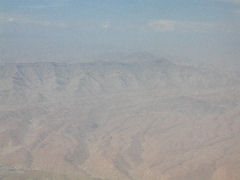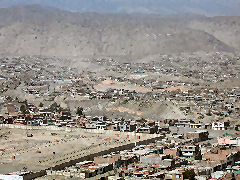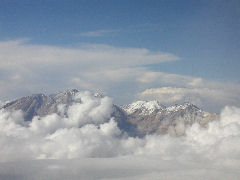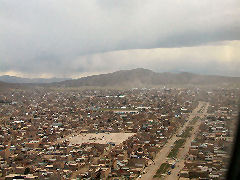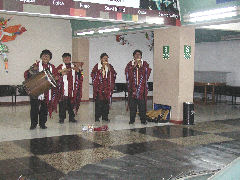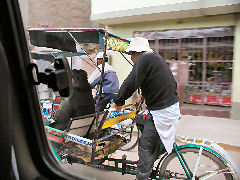 Off on the next flight, with a stop in Arequipa and then continuing on to Juliaca, where we were met by a local folklore band, and then by our ride, which turned out to be contracted van that takes guests from multiple hotels to and from the airport. In a van built for eight people or so, we packed eighteen including the driver. And, of course, our luggage got tossed onto the roof and lashed down with a few ropes… only blurred impressions of Juliaca, being tired – but narrow streets, packed with traffic, especially bicycle taxis – more or less rickshaws. It's worth taking a private taxi to Puno, it'll cost the same, take less time, and be more comfortable.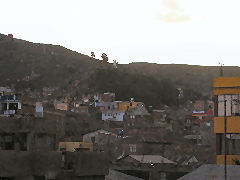 We made it to our hotel with us and everything intact, and checked in to the Hotel Sillustani, a clean, well kept hotel with very friendly and helpful staff, who welcomed us with cups of coca leaf tea to start helping with altitude adjustment – something that happens in virtually every location you find here – it's the first question you'll be asked on entering a restaurant, a hotel, sometimes even tourist attractions. Our room, lots of space, very small beds – almost cots – decent bathroom, and a nice view up into the hills. First impressions of Puno – if it is possible to make the streets of Juliaca narrower, and pack them with more traffic, the Puñenos have done it. Taxis come in three varieties and are everywhere – bicycle rickshaws, motos (mini motorcycles with tarp-enclosed seats behind them – very hot in the daytime, and mini-station wagons – prices are based on whatever they size you up for, and the same distance ride can result in a request for anywhere from 1.50 soles (the real fare throughout most of the city) to as much as 7 soles. Ask upfront.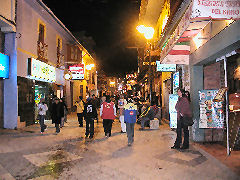 Having gotten in in early evening, we took some time to wander the main street, Calle Lima, the major portion of which is a pedestrian tourist trap – filled with souvenier shops, casas de cambio (that will try to take 15% or more to change your money), and restaurants that make Buenos Aires look cheap. Of course, the rain started… it is the rainy season after all. We quickly let ourselves be talked into one of the touristy restaurants – Balcones de Puno – where we were subjected to relatively inedible ceviche of lake trout (essentially completely raw, and tasting of mud), a tiradito of the same trout that was probably only edible because it was doused in sauce, a plate of cuy, a fried guinea pig… and a couple of tournedos of alpaca. We did get a couple of free half sized pisco sours, gratis. May as well jump right in, you know? A shame it was all so bad. The show was fun though – local music and dance.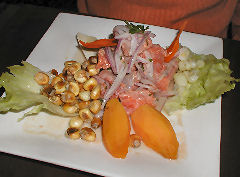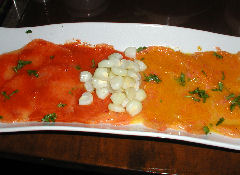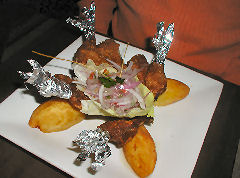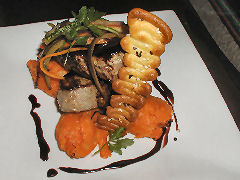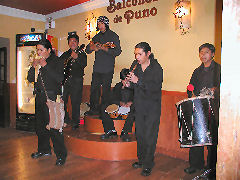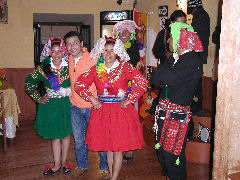 We headed back to the hotel early, took another cup of the coca tea each, and crashed, it'd been a long day.