"I drink when I have occasion, and sometimes when I have no occasion."

– Miguel de Cervantes Saavedra, 16th Century Spanish author, best known for El Quijote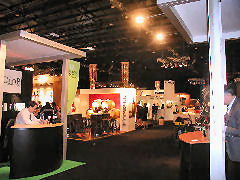 Buenos Aires – This week is "wine week" here in Buenos Aires, and probably the most important public event is the annual Vinos y Bodegas exposition of Argentine wines at the La Rural center. I can't for the life of me remember why I didn't go last year, but I wasn't about to miss it this year. I was even more interested to go when a friend offered me a ticket to the opening evening, ostensibly a "trade only" event, though there were a large number of "the public" who were clearly given passes by friends in the trade. Still, for those who want to do some serious tasting and really get a chance to talk with the exhibitors, it's a much more restrained event than the drunken fest that tends to happen when folks who like to drink are told that for a mere 25 pesos they can show up and have as much as they want over a five hour period (the show runs from 6 p.m. until 11 p.m. this Thursday through Saturday, with Wednesday having been the invitation only night).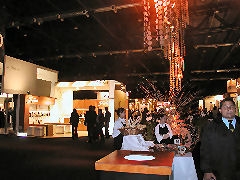 The basic setup of these sorts of events is much like any trade show. Various exhibitors set up booths to display their wares – in this case primarily wine – to anyone who wants to come check them out. The idea, of course, is to generate interest in their new wine releases, a bit of goodwill, and for smaller or lesser known companies, to introduce the world to their products. As an adjunt to the wines, various related magazines, accessory companies, and wine tourism companies were also exhibiting their wares. I got there early, figuring, correctly as it turned out, that it would get insanely busy as the evening wore on, and get harder and harder to taste the wines I wanted to. In the end, I skipped a lot of the higher end premium wines, as even early on there were lineups to taste them – some folks just come to try the wines they can't afford to buy and drink normally. And, by the way, unlike most of these exhibitions, especially on a trade evening, a large percentage of the exhibitors did not have "spit buckets" in which to expectorate (for those of us tasting and not drinking) and/or dump the rest of the glass. The scattered garbage cans, not intended for that purpose, were getting a bit sloshy by later in the evening.
So, on with the show – by the way, I mostly tasted things other than Malbec, sacrilege though that may be. Although there were several hundred wines being exhibited, and one could spend a couple of days tasting them all, I only went the one day, and spent time talking with the producers rather than zipping from wine to wine. So, I only have notes on 21 wines to share with you, disappointingly, nothing I tried rated a "Highly Recommended":
La Bodeguita Torrontés 2005, Salta – dry, light floral notes, dried apricots, and white pepper, a bit austere. Recommended.
Finca Don Domenico Sauvignon Blanc 2004, San Juan – strong notes of slightly rotting asparagus, overripe melon, and yeast. Not recommended.
Lancatay Bonarda 2004, Mendoza – black cherry, burnt toast, light weediness, thin, and a short finish. Not recommended.
Chakana Bonarda 2005, Mendoza – red cherry, bubblegum, green peppercorns, light oak, juicy acidity. Okay.
Finca Don Domenico Bonarda 2004, San Juan – very light in color, red cherries, green olives, thin, somewhat acidic. Not recommended.
El Escondido de Don Domenico Bonarda Reserva 2004, San Juan – a bit darker than the non-reserve, and certainly richer, with lots of vanilla from new oak, and some black pepper notes. Okay.
Finca Don Domenico Tempranillo 2005, San Juan – black plums and cherries, green bell pepper, good acidity. Okay.
El Escondido de Don Domenico Tempranillo Reserva 2004, San Juan – soft wood tannins and oak flavors, red fruits, white pepper, and a hint of chilies. Okay.
Chandon Guiado Tempranillo 2004, Mendoza – a relatively new line from Chandon Argentina (part of the international Moët & Chandon group), this wine shows good acidity, red berry fruit, a touch of new leather, mixed spices, and subtle oak. Recommended.
Chandon Guiado Cabernet Sauvignon 2004, Mendoza – juicy black currant fruit, black pepper, and well integrated oak, overall quite well balanced. Recommended.
Umbro Tempranillo 2005, Mendoza – virtually non-existent nose, on the palate maraschino cherry, a hint of flowers, good acidity, very light, almost rosé-like in structure and flavor. Okay.
Umbro Syrah 2005, Mendoza – again, no nose, on the palate tasted of blueberry syrup (without the sugar), and white pepper, once again very light. Okay.
Familia Zuccardi Textual Ancellotta 2004, Mendoza – Zuccardi is known for its experimentation in its Textual line, a couple of which I've noted in past postings. Ancellotta is a virtually unknown grape, even to the most ardent wine geek – generally only used as a secondary blending grape in making amabile, or semi-sweet, Lambrusco in Italy. For all I know, this is the only 100% version out there – rich black raspberry flavors, a hint of green olives and bacon fat, soft tannins. Recommended.
Altus Merlot 2004, Mendoza – these folk were initially so welcoming that I agreed to taste through their line of four wines, though I was really only looking to taste the final one. Jammy red plum flavors, a fair amount of vanilla from new oak, fairly one dimensional, but drinkable for the style. Okay.
Altus Cabernet Sauvignon 2004, Mendoza – classic notes of red currants, tobacco, and new oak, a touch tannic and alchoholic for my tastes. Not recommended.
Altus Malbec 2004, Mendoza – truly dead on classic, black plum, nutmeg, and candied violets, a trifle alcholic, but not bad. Recommended.
Altus Grand Vin 2000, Mendoza – they didn't have a bottle open when I asked to taste it, and the young lady behind the counter informed me that it was "only for special situations". I asked if that meant "no" and she said she'd have to ask. Thus ensued a 5-6 minute huddled conversation between the owners of the winery, the two young ladies pouring, and a fifth person who kept joining and leaving; all with glances cast at me over and over (this, after welcoming me, and the owner telling me that "he valued my opinion" – of course, having no idea who I was). Finally it was decided that I could taste a small splash of the wine. I nearly didn't wait, and probably shouldn't have. Good acidity, red plums, black olives, and wet fur, all in a very rustic, old style – not for those who like a fruit forward or well oaked wine. Recommended.
Atilio Avena Arauncal Cabernet Sauvignon-Tempranillo 2005, Mendoza – rich black currant fruit, laced with fresh ginger, a touch of old saddle leather, and good acidity. Recommended.
Alta Esperanza El Deseo Barbera d'Asti 2005, Catamarca – I was surprised at the "d'Asti" designation, as that isn't part of the grape name, and is legally reserved for wines from that part of Piemonte in Italy. They'll deal with that if they start exporting I imagine. Intense boysenberry flavor with a hint of spice, well balanced, not particularly Barbera-like. Okay.
Kaufman Cabernet Franc 2004, San Juan – very identifiable Cab franc, one of the clearest I've tried here – green olive, dried tobacco, mixed red fruits, and loads of spice. Recommended.
Fresita – a blend of 80% grape juice and 20% strawberry juice, fermented into a fairly sweet bubbly wine, clearly intended for the soda drinking population, and served by two buxom young women showing more cleavage than J. Lo at the Grammys. Okay.