New York City – I realized yesterday that I've been back here for two weeks and hadn't gone out to any of my favorite sushi spots, or anywhere for sushi for that matter. For someone who likes it as much as I do, and who whines about not having the stuff in Buenos Aires, that was unforgiveable! Over the past few years I've spent quite a bit of time at one particular place in the East Village, Shima, 188 2nd Avenue, at 12th Street – a combination of convenience to where I lived and good quality. It's not the top of the pack in creativity, but it's always fresh, and the service is among the friendliest and most accommodating that I've encountered. Chef Toshio Oguma has become a friend over the years, to the point where I just walk in and he starts to make me things. [Closed in 2015]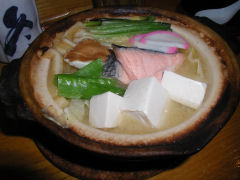 I was surprised to find him not there when I arrived, he's one of those chefs who seems to always be in the place, but his staff took perfectly good care of me for lunch. I started off with a bowl of one of my favorite soups, Miso Butter Salmon Soup. It's hearty enough to almost be a meal in itself – a very rich fish broth with white miso, a touch of butter, and lots of napa cabbage. Then the soup is topped with an artful arrangement of salmon and various vegetables. All served in a piping hot earthenware bowl. It's beautiful and absolutely delicious.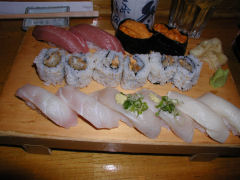 Then, of course, a selection of sushi. A couple of favorites – white tuna, sea urchin roe, and medium toro (tuna belly). And then a couple of specials of the day – some spanish mackerel, some red snapper, and a wonderful roll of spiced deep-fried oysters. If it hadn't been lunch, and I hadn't made my way through the entire bowl of soup, I'd have gone in for more. But I was stuffed, and it was time to move on. Even with Toshio temporarily (I hope) out of the restaurant, this is still a comfortable place to come, hang out, and have a really good sushi meal, without the expense of some of the fancier places.
[July 2015: A friend sent me a link to a video that he liked, not knowing that I knew Toshi-o, but now I know where he is these days!]