New York City – While I usually comment a little bit on the decor and ambiance of the restaurants I've dined at, it's not my primary focus, and it's more to give you a feel for the place. Last night my friend Bill and I dined at Barbounia, 250 Park Avenue South, the new Greek-Italian creative spot that's taken over the old Patria space. It's big, beautifully lit, a comfortable feel to it. The ceiling is dominated by a massive chandelier that sort of looks like a bad drag outfit – Bill says he thinks it looks like Bjork's dress at the Grammy Awards – I can kind of see it, but it's more like, well, you decide for yourself. Surprisingly, even for a Tuesday night, the place was fairly quiet, less than half full. Hopefully that won't impact negatively on New York Times' critic Frank Bruni's review – he was seated at the next table over from us with a couple of friends. He seemed to be enjoying himself, but the staff were certainly on edge! (Does this mean I've "scooped" Frank? After all, he has no more than a few tens of thousands times more readers than I do…) Rumor had it that Pascale le Draoulec, the Daily News' restaurant critic was there as well, but no one seemed to know at which table, and I didn't see her in the room.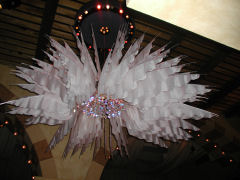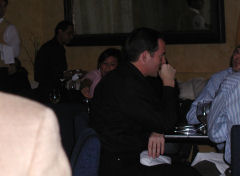 Dinner started with a bread plate that had a sort of salted olive oil loaf on it – not quite a flatbread, but not particularly "high" either, and quite good. An amuse of a medjool date stuffed with a salty Greek cheese that I didn't catch the name of, and a dice of beets and pinenuts was a nice way to start, and very pretty. A really quite good charred octopus salad was Bill's selection to start, I decided on something to ward off a bit of the winter chill (it was windy, rainy, and cold yesterday!) – and went for the roasted marrow bones with a whole head of roasted garlic and a xynomavro (a red grape used in Greek winemaking) reduction. My only criticism of the dish, which was fantastically rich and good, was that it was served with what amounted to two popsicle sticks fashioned into mini forks – something that looked like they belonged at a crabshack on the beach rather than a fancy restaurant – and nearly useless for scooping out the marrow. Apparently a common problem, as I didn't even finish the request before our waitress was already offering to bring two demitasse spoons to do the job.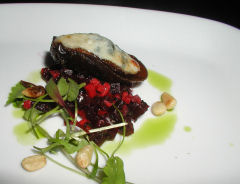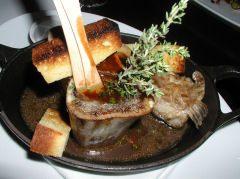 On to the main courses, and a really interesting presentation of rabbit – a bit of roasted saddle, some roasted jerusalem artichokes (sunchokes), and two phyllo rolls stuffed with a sort of rabbit and cheese mousse. A red wine and dried cherry reduction complimented the flavors nicely. Our other selection – sauteed slices of veal served on top of a rich, creamy, mascarpone polenta and surrounded by charred cauliflower. I'm a huge fan of cauliflower, and this was a nice touch – a really great dish all around. The dessert selection didn't sound as interesting as the rest of the courses, and the only one we considered, a caramelized banana tart, they were out of. (I think I saw it arrive a few minutes later on Frank's table…)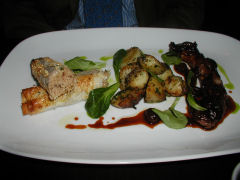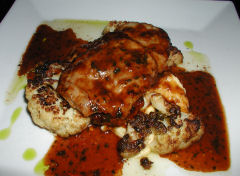 On the beverage front, Bill opted for a specialty cocktail to begin the evening, a nice mix of gin, ruby red grapefruit juice, and maraschino liqueur (see the second entry on this page). I started with a glass of unusual sparkling wine from the Campania region of Italy – the De Conciliis "Selim", a fairly rich style wine that I'd never tried before, made from 30% aglianico and 70% fiano grapes, both native to that region. It had an interesting burnt orange peel flavor touched off with a little honey. With our meal we ordered a bottle of a Greek wine made with the xynomavro grape I mentioned above, the Boutari "Grande Reserve" 2000 from the Naoussa region (it was listed as 2001 on the winelist, but it's a wine that benefits from extra age, so I didn't mind the extra year). A very rustic, light to medium bodied red, with a strong background note of fennel or anise, I've liked this wine over many vintages.