Buenos Aires – I had this whimsical idea for part of my wanderings of the city. Virtually every street here is named after an event, a person, or another place. It's not one of those cities where you find things like Meadowlark Lane or Blueberry Hill. So why not pick a theme and gradually cover it… e.g.,there are 14 streets that are named after important dates in local history. They are spread out in various barrios, and covering them from one end to the other is likely to take me to places I, once again, might otherwise not venture. Or perhaps the streets named after the various provinces of Argentina, or those named after British generals, or… the possibilities are endless, and, let's face it, completely serendipitous. These will be more "photo essay" oriented (with some history) than food and drink, but hopefully will give some flavor to various parts of the city.
I launched into this fanciful idea yesterday with a foray along about half of the street 3 de Febrero, a date that has come up before in relation to the Parque 3 de Febrero. I have to admit that I'm not entirely sure why this date is important. Originally I thought it was that nearly 130 years ago, in 1876, Argentina and Paraguay signed an official treaty defining the frontier between the two countries and ending Argentina's occupation of a portion of Paraguay following the War of the Triple Alliance. Also known as the Paraguayan War, it was fought from 1864 to 1870, and was the bloodiest conflict in Latin American history, and the second bloodiest conflict that occurred on the American continent. It was fought between Paraguay and the allied countries of Argentina, Brazil, and Uruguay. This still seems like an important date to name a street and/or park after.
However, on February 3, 1852, General Juan Manuel de Rosas, "the Restorer of Law and Order," and his troops were defeated by the centralist unitarios under General Justo José de Urquiza at the battle of Caseros, ending a long conflict between that centralist faction and the federales that Rosas represented.
Not only that, but going back a bit further, on February 3, 1813, General José Francisco de San Martí­n, "the Liberator" of Argentina, engaged Spanish royalist troops along the Paraná River, the first major battle in the war for independence.
I'll stick with the treaty idea, but I'm perfectly willing to find out otherwise.
The street 3 de Febrero begins in the 700 block at this vine-covered northwestern wall surrounding the Instituto Geografico Militar in Palermo, part of a large Army related complex. A tile mosaic of that famous spiritual leader guy I can never remember the name of because he's so obscure in Catholic countries looks over the beginning. From there, the tree-lined street continues to the northwest through the barrios of Belgrano and Nuñez, covering 42 blocks to the city limits. I headed out at a brisk pace, figuring I had a fair amount of ground to cover, but almost immediately slowed to enjoy the beautiful architecture of the area. There is a mix of styles, ranging from old colonial style homes to modern sculpted styles. Most of the buildings are two-story, but they are intermixed with apartment buildings that range up to about 7 or 8 stories. In the Palermo section there are several embassy or embassy-related buildings, including Libya and Italy (Italy officially lists its embassy elsewhere, but I stood in front of and took a couple photos of a building that purports to be the Italian embassy – you can see it's garden entrance below).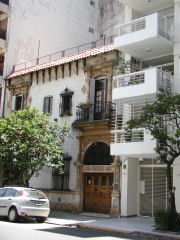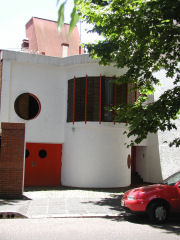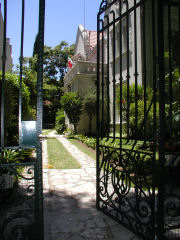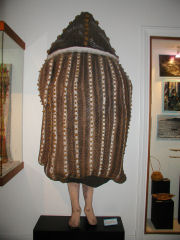 The area has high security, and virtually every apartment building had armed guards, I'm guessing that there must be a fair amount of embassy staff living in the area (there are numerous other embassies in the neighborhood on other streets). As I moved into Belgrano the character of the neighborhood became more relaxed, and while still well kept, clearly not as "high maintenance" of an area. Right on the line between the two barrios I made one of those serendipitous discoveries that I so enjoy – the Instituto Nacional de Antropología y Pensamiento Latinoamericano, a government cultural organization that offers classes, films, and various events related to the pre-colonial period of Argentine history. It also included the small, but very well designed Museo Nacional del Hombre, which showcases various crafts, tools, and art from the indigenous cultures of Argentina, including things like this re-creation of a Tanu whale spirit costume.
The street ends in a cul-de-sac in the 2500 block, requiring a walkaround to continue on the other side of the tracks. After my museum stop and a bit of lunch, I decided this was enough for the day, the balance of the street will remain for a future jaunt.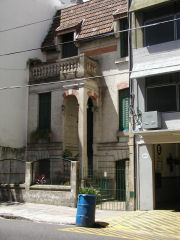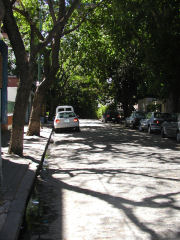 And lunch? Just to throw in a touch of food. There was very little in the way of anything besides some scattered coffee shops and pizza places along my walk. At the corner of Juramento was a large porteña style restaurant called Salvame Maria, but it just didn't grab me.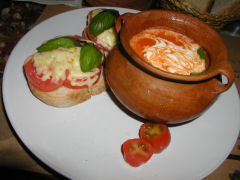 Right around the corner on a side street I spotted Ohana, Zavalía 2132, a "gourmet deli." It was a casual little sandwich, soup, and salad shop, something I should have kept in mind when ordering. I started with a quite good cream of tomato soup accompanied by two excellent tomato, basil, and mozzarella bruschetta, and a basket of really good breads. Unfortunately I followed that up with a grilled lemon chicken – which consisted of a dried out and extremely overcooked half-breast of chicken, one small wedge of lemon, and a mound of lukewarm grilled vegetables. I like the place, it's quite pretty (check out the tables if you go, loved 'em) but I'd stick with the sandwiches (that everyone seemed to be enjoying) and soup.