Buenos Aires – I realized this evening that the 4th of July came and went without notice. It's the first time I've been out of the U.S. on the 4th. No fireworks!
I also realized that I'm spending the "summer" in "winter" because of switching hemispheres. So much for a tan…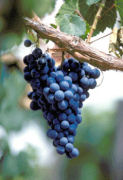 Picked up a bottle of one of my favorite Argentinian Malbecs, from Ricardo Santos. Ricardo is a former architect who gave it up for his passion in wine. He is the former owner of the well-known Norton Winery, but many years ago started producing under his own name. He was also the first Argentinian winery owner to export to the U.S. Always a favorite, well worth a try! Malbec is a red grape that is really only known from Argentina. Interestingly, however, it is one of the five classic grapes of the Bordeaux blend, along with Cabernet Sauvignon, Cabernet Franc, Merlot, and Petit Verdot.