An easy, breezy, Sunday, and a pretty relaxed day, foodwise, on our end of things.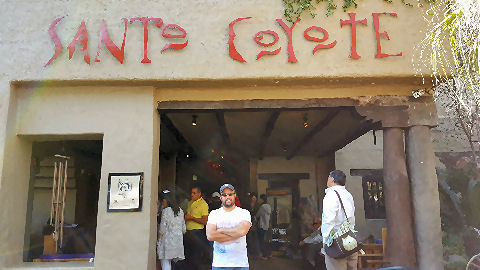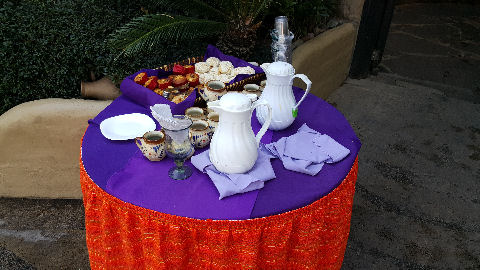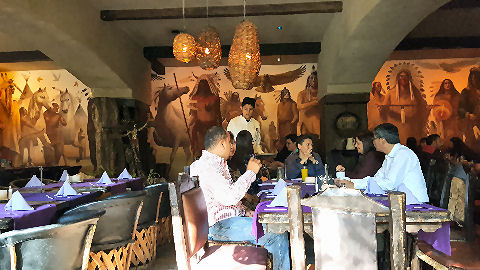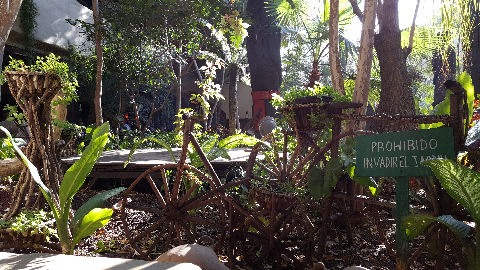 We'd read a bit about Santo Coyote, Lerdo de Tejada 2379 – it gets good writeups as a place to try good, if not great, versions of local fare. And it turns out that on the weekends, they offer a buffet brunch of mostly all local dishes. We decided to start our day there. It's a huge place, two levels, there must be seating for a couple of hundred people in a dining room that wraps around a central garden. While you wait for your table, there's free coffee and muffins, a nice touch.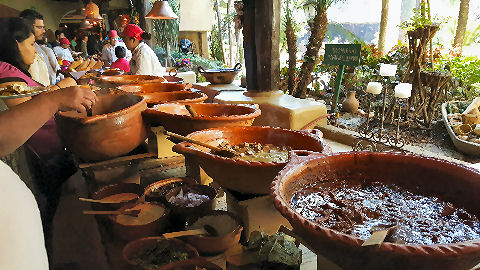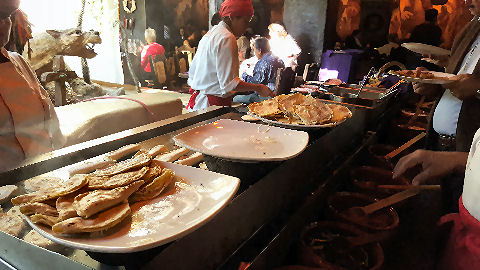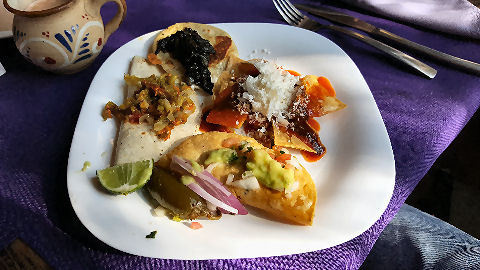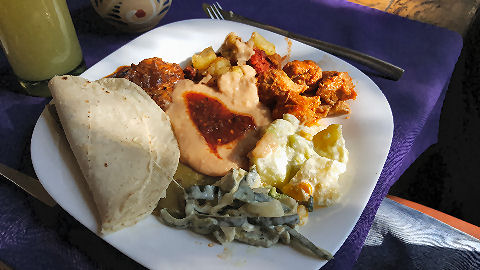 And the food goes on and on as well. There's simply too much there to sample everything, from stews, to various types of tacos, quesadillas, gorditas, etc., and there are also cooks there to both keep replenishing the buffet with new dishes, and also to make things to order, like omelettes, chilaquiles, and crepes. Coffee and/or hot chocolate, fresh juices, all come included and are served up by charming waiters who bustle about handling all the details for each table. There are certainly places in town you can have better local fare, but probably not as many different things to sample at once, and not for the quite reasonable price of about $11 per person with tip.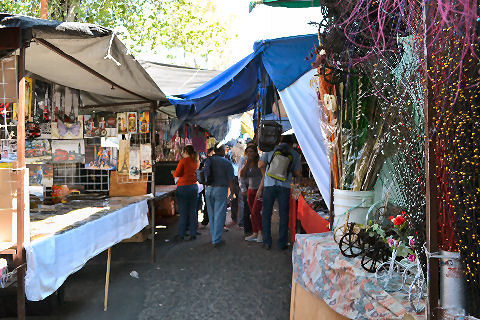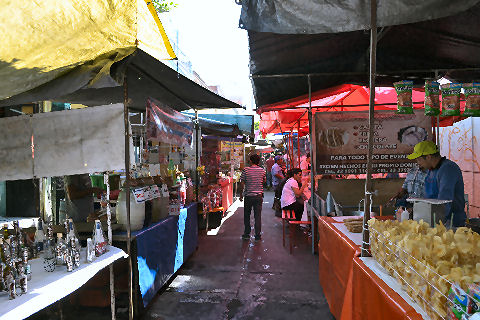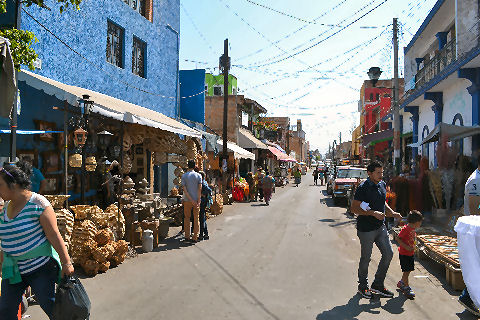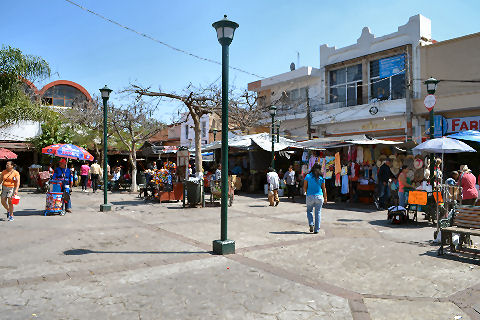 Our plan for the day was to head to the nearby town of Tonalá, famous for being the epicenter of the local craft world. The town is filled with shops offering some of the most reasonably priced artesanal wares you could imagine, and on Thursdays and Sundays, it's supplemented by the tianguis, the street market, where hundreds of sellers setup shop for the day.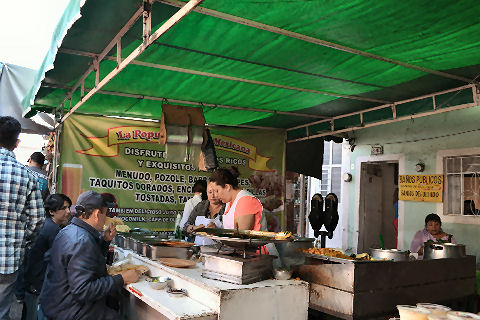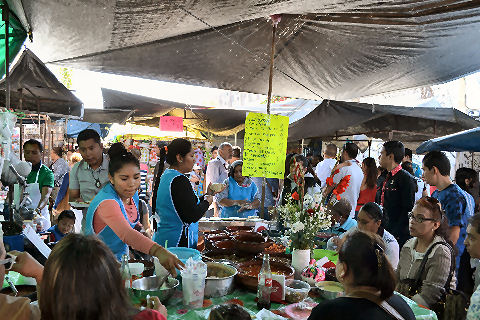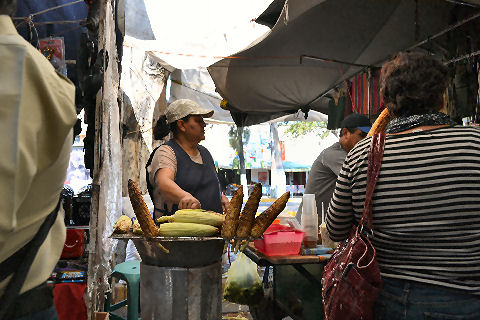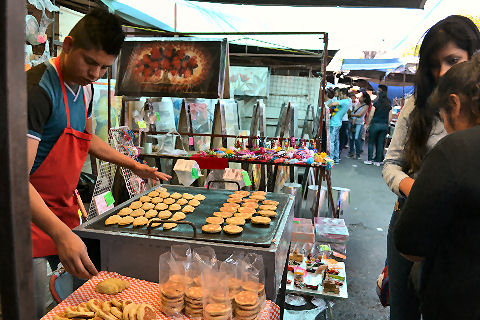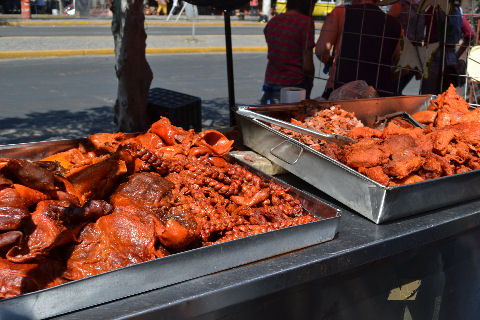 We'd heard that there were also places to grab a bite, so let me just say that there are a whole lot of them, and some great looking food, and within minutes we began to wish we'd not gone to the buffet – if you're going to come to the street market, just plan on eating there. We were too full to even think about it.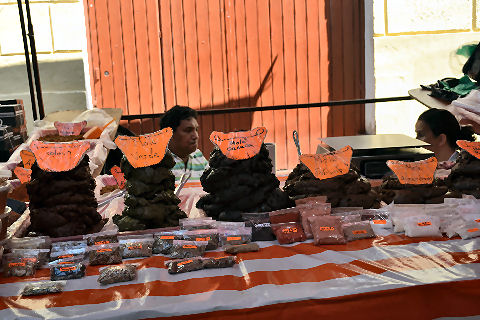 Mole and adobo pastes, ready to take home, add to a little oil or stock and make a meal. Yes, they look like big steaming cow patties, but boy do they smell better.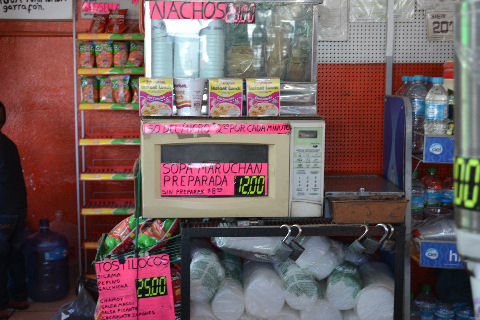 And hey, you can also, if you want, get things reheated in a microwave – a mere 2 pesos (basically a dime) per minute of use. I'm not sure why you'd need to, since all the vendors are cooking to order – I imagine that's more for the non-market days when you might have a sandwich or something you want to give a little heat to.
Back late afternoon, and not having realized that pretty much all the good restaurants in Guadalajara only open for lunch on Sundays – they sort of stretch it as an all afternoon thing, from noon until 5 or 6, but after that, there's not much available other than hotel restaurants and fast food. We popped down the block and had a seafood tostada each back at Cocos Locos, where I grabbed one a few days back, and then went upstairs to the terrace of Starwings, a wing joint, where we nibbled on unfortunately dessicated wings and drank beer. The sauces on the wings were great, they just were way overcooked.
Called it an early night, Jeff has already headed to the airport for his flight out of the country, I'm headed shortly to Mexico City. I think I'll grab a plate of chilaquiles to fortify myself for the journey.