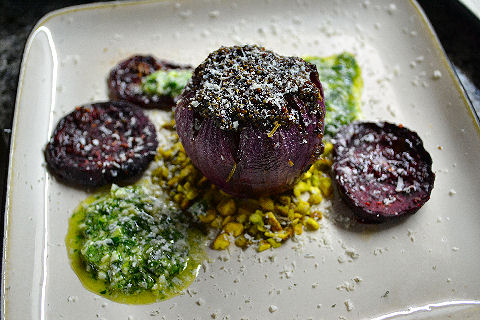 You may remember our roasted leek and onion salad and the various iterations it went through, and it's a dish we've served up several times since. But it was time to move on and try something new. The weather has turned chill, and I wanted to make it a hot dish, but that sort of eliminated using the blue cheese mousse. It was time to play.
"When you set this in front of me I thought, 'Am I going to eat a whole onion?' This is sooooo delicious. I'm eating a whole onion." – George W., a guest last week
I admit, I had trepidation as to serving this dish too. I mean, a whole onion? I love roasted onions, but they're usually served up aside a thick slab of meat or something of that sort. But then, people have raved about the leek and beet dish every time we've served it, so why not? It's more a matter of presentation than it is about whether the flavors would work.
The onion: small to medium sized red onions, cut off the root end just to create a stable bottom. Peel off the onion skin and make cross cuts in the top of the onion to about a half inch depth – I did four cuts across, giving eight "sections". Place in an oiled baking dish. Sprinkle with a decent amount of sea salt, some chopped rosemary, and splash some balsamic vinegar over the top. Cover with foil and bake for an hour. I then set them aside until about half an hour before we were to serve them, at which point I topped them with a spoonful each of half and half mixture of really good, spicy, seeded mustard and brown sugar. Bake into the oven, uncovered, for half an hour to caramelize.
The beets: what I'm calling "beet leather", it's more or less partially dehydrated, spiced beets. Peel the beets, cut them in thin slices, lay them out on an oiled baking sheet. Sprinkle with salt, freshly ground black pepper, cumin, and smoked chili (I used the Chilean merquén that I always have on hand, but something like chipotle would work well too). Drizzle with olive oil and put in a medium hot oven (I just did it at the same time as the onions), preferably with a convection fan going if you have one. Cook them until they start to dry out and contract. Totally a judgement call, I wanted a slightly chewy texture.
The nuts: toast some pistachios in a pan, or in the oven, dry. Separately, heat a small amount of oil with a mix of spices – I used paprika, cumin, salt, pepper, coriander, ginger, and a small amount of sugar (which will help the mixture stick to the nuts). Toss the toasted pistachios in this mixture, leave to cool, then coarsely chop in a food processor, or by hand if you have the patience.
The vinaigrette: basically a classic Sauce Cressonnière – a simple vinaigrette with watercress and hard boiled egg. First, hard boil and then cool an egg. Rinse a good handful of watercress and remove the stems. Into a food processor put a tablespoon or so of dijon mustard, a couple of tablespoons of apple cider vinegar, a quarter cup of good olive oil, the egg, and the handful of watercress leaves (they can stay wet, the little bit of water will help the emulsification). Pulse several times until you get a coarsely chopped consistency. Season to taste with salt and white pepper (roughly a teaspoon of salt and a quarter teaspoon of white pepper).
The snow: I wanted to keep the blue cheese element in the dish, but on a more subtle level. Freeze a piece of blue cheese, then simply grate it over the top of the dish at the last minute. Looks pretty and adds a sort of elusive, cheesy note.
Wine: Zaha Extra Brut N.V., Mendoza
By the way – three dinners last week, twenty-eight people – and twenty-eight plates that were basically licked clean. Even from the two people who said they hated beets.