Step right up, it's time for another peep at the good, the bad, the pretty and the ugly – this time, all really casual eats (though one rather expensive for casual), out and about.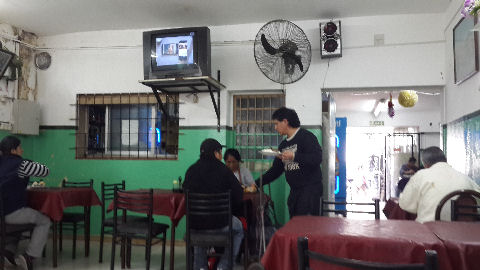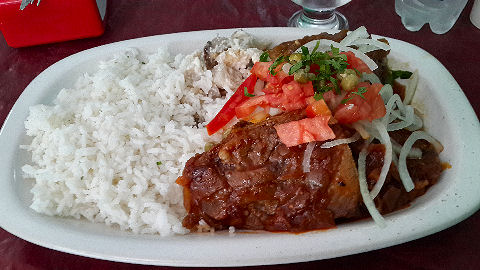 I've really got to "scribble" an updated list in my Google Keep or Evernote of Korean restaurants to try out in the Floresta area. For the third time I've headed out that way to try one or another that have been recommended, I've arrived to find the place closed, or, apparently, never having been at the location someone told me. I'm not sure how I'm going to go about doing that, but I'll figure it out. Instead, what seems to be the most widely represented cuisine in the 'hood, Bolivian, I decided to just pop in to one of a number of holes-in-the-wall. Here, La Páz, Bacacay 3359. You order and pay at the counter when you come in – they have an extensive menu, but much of it isn't available on any given day – it's more "of these forty things, we have these eight today". A waiter brings you your food and beverage after you've settled in at the table. I went with a picante mixto, stewed chicken and beef tongue in a mildly spicy tomato and onion based sauce, accompanied by rice, potatoes, and chuño. Not bad, a bit too much on the starch, the same as I find at many casual Peruvian places – but I ate my potatoes, chuño and about half the rice, and finished up the rest, liberally squirted with the excellent hot sauce on the table. Hmmm, this is the second picante mixto I've tried at a Bolivian place in BA – and liked both – perhaps my next exploration?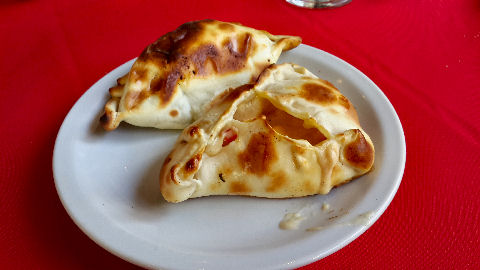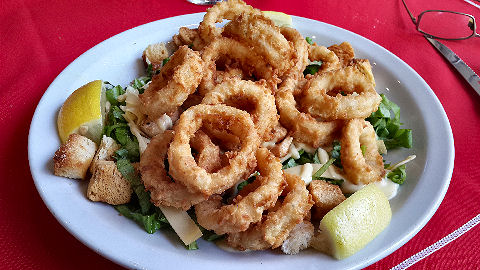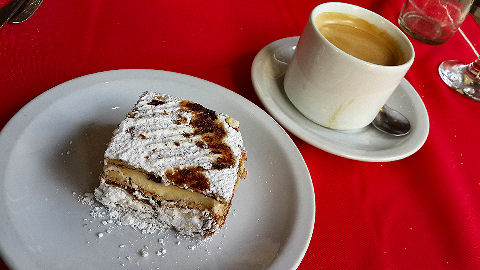 And a casual, though slightly over the top in quantity, lunch one day at Punta Cuore, Av. Rivadavia 2002 in Balvanera (or Once, depending on whether you want to be official or street). A couple of quite good empanadas – one corn and one cheese. Some decent fried calamari rings, oddly served over a chicken Caesar salad, and a postre Balcarce that was just okay. All in all a bit of a "meh".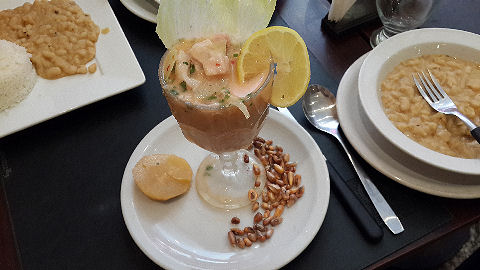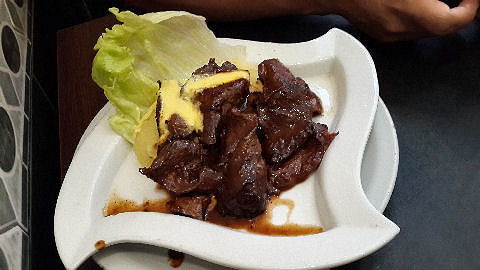 I've never written up Inka Si Señor!, Bartolomé Mitre 2022 in Congreso before – we found ourselves there after an aborted attempt to head to a Peruvian spot we'd not heard of before, El Encanto, a couple of blocks away on Sarmiento – at least according to Guia Oleo. Problem is, the listing is wrong, it's not on Sarmiento in Congreso, but on Sarmiento in the suburb of San Martin, north of the city. Recovering quickly, we realized one of our favorite spots to meet friends for a reasonably priced, quite good pollo a la brasa was close by. In fact, that chicken dish is the only thing we'd ever had there (and sometimes have delivered) – spit roasted chicken with fries and salad. Neither of us was up for that, in fact, feeling not overly hungry, we ordered a couple of appetizers with sides of beans for me and rice and beans for Henry. The leche de tigre was excellent and bodes well for a return visit to try their ceviche one day. On the other hand, the anticuchos were just plain weird – vinegary, and lacking in any notes of cumin or ají panka, the classic marinade of the dish. Our waitress didn't seem surprised that we didn't finish it. Recommended for the chicken, which unfortunately I don't have a photo of, and, I'd bet, the ceviche.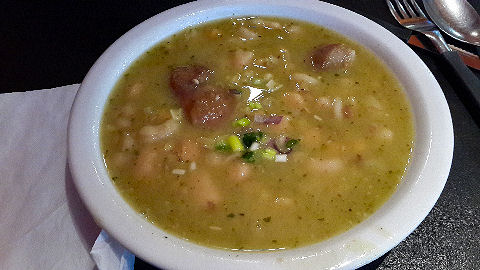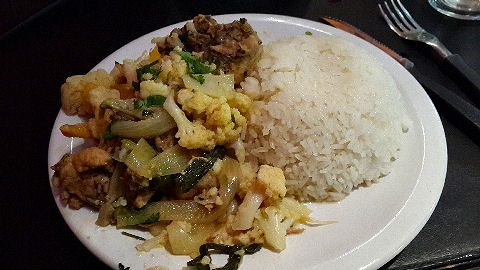 Most casual Peruvian restaurants, well, most restaurants here in BA, that are open for lunch, offer a menú – a two course lunch special. At Peruvian restaurants it typically starts with a soup, that varies day to day, and then a choice of 2-3 different main courses, generally a chicken, beef, or pork dish, served up with either rice or fries or both. Probably our favorite spot for their menú is Sabor Norteño, La Rioja 186, just a couple of blocks from the Once train station. I reviewed it years ago when I was still very new to Peruvian cuisine. Mondays are our favorite days because the soup is always shambar, the classic Monday-only soup of Trujillo. And although they always have usual suspects among the choices for main course, they also throw in some unusual ones – like this spicy saute of cauliflower, french fries and onions (with a small amount of chicken thrown in) – neither of us even knew there were any cauliflower dishes in Peruvian cuisine. Delicious! And at 50 pesos for two courses and a drink, a steal for lunch.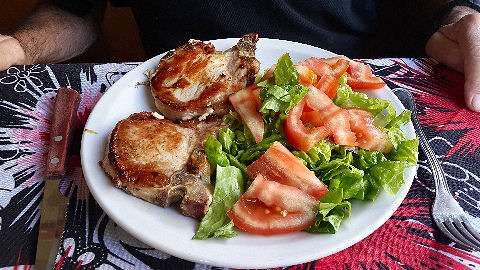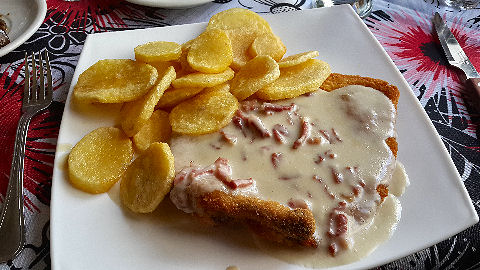 It's been a very Peruvian oriented round recently – and a friend and I headed out to try a new Peruvian spot that opened up recently in San Telmo, only to find it closed on Monday at lunchtime. We started a wander in the direction of another, but stumbled across this spot, Maraxe, Chile 899, just after crossing the frontier into Monserrat. The menu is a mix of classic Spanish dishes like paella and cazuela de mariscos, along with various local classics like milanesas and such. Some interesting and different preparations of some of the latter. My friend opted for the daily special (a "menú" as well, though at 95 pesos consisting of only a main course, a bottle of water, and a choice of either coffee or dessert) – they happily substituted a salad for the ubiquitous papas españolas that seemed to accompany every plate listed, along with two nicely cooked and seasoned pork chops. I went off the a la carte menu with a milanesa fuegina – a chicken version – I suppose not the healthiest option as a fried scallop of chicken doused in a whiskey cream sauce with prosciutto, and accompanied by the aforementioned potatoes, but it was excellent, and also came in at the same 95 pesos, just without the drink and coffee included.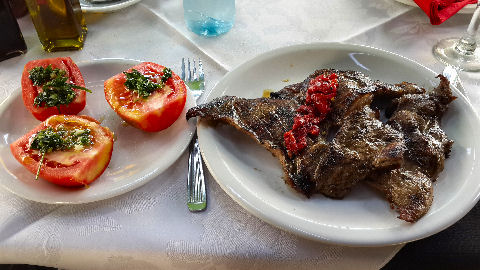 And, we'll finish off with some classic Argentine fare. Henry and I decided to try one of the parrillas along the Village Recoleta strip opposite the cemetery, Posta Recoleta Bodegón, Junín 1767. We normally avoid these spots as they tend to be touristy both in terms of who's eating there (it was), and pricing (likewise). But, it was actually pretty good, albeit more expensive than the other steakhouses off the strip here in the 'hood. Henry had a sirloin, I had pork flank, both grilled and seasoned perfectly. He had mashed potatoes, I had a side of tomatoes, which I topped off with some of the provencal sauce (parsley and garlic in oil, it's not the chimichurri, that's the red stuff, which I slathered on the pork, we've been through this before, even though everyone in North America thinks the green is chimichurri). Good quality, decent service, just a one-course meal, with bottled water, and tip, ran us 600 pesos. We could have done the entire parrillada for two down the street from us at Pichi Huasi for about 250.