"The mighty human species (what a pass!)
Brought to its knees by stalks of hairy grass
And when you think about it (use your loaf)
Which is the genius and which the oaf:
– Smug golden acres waving as they grow?
– Or we who make the earth a place of woe?"

– Hugh Mitchell, from The Wheat Shall Inherit…
La Plata – The Turkish have their Bugday Çorbasi, the Saudis their Shorobat Il-Jereesh and the Jordanians their Shourbat Freekeh, and the Yemenis, Shorba Burr. From Cyprus, Tarhana; Algeria, Jary; Zanzibar, Shorba; India, Alisa, Poland, Zur, Armenia, Madzoon Abour, and Iran, or Persia, Aash-e Gandom. I could probably keep going, but by the time I was done, I'd have forgotten what I was writing about, and probably put all the celiacs into anaphylactic shock. Because what do these all have in common? They're wheat based soups. What brought all this on? Monday.
Why Monday? It's a day in the northwest of Peru, originally from the mountain region, though in modern day centered around the coastal city of Trujillo, when, week in and week out, local cooks prepare a dish called Shambar. It's a pork and wheat soup, very thick, very hearty, and the reasons behind the Monday only tradition are pretty much lost to time. It's generally assumed that, being the first day of the work week, it was a way of providing plenty of nutrition to start the week. But that assumes that back in antiquity, in the indigenous cultures, Sunday was somehow a day of rest, if there even was one, as it became after the arrival of the conquistadors. That's unlikely, unless the day of rest just happened to coincide, and this tradition is reputed to go back well before the Spaniards arrived. Something to explore when we're in the Trujillo area next month – we've planned a three week "jaunt" to Peru in February – look for some interesting food stuff, as we're focusing on areas where we can really experience some indigenous dining. I'm even trying to teach myself some basic Quechua and Aymara just to help break the ice…
But Monday found ourselves on a visit to La Plata, where a friend of ours, Javier Armas, runs a small casa de comida, Corazón Serrano, Calle 43, #389 – more or less a restaurant de puertas cerradas, but open at lunchtime, and far more casual [Closed in 2013, unfortunately, our friend Javier passed away]. Local peruvians drop by, pretty much help themselves to whatever the plate(s) of the day is, grab a seat wherever they can find one, eat, pay, and leave – or in the case of quite a few, while away the afternoon sucking down beer after beer… during our hour eating lunch, the three guys next to us put away eight, yes, eight liters of beer, and showed no signs of slowing down. Monday is Shambar day, and Javier, the owner of the house, and the cocinero, had a huge pot of if bubbling away on the stove (the other choices were ceviche and a leg of chicken atop a plate of rice).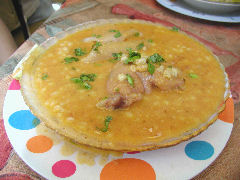 Shambar is based on a type of wheat called trigo shambar, or trigo resbalado, which as best I can determine is a wheat berry that's been milled to remove the husk, and then soaked to puff it up a bit, and then dried. In addition, a variety of legumes – different beans, chickpeas, sometimes corn, are added, along with some sort of smoked pork (in this case, smoked pigs' feet), and a section of pig-skin. I have to admit, the skin wasn't all that appealing, I tried it, but it was pretty much just a fatty, gelatinous sheet, a couple of inches square, with some hair on it; the pig's foot was slightly better, a little smoky, and actually had some meat hidden away on it. But mostly, they seem to add flavor to the soup, though some folks, Henry included, pretty much strip away everything down to the bone – skin, fat, cartilage, and meat. Me, I tried them, but focused on the soup itself, which is absolutely delicious. It's seasoned with the herbs hierbabuena and cilantro, and, well, we returned later in the afternoon after a bit of an outing to the riverbank to have another bowl or two…
I haven't yet tried making it, but there are numerous recipes online for it, including a relatively easy one on the site Yanuq, where I often look for good interpretations of Peruvian recipes.