Although I'm not particularly into the world of molecular gastronomy or modernist cooking, it's still an interest on the level of intellectual curiosity. I've said before, I have no doubt that if I was a young chef coming up now, I'd be totally into it – I used to love science experiments and all that come with it – I just, hmmm, can't seem to get myself all that excited about changing the way I've spent my career cooking quite so radically (I might also be more into it if the tools and ingredients were more readily available here in BA). But still, the opportunity to spend an afternoon listening to the man who started it all wasn't one to be passed up. So when Javier Urondo sent me a quick message saying that I couldn't miss Hervé This yesterday afternoon, giving a talk at the University of San Martin, I rearranged my schedule and headed for the suburban north.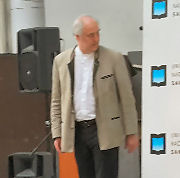 For those who don't know, Hervé This is pretty much the guy who invented the entire concept of molecular gastronomy – the science behind it all, not the cooking part. In fact, he's quite clear upfront that not only is he not a cook, but he's not even interested in doing the cooking, nor even all that excited by the eating, other than as a scientific curiosity. He's all about the science.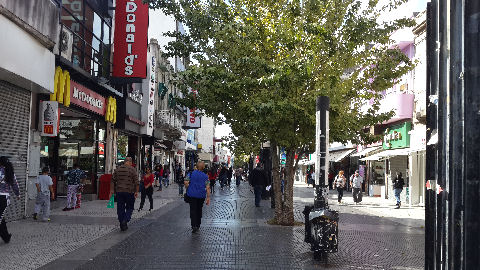 First, of course, getting to the university – I decided to go early and grab a bite to eat somewhere. A quick bus trip to Retiro station, then about a 45 minute train trip to San Martin, and I found myself on the main pedestrian mall that runs through the center of town.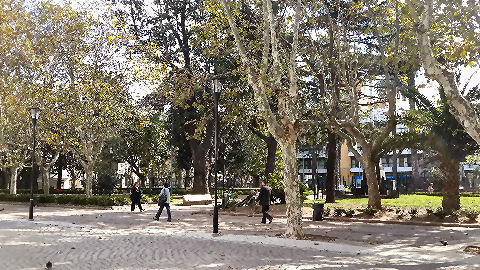 It opens up into a very pretty central plaza and park, as I continued the ten block walk to my chosen destination…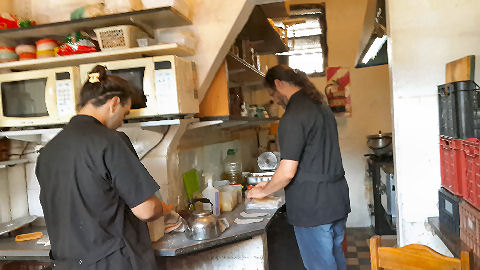 …El Azteca, Belgrano 4088, which unfortunately at lunchtime turns out to be takeout only, they only have seating at night. Although it had been recommended as a "great Mexican" spot, it's more pan-Latin American, or at least Central American and Caribbean. At lunch, however, their focus is on a couple of daily "promos" that are quick and easy to make and take out – their kitchen is smaller than mine, so I don't blame them!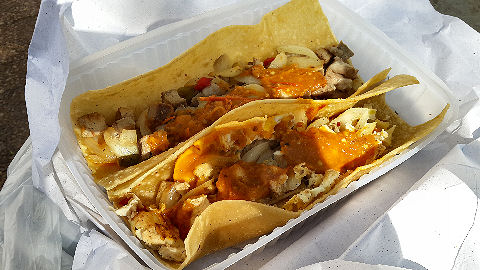 One of the daily promos was two tacos for 60 pesos. First off, rectangular tortillas??? I mean, why not? There's no reason other than cultural tradition that tortillas need to be round, and these certainly work. The fillings, more classic Mexican than Tex-Mex, so no shredded cheese, lettuce, tomato, nor sour cream, etc. One pork, one chicken & egg, both with a saute of onions, peppers and oregano. Choice of seven sauces – four Argentine ones like chimichurri, salsa criolla… and three Mexican ones, ranging from mild to hot ("endiablada", or deviled) – I'd already seen a few Foursquare comments where it came down to – there's no way an Argentine could eat anything this spicy, to, barely breaking a sweat for folk who like spicy food. I went for the endiablada. Great flavor, but yeah, barely breaking a sweat, kind of the level of the typical aji sauce on the table at any Peruvian restaurant.
There was a woman waiting for her food while I was there, she went apoplectic when I ordered "the spiciest sauce you have", and started giving me a lecture on how it was going to kill me, because, you must understand, Mexicans have a different kind of stomach than "regular human beings". I was tempted to point out to her that most cultures on the planet have cuisine that's spicier than Argentine, and perhaps it's the Argentines who have stomachs not like "regular human beings", but decided to just smile and wait for my food. Overall, pretty good tacos. Nothing to make a run up to San Martin just for lunch takeout, but if I were in town in the evening, I'd probably go back and try some of their other food for dinner when I could sit down and enjoy it there – as it was, I carted them over to that pretty plaza and sat at a table and ate outdoors.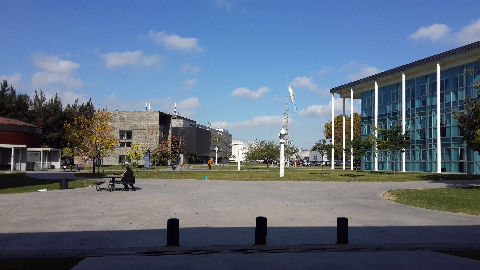 Over to the University – it's a small campus, maybe a dozen buildings, and quite pretty. It's apparently close to 100% focused on nano, bio, and space technology. There's a small building at the furthest end of the campus for social science classes, but I'd guess those are more for rounding out education for the tech folk than degree programs.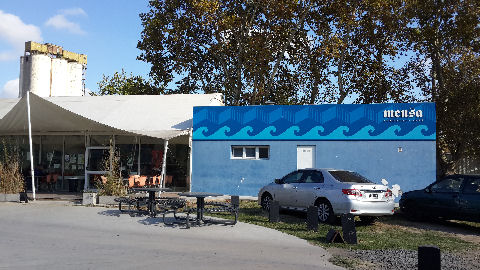 I mean, it's not every college campus where the bar/cafe on the grounds is named after Mensa….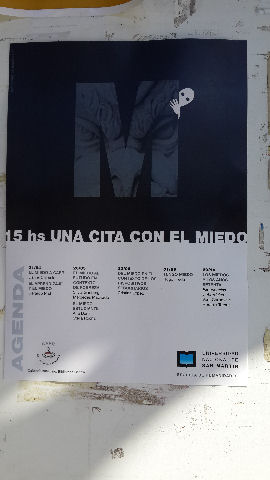 Nor, where, posters for "A Date with Fear" and a dark and scary photo, aren't for a horror film series, but for a series of lectures on "The Fear of Failure", "The Fear of Ending up in Poverty", "The Fear of Not Acing Your Exams", "The Fear of Not Getting Your Dream Job"…. You know?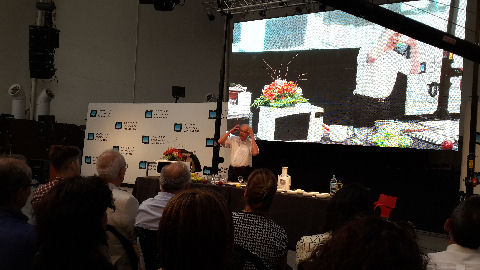 And, on to the talk. It was scheduled for 4pm, at which point they'd just barely begun setting things up in the auditorium. Herve This was there are raring to go, with his entire setup laid out, and he was pacing back and forth, while the setup folk kind of meandered about setting up chairs and sound and light equipment. At around 4:20 they let us in while they continued to work, he walked out, clearly a bit peeved, and didn't return until nearly 5pm, when he came back in with some of the university directors. They gave him a nice intro in Spanish, which he doesn't speak (he gave the talk in English, there were headsets available for simultaneous translation into Spanish for those who needed it, which about 3/4 of the audience did).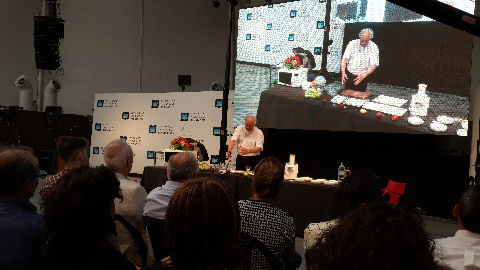 He was supposed to give a two hour talk introducing the concepts and science behind molecular gastronomy, moving on to a bit of modernist cooking at the end. At the hour and a half mark he hadn't made it through two of his four lecture sections – he tends to wander off on tangents and spend a bit too much time trying to be entertaining. Maybe he's more used to speaking to a more "public" audience – this one was all science students and professors, and local chefs – we wanted him to get to the nitty gritty. So he powered through the entire latter half of his lecture in about 15 minutes, pretty much just rapid fire slides with a quick "I wanted to talk about this, but we don't have time" approach, which got a bit disappointing as that was the part that those of us in the food world really wanted to hear more of.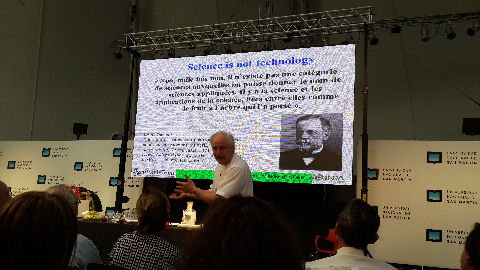 And then they opened things up for a Q&A, much of which seemed to suddenly turn philosophical – i.e., the ethics, food safety, and cultural changes being wrought by modernist cooking – as that started to drag on, I, and about half the audience, scooted out quietly. Still, overall, it was a fascinating two hours, and gave me some interesting things to think about on the topic – he did a nice summation in response to one of the questions that a professor asked about whether or not modernist techniques are taking the soul, the beauty, out of food and dining? (A viewpoint that I've been somewhat guilty of.) This compared it to the era when modern music, be it jazz or rock or whatever, came on the scene and people didn't know what to make of it in contrast to traditional, classical music. A change of form, but still music, and still beautiful and full of soul in its own way. I have to admit, I'd not thought of modernist cooking in those sort of terms.