The new dish of the week, and still a work in progress… It may have gotten overly complicated – I started playing with this dish for my recent broccoli post – the idea of a broccoli pesto (blanched and shocked broccoli florets processed with toasted Brazil nuts, garlic, dried peperoncinos, olive oil, salt and pepper. Numerous ideas danced through my head, and what other flavors to combine with it? Somehow, I ended up with roasted butternut squash, and a combination of capers, parsley, pomegranate seeds, and toasted squash seeds.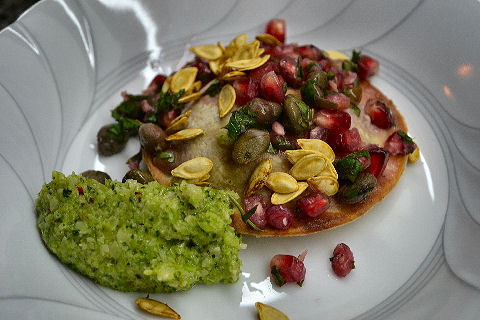 The first stab was a raviolón, a large raviolo, filled with a puree of the roasted squash and red onion (also roasted along with it). The filling soaked through the bottom of the raviolones while awaiting cooking, so at the end, I found myself with pasta I couldn't boil up – so into the oven to make toasted ravioli – something I've made quite a few times in various versions. A crispy baked whole wheat pasta, a perfect foil both in texture and look, to the other ingredients, which were sauteed together and then accompanied by a quenelle of the pesto. I like the look, but it wasn't quite what I was going for.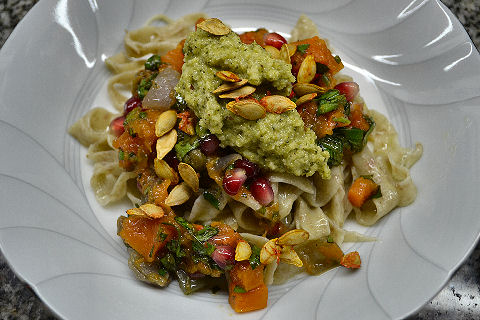 The second stab, staying with whole wheat pasta, delicate fettucine, tossed with olive oil, and then topped with a saute of cubes of roasted squash, along with the capers, parsley, pomegranate and squash seeds, and then capped with a dollop of the pesto. Visually, not as interesting (partially as the second batch of pesto was far paler in color – a balance of the ratio of florets to stems, or getting the blanching and shocking just so, I imagine), but in some ways, a more workable dish, as it's easier to mix it all together.
I loved the flavors together, even with all the seemingly disparate ingredients, and over three dinners, only one person seemed not to like it, the others pretty much licking plates clean. There's a final dish somewhere in the offing, to be played with again down the road after I let the idea percolate in my brain for a bit – as pomegranate season is short here, that may mean sometime next year….
The rest of the menu – we started with our heart of palm tart, then on to a timbuche of mussels, then the pasta, then broiled grouper with chard kimchi and a cauliflower puree (no daikon available in the market), and finally, a persimmon cheesecake with lime puree, passionfruit caramel, and chopped, toasted hazelnuts.
By the way, the leftover broccoli pesto tossed with some pasta made a great lunch the next day!