I've been fitting in hamburger reviews here and there as part of my Bite Marks series and prior to that in whatever I happened to name my casual dining out. But I thought it might be time for another concentrated look at one of our favorite expat casual meals. The original one was, wow, almost nine years ago! The list of burgers has gotten longer and longer – and there are still more places to try, let alone, some of the oldest reviews are probably worth revisiting. Eventually.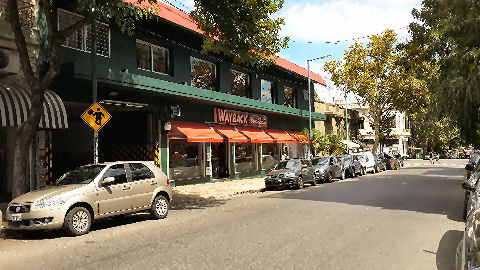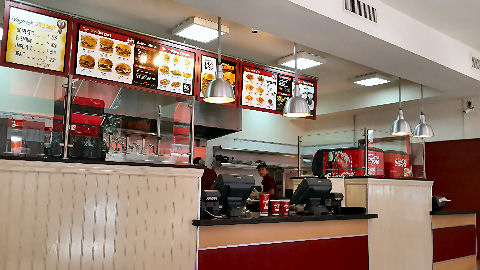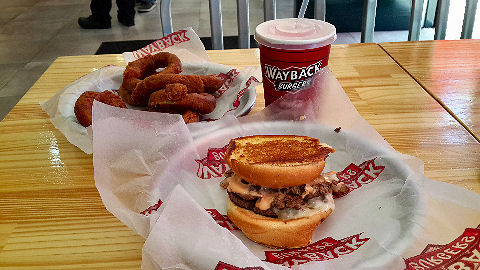 Okay, this is a tough one. I really, really, want to like Wayback Burgers, Armenia 1231, once again in Palermo (which appears to be the first and only franchise of this chain outside the U.S.). I don't know the folk behind the one here directly, but they've been friendly and chipper and everything nice on Twitter. The place is meant to evoke an old soda fountain style, meshed with a bit of sleek modernity. The menu board lists a mix of preset combos, build-it-yourself, and "different" burgers. I've noted before that one of the things I miss in the burger world here is a decent "patty melt" – a burger smothered in sauteed onions and gooey swiss cheese on toasted rye bread. So spotting a Patty Melt on the board made it easy to pick. Now, it's a good burger, for people who like this sort of burger – it's the "smashed patty" sort – where they take a ball of ground meat and smash it flat with a spatula – but that means a guaranteed well done burger, no options (and it still took over 15 minutes to get my order, despite them not being busy – this is another spot using those huge plastic pagers to buzz you when your food is ready). Wayback will stack pretty much as many burgers as you want, they offer a "triple triple", with nine patties and cheese, which on the board looks to tower to about a foot in height, but in reality would probably not top 4″. I did enjoy my patty melt – good onions, swiss cheese, thousand island dressing (a common option for the classic, and one that I like), though I missed the flavor of the rye bread – a patty melt should never be served on a bun! I do like that they have milkshakes, an unusual item for BA burger places – and the strawberry was as classically imitation flavored and lurid pink as it should be. The letdown for me, however, were the onion rings – huge, cakey, and sweet, like a funnel cake that happened to have a ring of onion in the center, and so overcooked they were hard and crunchy and bordered on burned – I ate one and a half of them and gave up. If you like the smashed burger style, you'll probably love the burgers at this place, it's just not my style (read on for more on this topic) – though if they'd put it on rye, I'd probably come back for another patty melt, but get fries with it.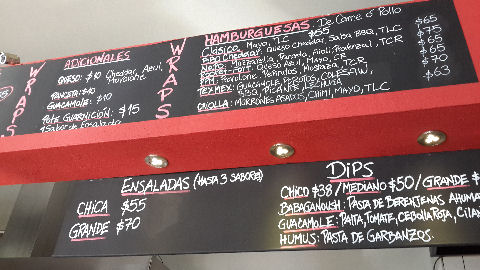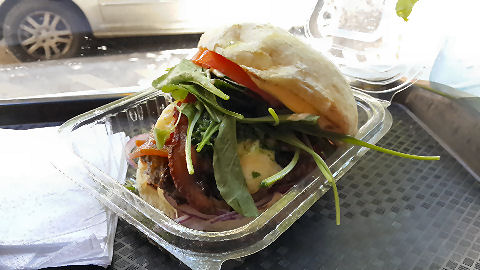 More my style, the whopping thick burger at La Cresta, Bulnes 829 in Palermo. It's primarily just a takeout place for burgers and wraps, but they do squeeze in four barstool seats at a small window counter. It's fine to sit down and eat if the place isn't crowded, but when lunch hour is in full swing, the square footage of the space makes it near impossible, plus the seats tend to be taken up by folk waiting for their orders to go. I waited until it cleared out a bit so that I could grab a spot – the other close by option is grabbing a seat on a bench in Plaza Almagro a few blocks up Bulnes. To the burger – great seasoning, and just packed with fresh toppings, regardless of which combo you go for – the "Napo" with aioli, lettuce, tomato, red onion, bacon, mozzarella, arugula, and "provencal" – garlic parsley sauce – is a winner for me. The one negative, the burgers are all pre-cooked and refrigerated, so all they're doing is reheating them on the griddle and melting the cheese over them – so once again, we're stuck with a well-done burger and it has an odd, slightly hard texture, from being refrigerated. I'd have to say, if these were cooked to order and could be had somewhere between rare and medium, they might be one of my favorites in the city. [Second location opened in 2016 at Bolivar 965 in San Telmo, not yet checked out.]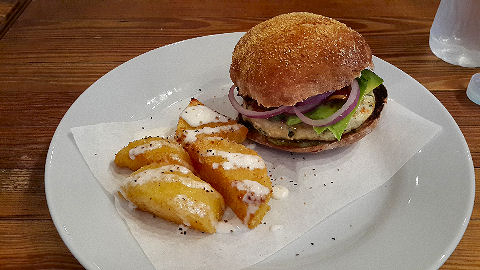 You may remember about a year ago when I reviewed the then relatively new Chochán, Piedras 672 in San Telmo – a sort of "all pork, all the time" operation. [Closed in early 2016] They've strayed a bit from there – there's still the big blackboard posted on the wall with all those delicious little piggy dishes, but, and this is a big BUT, at lunchtime, you can't order any of those. Not one. I'd headed back because I'd heard the burger was amazing (pork?), only to find that at lunchtime, with a sort of "B Team" running the show, there are a whopping two sandwiches and two salads of the day, with a couple of side dishes like fries and onion rings available. None of them pork. The burger of the day was chicken, and I'll give them that it was a great chicken burger, smothered with fresh avocado, red onions, and an aioli, but it wasn't what I wanted to try. It was also pretty small, especially for the 70 peso price tag – I could have easily eaten two or three, and hey look, it comes with four, count them, four, french fries. Add to that, they've eliminated the lineup of seven housemade condiments, so nothing picante available – the "waitress" actually told me that I must be thinking of somewhere else, they've never had housemade condiments, nor any hot sauces available – hey, there's a picture of them on my previous review, I almost pulled it up on my phone to show her. The setup is quite different too – no waiter service – you have to go up to the counter to order your food, and I was told I'd have to come up and get it myself, though in the end, one of the four folk hanging out behind the counter chatting and texting brought it over, I still had to get up and go to the counter to get the tab and pay. I've gotta say, tasty as the sandwich was, and while I'm sure at dinnertime there's still plenty of "porky goodness" to go around, for lunch, I was disappointed at the changes – I can see offering the daily specials as the primary lunch option, but not having the (or at least some of the) pork dishes available on request that they're so known for, seems a mistake to me – I mean, how hard is it to throw a regular burger on the grill instead of the chicken one?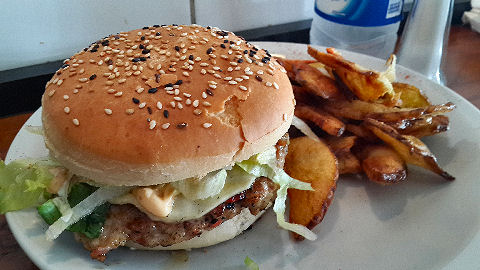 It must have been the day for it. Given that I was still pretty hungry after the above, I wandered a few blocks over to El Banco Rojo, Bolivar 914, moved to Bolivar 866 in 2016, which I've written about for The Chronicles of Shawarma. Packed with people, quite the difference. Here too, the regular hamburger, much talked about, was unavailable, and the burger of the day was, once again, chicken. What the hell? Okay, what the hell. More of a smashed patty style, which for chicken doesn't seem like a bad idea, I wouldn't be ordering it rare. A bit salty for my tastes, but great condiments, particularly a good dollop of sriracha. Not overly excited by the sort of thick cut, soft potato chips – I'd rather have either nice crispy chips, or thick french fries – the in-between was sort of blah. The question, I suppose, is, do I go back to either or both places to try the regular burger? I suppose I will, at some point.
[Edit:]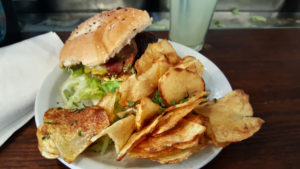 Returned in November 2016 and tried the regular burger, the "L.B."… quick and simple… bun too big for the patty and it fell apart within seconds of starting to eat the burger. The patty fine, cooked to about medium, completely unseasoned as best I could tell. Decent condiments – good pickles, cheese, fresh lettuce, and quite good, almost crispy bacon. Those same weird chips that just aren't crisp and so they come out a bit chewy, just kind of odd, and I didn't eat more than a couple of them. Overall, good, but not remarkable. I'll maintain this place in my "average" category when it comes to burgers. Far better option to order the shawarma/doner kebab – and the new location now offers tacos, to be tried down the line. [End Edit]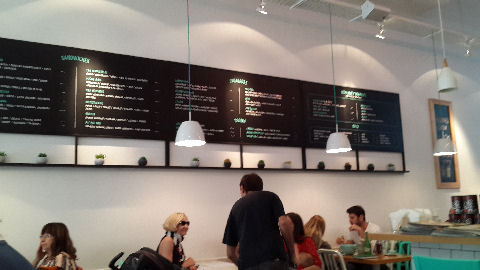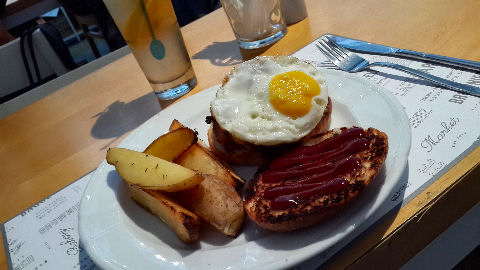 Oh, Pit Deli, Soldado de la Independencia 1154, ever since the loss of The Office, Las Cañitas has been pining away for good burgers. And there you are. And you're serving up a decent sounding burger, or, make that "burguer" (in Spanish forcing the "g" to be a had rather than soft sound). You cooked it a lovely medium, but I'm afraid it stops there for me. That lovely patty, oh, what is it made of? It's so finely ground it seems like hot dog meat and is it a mix of beef and pork? It tastes like a Jimmy Dean's breakfast patty. The caramelized onions are sweet as candy, as is the barbecue sauce, and is that a brioche bun it's served on? Just sweet on sweet on more sweet. The single thin sandwich slice of cheddar, the single slice of undercooked bacon, the overcooked egg – all do nothing to offset the feeling that I've just accidentally ordered some strange mash-up of breakfast and dessert. The oven fries are cooked right, though eye watering-ly lemony, until salted for some balance, and the refusal to bring a condiment like mayo or ketchup to the table for them (or for anything), is mystifying. The solid block of ice filling up 80% of the glass, so that a 12 ounce iced tea contains about 3 ounces of actual, really sweet, tea, is just a rip-off at 36 pesos. Service seems to consist of a trio of waiters running around pretending to be busy, but not really accomplishing much of anything. I'm afraid that Las Cañitas will just have to wait for that good burger shop to appear.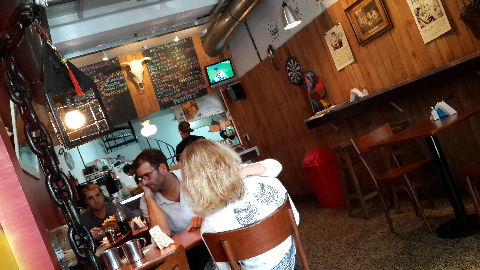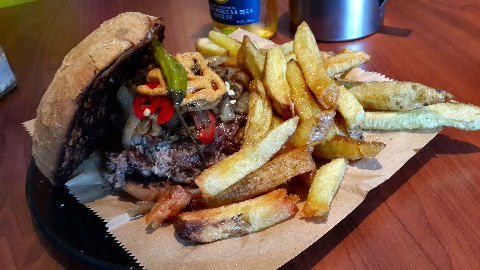 Okay, I think I've made my feelings about "smashed patty" burgers eminently clear over time, be it in this piece, previous burger round-ups, or even a revisit to a hometown adolescent favorite. My two objections – they tend to fall apart, and they're almost always cooked to medium well or beyond, and I like a rare to medium rare burger, thick and juicy, and one that holds together. So it takes a Sisyphean effort on the part of a burger shop to surmount that, and to be honest, I was pretty sure that such a place could not actually exist in this space-time continuum. Perhaps coming in from some fourth dimension or parallel universe, the guys at Tierra de Nadie (No Man's Land), Avellaneda 588 in Caballito have managed to overcome every objection I can muster. In a world where a "3Hot Chilli Peppers" burger, with two well seasoned smashed patties surrounding a mass of gooey melted cheddar, slices of fresh jalapeños, rocoto mayo, an ají limo (okay, I could have used more than one of those on top), three slices of perfectly crispy bacon, and dead-on caramelized onions (that weren't overly sweet) can exist, I can like, no love, a smashed patty burger. Oh, and quite possibly the best fries in the city – are those skin-on french fries? Why yes, I believe they are.