"It is the child in man that is the source of his uniqueness and creativeness, and the playground is the optimal milieu for the unfolding of his capacities and talents." – Eric Hoffer, philosophical writer
Initially I was going to call this "New Kids on the Block", but then I realized that the kids aren't what's new, it's their playgrounds. We've met all three of these chefs before on these pages, but each of them has moved on to a new venture where they can play and express themselves in new ways.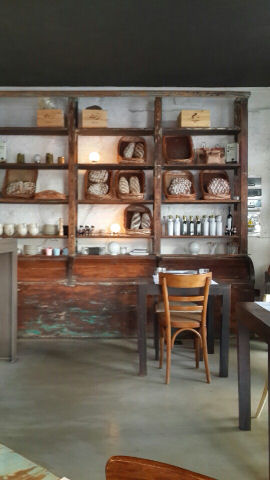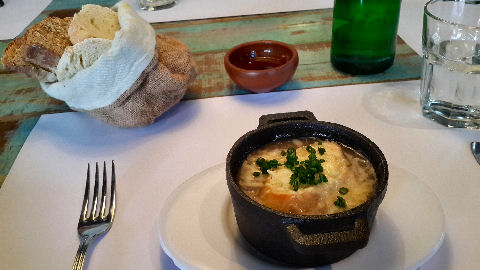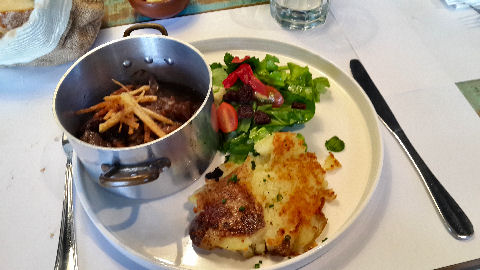 It was two years ago that I spent a bit of time dissecting a meal at the well known and highly touted
Aramburu
. At the time, I talked about how Gonzalo Aramburu had started out his place as a neighborhood bistro, long before getting the whole molecular bug and reformatting into a tasting menu temple of dining. One of the things I didn't mention as it wasn't for public knowledge at the time, was that he was in the process of opening a second place just steps away, where he planned to bring back that casual bistro style,
Aramburu BIS
, Humberto Primo 1207, corner of Salta.
Now, numerous of my colleagues have written the place up as a casual version of the same sort of cooking as is going on at Aramburu. In a sense it is, but a limited sense – he's using sous vide cooking methods for meats and such, but there's little, if any, of what most of us would think of as molecular stuff thrown into the mix. Instead, it's solid bistro food using hints of "modernist" method. There's an a la carte menu at dinner, which I have yet to sample, though did peruse, at lunch, it's a two course prix-fixe, or really, menú ejecutivo, for a mere 95 pesos including the two plates, a beverage, and coffee. The lunch menu options change daily – the day I popped in the choices were a classic French onion soup or a green salad to start, and homemade pasta with mushroom sauce or venison stew for the main course.
The soup was spot on, perhaps a bit small of a portion, especially given that it's not an expensive dish to make, but it was a delicious start, especially accompanied by a selection of the great bread on offer. The stew, an absolute winner, deep, rich, satisfying, perfect for the crisp day outside, and nicely accompanied by a sort of cross between a potato rosti and hashbrowns, plus a small salad – I'm glad I didn't go for the salad option for my first course. For the price, great value. A dessert on the house from Gonzalo, his take on an Argentine classic, a "Don Pedro". Truly appropriate to the location as well, as the Don Pedro was invented a mere seven blocks away at the long lived (founded 1930) and long shuttered (1988) Lo Prete restaurant, where Pedro Lo Prete, a cousin of the restaurant's owner, whipped up a personal treat of a shot of whiskey with a scoop of unflavored ice cream and some walnuts. Other stories attribute it to a friend and financial backer of the restaurant, Pedro Ferrari.
Although I can't say that I run off to Monserrat much for a quick meal, this kind of cooking is right up my alley and I'd happily drop in any day for a bite.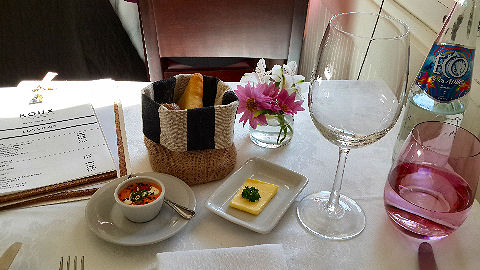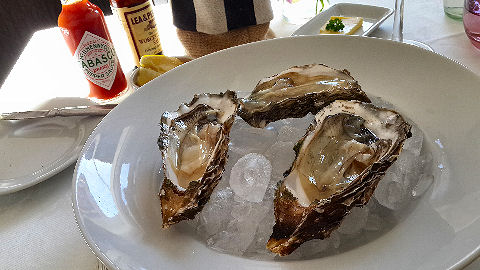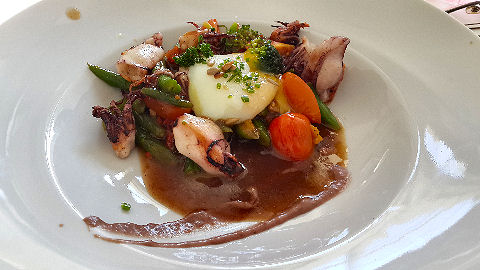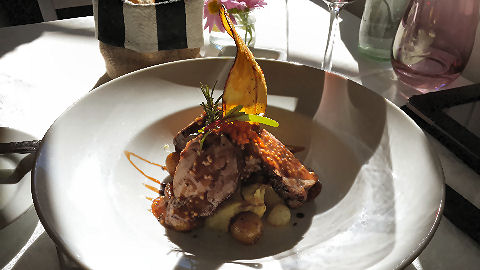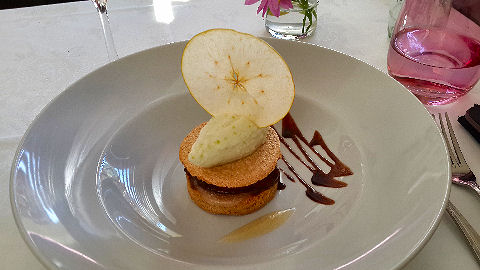 When last we saw Martín Rebaudino he was captaining the ship at
Oviedo
, where I believe he was at the helm for going on 19 years. I'd heard earlier this year that he'd parted ways, amicably, with the owner, and I saw something about him having headed off to San Juan, Puerto Rico, though that was just grist in the rumor mill. Just a couple of weeks ago he resurfaced just around the corner from us with
Roux
, Peña 2300, corner of Azuénaga, taking over the recently dark space that held
Santé
for several years and prior to that,
BN Café
.
I have to say, that excited me. While Oviedo is not far from home, to have a chef of Rebaudino's caliber truly right around the corner, put a gleam in my eye. And, he's not lost his touch. The style is a bit more French than his food at Oviedo, perhaps not surprising given the name of the new venture. The room is beautifully done up in white and pink, the waiters are, maybe a touch formal for the space and neighborhood, but then again, no more so than, say, at El Burladero, just a block away, though they could use a little loosening up – that will come with time I imagine – the place has only been open a couple of weeks and they're still getting their footing.
The food, beautifully presented. At lunch, a basket of lovely breads, a small cup of quite good gazpacho swiftly followed by an eggplant puree of some sort to accompany the breads (why not just bring that with the butter when the breads are put on the table, it wasn't really so much an amuse bouche as just an option for spreading?). I love oysters on the half shell and they're such a rarity here that although I planned on both an appetizer and main course, I figured at least to have a trio of them (they're sold by the piece, so you can order as many as you like). An appetizer of a perfectly poached egg accompanied by little grilled chipirones (baby cuttlefish) and a medley of vegetables vies with the egg dish at Tarquino for one of my favorite potential brunch dishes. The main course of wild boar was spot on as to the cooking, though overall I found the preparation a bit sweet – both sauce and the massive mound of mashed yam accompanying – perhaps a little less yam and a little more of something in contrast? Still, I happily ate most all of it, leaving behind a small hillock of the mash only. Surprisingly given his history, the menu is light on fish dishes, though that may simply be seasonal. The dessert, a delicious little stack of cinnamon cookies with caramelized apples and apple ice cream was a delightful finish, though for the price, a tad skimpy.
In the end, definitely a place I'd go back to, and probably will with some regularity. It's a splurge – first, the odious 22 peso cubierto charge, albeit not a high one, I am just against on principle, the oysters come in at 22 pesos apiece, appetizers and desserts run around 80-100 pesos and main courses hover around the 150 peso mark. At the same time, it's fantastic cooking and we don't have a lot of that here in this part of Recoleta. There's a nice selection of wines on the short wine list, several of which are available by the glass.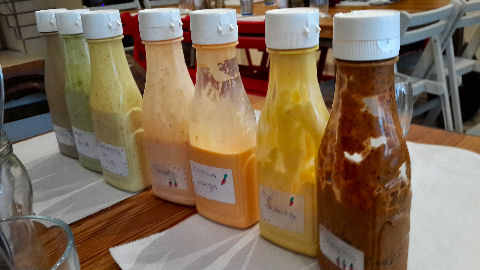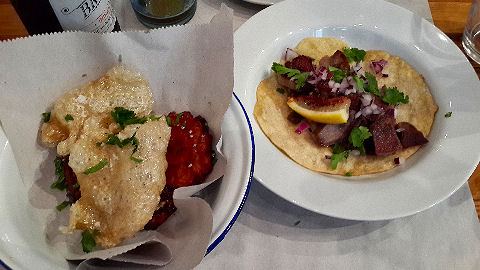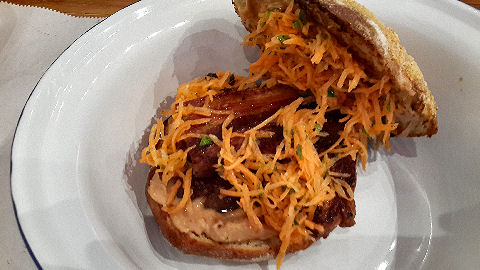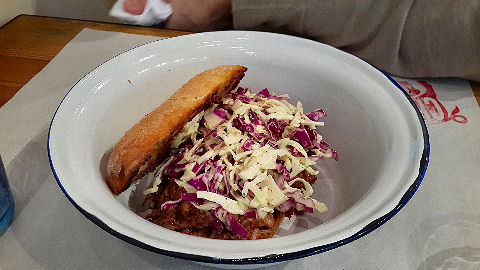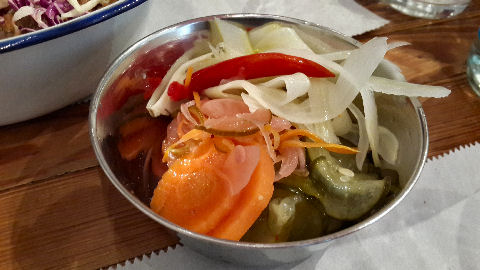 And, the third of our trio today, Naiara Calviño, who we last saw at
Aipim
, the short-lived spot that many of us bemoaned its demise. Over the last year and a half or so she's been offering occasional pop-up events, but nothing steady. So it was great to hear that she'd resurfaced (okay, I see her on and off at food events, she didn't really disappear) with a couple of partners at the month or so old
Chochán
, Piedras 672 on the border of Monserrat and San Telmo. Chochán is basically
lunfardo
, Argentine street slang, for
chancho
, or pork – they have this thing about reversing syllables. And, indeed, while I can't say it's about everything possible in "porky goodness" as Bourdain might put it, it is about pretty much everything being pork. 
[Closed in early 2016]
The focus is the sandwich world with a few satellite dishes. After ordering up a large beer to split and a few things from the menu, first we got the sauces. Quite the array of them too, from olive and herb mayos, on up through a selection of "hot" sauces. Now, for local tastes, these are hot sauces. For us, not so much. Oh, they added a little kick to the dishes – the sriracha mayo, the rocoto sauce, the ají amarillo, and perhaps most, the jalapeño, but the kick is pretty mild. Still, it's nice to have some condiments with zip!
The confited pork tongue tacos were unquestionably the best thing we had on the table. Perfectly cooked to falling apart tender meat, great seasoning, I could just go back and eat a few of those with a beer. The huesitos y cueritos – little braised "bones", bits of sparerib, and chicharrones of pork skin are more snack food to have while watching a game and downing a brew or two. The sandwiches – great breads, perfectly cooked meat – one a braised pork belly, the other a pulled pork, and good "salad" accompaniments of shredded carrot with peanut sauce and cole slaw, respectively. A little light on seasoning, but I think that's intentional given the array of condiments mentioned above, the idea is to spice it up to your personal liking. We also grabbed a bowl of housemade pickles, a touch on the sweeter "bread and butter" style – we were hoping for something more in the garlic dill or half sour region.
I'd happily go back and eat more. And prices are high but not by any stretch outrageous for mid-2014 – two apps, two sandwiches, a large beer, bottle of water, pickles, came in at right around 300 pesos.