Okay, that was short-lived. Doing these alphabetical explorations as classes didn't work – for two reasons. First, I heard back from the couple of folk who attended the first two – I guess it just hadn't clicked in that these would be experimental, i.e., that some stuff might not be totally worked out, and that they weren't going to be learning tried and true recipes and going home with a few pages of them to stick in a notebook and haul out once a year to make one or another. And second, on my side, I felt like I was having to rush the exploration of a single vegetable, trying to come up with 3-4 dishes that were new and different. So, I scrapped the series as a class, and decided to just take my time, spread out over a week or two, or three, and work with a vegetable that's in season, and see what I can really come up with. Some will be simple, and some will be, well… let's see where it goes.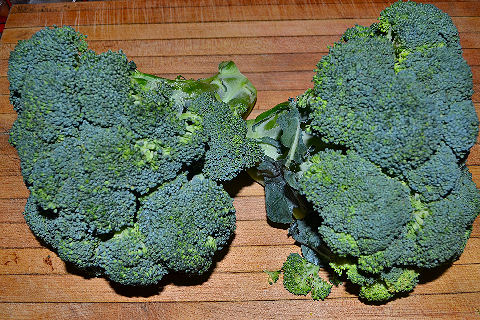 I doubt I have to describe what broccoli is, and I'm setting aside the different "other" varieties, like broccoli rabe or, hmmm, well, okay, that's it, at least of what's available here – but it's not in season, and I'll maybe get to that another time. Scouring through my various cookbooks, and I do have a whole lot of them, there's not much in the way of anything creative being done with it, by anyone. Mostly there's a lot of roasting and steaming, and sometimes pureeing. But it's rarely the star of anything much more than a pasta. And that's a shame, because there's a lot that can be done with it – and my explorations confirm that.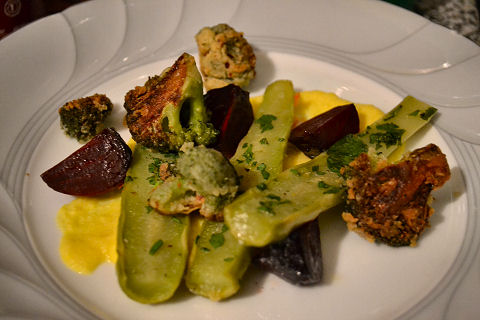 Now, broccoli isn't a vegetable that I've done a whole lot creatively with in the past. Mostly I've steamed it or roasted it. I made broccoli lemon soup a couple of times, and personally I loved it, but in general, it was not well received by guests. I once used it as
a main course dish
for a vegetarian who waited until arriving for dinner to inform me that she needed a vegetarian menu – but it was kind of thrown together because I happened to have a broccoli in the crisper, and just imitated the already planned seafood main course – it had potential, but wasn't what I'd have probably done with more time available.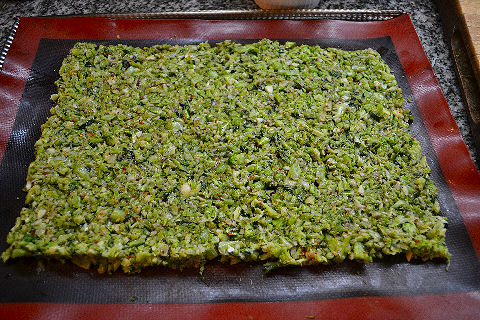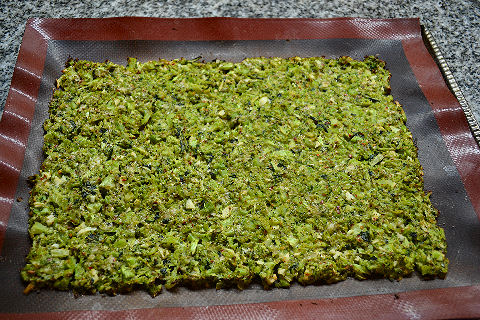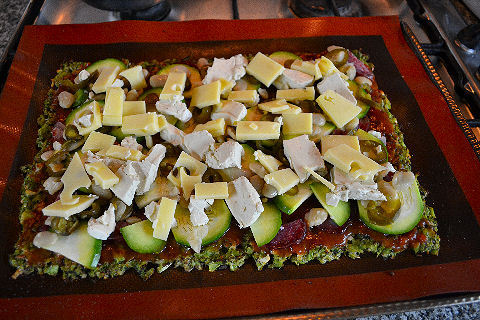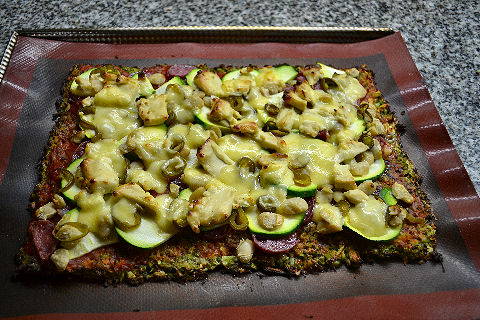 For the last year or two I've been hearing about "cauliflower crust" pizzas as an alternative for folk who want something gluten free, or perhaps it's for paleo diets, or maybe just because cauliflower is the new kale. It occurred to me, that despite being bright green instead of off-white, someone out there must be doing something similar with broccoli. And sure enough, there are plenty of ideas on the internet superhighway for broccoli crust pizzas. So the crust here is not my own idea, but one I wanted to try out to see what all the fuss is about.
I pretty much went with this crust from the Gothamist blog. In looking back at their pictures, it's clear I didn't "grind" the broccoli as finely – I just pulsed it (after first microwaving it for five minutes to par-cook it) down to about "rice sized" pieces in the food processor, along with a couple of cloves of garlic, then I mixed it with a couple of eggs and a half cup of grated hard cheese, a little salt, pepper, and chili flakes thrown into the mix. Then patted it out into about a 1/4″ thick rectangle, tossed it in a very hot oven for about 10 minutes to set it. Then topped it with putanesca sauce (Knorr, I had some in the cupboard), loganiza sausage, some white beans, zucchini, and pickled jalapeños. Covered it with a couple of different cheeses that I had sitting around in the fridge – some port salut and a mild blue, and back into the oven to finish baking. We loved it. And didn't feel like we'd over done it after finishing it off at one sitting – none of that heavy "bread-laden" feel of eating too much regular pizza. That'll be back on our table.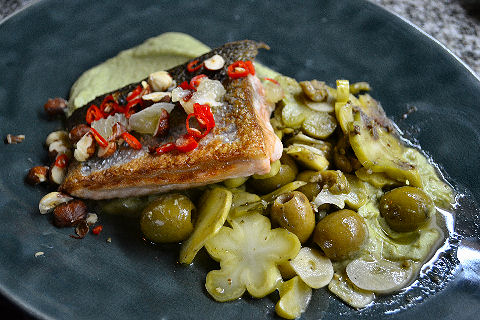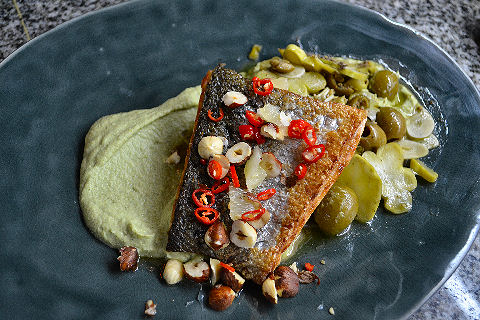 This is what I mean by getting a bit more creative and spending more time on working out the details – versus the dishes that we did in class for the first two veggies. So let's see, what do we have here – a seared piece of salmon may seem to be the centerpiece, and perhaps visually it is, but most of the flavor in this dish comes from the two broccoli elements. First, there's a puree – steamed the florets until soft and then pureed them until super smooth with hazelnut oil, salt and pepper, and just a splash of water that was needed to get it as smooth as I wanted. The stalks of the broccoli got a sous vide treatment – I'd originally thought about roasting them – but I've done that before – so, something different – but you could take this exact same mix and throw it in a roasting pan, you'll just get some of those charred roasting flavors instead of the more delicate ones I got. Into a ziplock bag with sliced broccoli stems, sliced garlic, a couple of chopped anchovies, some pitted green olives, salt, pepper, and a splash of olive oil. Sealed after displacing the air by sinking it up to the top in water, then cooked at 170°F/76.7°C for about two hours. The flavors melded beautifully, the stems were tender but not overcooked, and it all had a really lovely, subtle flavor that I was looking for. Then, seared the salmon to get a nice crispy skin and topped it with some chopped toasted hazelnuts, mild chilies, and lemon segments. Yum all around – this one's going to come back on a Casa S menu sometime soon.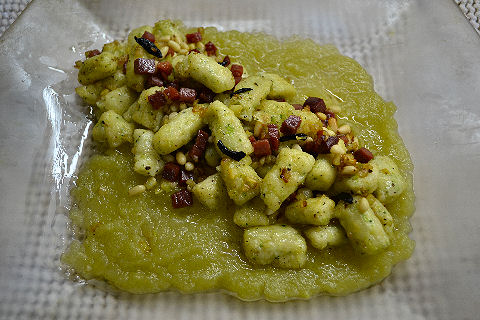 A little fusion of some modern techniques with some old ones. The base, a broccoli floret fluid gel (steamed broccoli pureed in a little water with salt, pepper and lemon juice, strained, blended with 1% agar-agar, boiled, chilled, blitzed, and just warmed on the plate in the oven. Gnocchi parisienne – choux paste gnocchi – flavored with romano cheese and grated broccoli florets, sauteed in olive oil and butter with finely diced broccoli stems, prosciutto, pinenuts, and finished with shavings of a black garlic clove. I liked it a lot – it's the first time I've used black garlic – actually, it's the first time I've tried it, I think – and I liked the touch of sweetness it added to the dish, though I think if I redid the dish I'd use some whole roasted garlic cloves in the mix, and maybe toss in some fresh herbs, and I'd probably use some sort of broccoli puree instead of the fluid gel – maybe even the one from the above dish.