Time for another round of casual eats!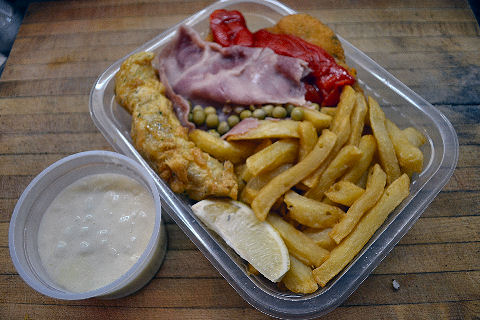 I don't know what possessed me to order a Suprema Maryland as a delivery – fried things are rarely a good move – they tend to steam and get soggy by the time they arrive. Maybe it's because La Barra, Juncal 2383 is only a few blocks away here in Recoleta that I thought it would survive the trip. It didn't. The crust on both chicken and banana were falling apart wet and the french fries weren't far behind. But, that still doesn't explain the canned peas, lunchmeat ham slice, cold bell pepper, and weirdly textured chicken that reminded me of what I remember from a McDonald's "pink slime" chicken patty. Had it not had a little wing bone sticking out of one end of it, that's what I'd have guessed it to be.
For several years I've heard about a Japanese spot out in Flores that numerous folk swore by. Supposedly it was somewhat hidden away. That's only sort of true – Miyako, Av. Nazca 388, is located on the 6th floor of an office building. But there's signage out front, you simply enter the lobby and take the elevator on up. The restaurant touts a "great view", which is dubious – first off, it's, well, looking out over Flores, sorry folk who live there, but not exactly the most exciting thing to look at, and second, the windows start at more than a meter above the floor level, which means when you're sitting down, unless you're really tall, you can't see the view anyway. Service was friendly, though my waitress was inept as could be – excused only by the fact that it turned out it was not only her first day there, but her first day as a waitress, anywhere. Luckily the manager was watching and made corrections as she went, so for the most part all was fine.
There's a nice selection of fixed price menus available, but all included more stuff than I was interested, so I decided to order some sushi and ramen. The quality of the sushi is excellent, the one negative being that they had no fish available except salmon, despite the menu claiming otherwise – I'm sorry, it's just not that hard to get good fish here – being out of it on a busy lunch hour just shows a lack of planning. On the other hand, the octopus was some of the best I've had in Buenos Aires – perfectly tender and well seasoned. The ramen, which had arrived actually before my sushi because the waitress just put in the order to both sushi bar and kitchen at the same time, got sent back by me to either be remade after my sushi, or, as it turned out (not surprising I suppose), just kept warm until I was ready for it. Unfortunately that meant it was just warm, not piping hot – but then, it wasn't all that good to begin with – a very sweet and salty broth, overcooked rubbery egg, weird little grey, grainy noodles that fell apart at a touch, nearly raw corn – all in all, just a miss. But I'd go back for the sushi anytime I'm in the 'hood. It is a bit pricey for Flores (sushi, ramen, bottle of water, 401 pesos + tip), but not out of line with other good Japanese spots in the city.
"Gourmet" burgers are all the rage right now in BA, though in general, there's nothing gourmet about them in terms of creativity, it's just that the game has been upped in terms of serving up higher quality burgers with fresh toppings. Chef friend Marta of Captain Cook (new review coming in the next couple of days for the new location) clued me in to El Puesto de Fabio, Roque Saenz Peña 1159, San Isidro, apparently the hot new ticket for weekend afternoons, where "comida sobre rueda", or food on wheels, is the name of the game – specifically, hamburgers cooked out of a food truck. Now, food trucks are a bit of an issue here, they're not allowed legally, which is why the few street food locations around Buenos Aires are anchored in place, thus rendering them "non-mobile". And, it turns out, this isn't really a food truck.
Now, I'm not being pedantic just because it's a trailer parked in the backyard of a catering company, but because they're not cooking anything in the trailer – they're just serving from the trailer window – if you look at the closeup photo you'll see that behind it is a lineup of outdoor grills and fryers. That's where all the cooking is done. Unfortunately, it's also not done to order – the burgers, the bacon, the eggs, etc., are all cooked out there, loaded onto trays, and stacked up inside the trailer. When you order they toss your patty and its accompaniments onto the flattop griddle to warm them up, load them on a bun, and serve them up – which somehow still manages to take close to 30 minutes for them to get an order out – and there was a whole lot of complaining going on by people waiting. Yeah, it was busy, but there was a lot of time they weren't putting things up.
So, how was the burger? Good. For my tastes, well seasoned but way overcooked – all the burgers are cooked well done in advance. Great toppings – fresh tomato, onion, lettuce, nice crispy bacon, good cheese, only the egg was a bit off – way overcooked – solid through and through. The fries, perfectly cooked but over-salted. Dining is at a mix of sit-down and stand-up tables that are mixed in size from small two person tables to large communal ones – I grabbed a corner of one of the latter. Condiments are a bit of an issue too – they have a few scattered squeeze bottles of ketchup and mustard around the yard on one table or another – not near enough for the lines of people (the place was never not full while I was there, just constant turnover) – and not everyone is friendly about sharing – I managed to get some ketchup for the fries, but the only mustard bottle I found was being hogged by some frat boy types who were telling people who wanted it to fuck off – they weren't even using it, just being pricks. Overall? Good burger, and if I lived in the area I'd probably head there now and again. Worth the hour and a half each way from here in Recoleta? Not so much unless you have something else to do up that way.