"Can U Milk a Tiger?"

"You can basically milk anything that has nipples and has babies."
My leche de tigre quest got stuck on hold a long while back. There's just so many other interesting things to eat when I'm out. But recently I've gotten back into it – in tandem with a new exploration of ajiaco con conejo – two good plates to try at each new Peruvian spot.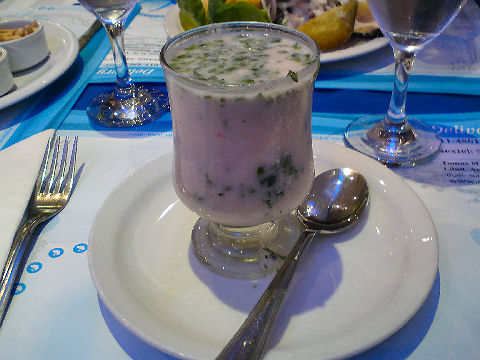 Solopescados, Anchorena 533, Abasto
Served up in a medium-sized glass, maybe 8 ounces or so, this is one of the freshest I've encountered – it should be, like the rest of the fish dishes here, this is a restaurant located in a fish store, and the fish is about as pristine as it gets when it's served up. It's a more liquid version – there's not a lot of substance, mostly just the liquid from making ceviche – a few chunks of fresh fish (mero, or grouper), and some cilantro. Like their ceviche, the ají is served up on the side to adjust it as spicy as you personally like – that actually works better here in the leche de tigre than it does in the ceviche where it's nice if it has a chance to marinate with the fish, here, you just mix it in and voila, spicier. At 30-something pesos for a glass this size, it's a little pricier than some of the others I've tried, but not bad – you will likely want to order something else though, it's not enough for a meal by itself. ★★★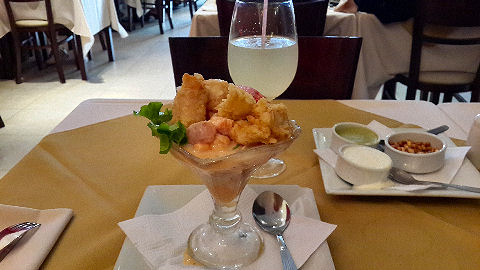 Mochica, Agüero 520, Abasto
One of the most complete meal type leche de tigres I've tried, this one actually has little in the way of liquid, it's mostly a sundae glass packed with three or four different kinds of fish, topped with more fish in tempura style and a single boiled prawn. It's tasty, though a little light on the spicing – pretty much seems to be just lemon, the juices from the fish, and salt, with maybe a hint of rocoto chili. The addition of some heat from the ubiquitous ají found in any Peruvian restaurant perks it up considerably. It was good, but I found it a bit one dimensional – still, at 50 pesos, less than half the price of a bowl of ceviche, it makes for a pretty satisfying light lunch all on its own. Service is really slow at Mochica – the preparation of this leche de tigre, with the restaurant barely half full, took 40 minutes. ★★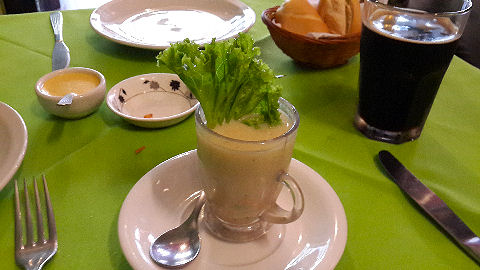 Rawa, Talcahuano 447, Congreso
Offered up in two sizes, I opted for the chica since I was moving on to a plate of ajiaco de conejo afterwards. A shame, as this is one of the best I've had – beautifully balanced citrus, salt, chili, and cilantro, small cubes of pristine, fresh sole, all in a double espresso glass, for a mere 20 pesos. I should have gone for the grande, at a small upcharge bringing it to 26 pesos, but served in a large red wine goblet, easily somewhere between double and triple the volume of the small. A complete surprise for what appears to be a hole in the wall in the middle of a commercial block. Great value, delicious food. ★★★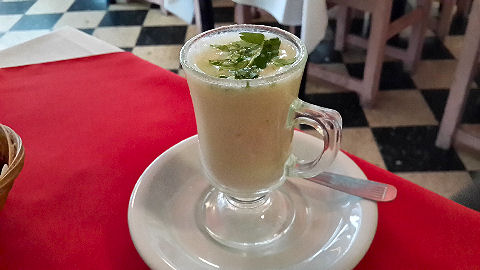 Chan-Chan, Hipolito Yrigoyen 1390, Congreso
As at Rawa there are two sizes offered – 20 pesos for the double espresso size and 25 for a large tumbler. I hadn't realized that I'd tried the leche de tigre at Chan-Chan before, but it turns out I had about three years ago. Without having gone back and read my earlier review, turns out I had the exact same feeling about it – "completely liquid, hangover cure style – and both overly salted and really garlicky" – though this time there were a couple of small pieces of diced fish in the bottom. ★