Ding, Ding, Ding! It was time for another throwdown challenge in our Reinventing the Whisk series – Episode #6. Three cooks, and another reinvention task – this time, Kevin Hopp had the honor to select the dish and he picked that ubiquitous dish of modern Thai cuisine, Pad Thai or Phat Thai. It's a dish with somewhat murky origins that delve into the politics of influences from China and/or Vietnam, the westernization of Siam into Thailand, fast food, nutrition, and more things than I'd care to shake a chopstick at.
At its core, it's a stir-fried dish of rice (generally) noodles, eggs, tofu, tamarind, fish sauce (or soy sauce for vegetarian versions), dried shrimp (or not, again for vegetarians), garlic, shallots, crushed red chilies and palm sugar. Common additions might include fresh shrimp or chicken, roasted peanuts, lime, chives, cilantro, daikon, or other vegetables. Like many dishes coming from Southeast Asia, there's an intent to have a harmonious balance between sour (tamarind), sweet (palm sugar), salty (fish or soy sauce), and spicy (chilies). It's a dish I almost never order in Thai restaurants anymore because I've been so disappointed at the lack of that balance in so many places – it's usually way too sweet for my tastes.
The night went quite differently from what Kevin and I first bounced around – the idea of each of us reinventing the dish – but it got back to the intention of this series of challenges at the beginning. It was never really intended as a competition – after all, we have no way of judging the dishes against each other since we're in various places (Jennifer joined us again, so we had Argentina, Mexico, and the US all represented). Rather it was to challenge ourselves, to step outside our comfort zones. In the end, for Jennifer and Kevin, neither having ever made Pad Thai before, it meant not so much reinventing it, as the challenge to make it and make it delicious, for the first time. On my end, having made it many a time, it was a chance to simply use it as a starting point and head off in a different direction.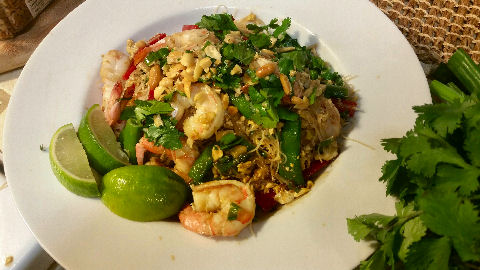 Let's start with Kevin's dish. He's a bit busy with the new baby, so no writeup on his part, and he found himself just trying to stay focused around a crying infant, a visiting mother-in-law, and his wife having decided not to wait for the results of the challenge, taking up stove space with a pot of beans and some chicken soup. Jennifer and I have it easy – no one else at home during these challenges. All that's to say I don't have any real details about what went into Kevin's version – it looks pretty classic, I know he made his own tamarind paste from fresh tamarinds he found in the market, and had a bit of a hard time getting it all balanced with the intensity of that flavor (my sense is it's more traditional to use tamarind water rather than paste in this dish, the liquid that's strained off of making the paste), and he had fresh shrimp and I think some sugarsnap peas rather than bean sprouts.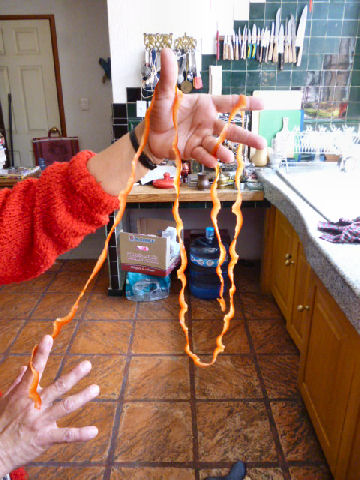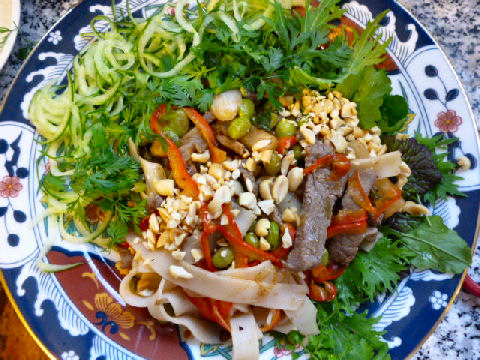 I'll let Jennifer describe her process herself here:
We're going to take Pad Thai, an invented dish just as much as General Tso's Chicken, back to its origins. Forget what you may have thought about Pad Thai being the benchmark for measuring a Thai restaurant's mettle. Forget about the requisite trio of ingredients, but remember the quadrant of flavors. Pad Thai is street food, made up out of whatever's essentially at hand, just as long as it's got a protein, something vegetable, something noodle-ish, and quickly cooked. Pad Thai isn't even Thai; it's an invented dish. There isn't even a consistent theory about whether Pad Thai's legitimately Thai or not.

What's not going to be in this dish: egg and tofu. We don't really care for either, and besides, tofu isn't easily available 'round these parts. Well, unless I wanted to drive off an hour across town to the health food store and spend another hour looking for non-existent parking.

The sauce. Tamarind is plentiful here, but I wasn't about to process dried pods or search the shelves of the local gourmet store for tamarind paste. I picked up a tiny clay pot filled with tamarind candy – the kind that gets Estadounidense fiends in lather over possible lead content. The added bonus was that chile, salt and sugar were already added. I whisked that up with some fish sauce and soy sauce, both imported from Thailand. Each of these flavors ranges from mild to Who Died?, but together they create a marriage that just makes you want to lick the pan.

The protein: Half a New York steak I found in the freezer, purchased at Superama, Walmart's gourmet store that you have to get gussied up and wear the right kind of eyeliner even to enter.

The vegetables: green onion, jicama and edamame came into play. Just think of edamame as the precursor to tofu. I opted for the ubiquitous jicama, shredding it in my nifty Benriner Cook Help, thinking that I could create a jicama noodle. That failed, because jicama is just too watery to make it work. Did you know that the Spanish were responsible for introducing jicama from Mexico to Asia? I debated whether to use the jicama as a raw garnish or to toss it in at the last minute for a slightly-cooked, still crunchy add-in. I ended up cutting the rest of the jicama into julienne and tossing it in with the vegetables. Still chafing to use the Benriner Cook Help, I sliced up several meters' worth of red bell pepper for some color.

The noodle. For years, I hated rice noodles, because I thought they were supposed to be boiled. After all these years on the planet, I finally learned that soaking them in lukewarm water did the trick. And what a difference that made! Who knew that rice noodles were as easy to prepare as cellophane noodles?

You know the stir-fry drill: first the meat, then the vegetables. I tossed in a healthy slug of the sauce, dumped the noodles into the skillet, and tossed it all around for as much as a full minute. And just before serving, I folded in the multi-meter red bell pepper.

The only garnishes were chopped peanuts and cilantro. Concentrating upon placing greens on the plate, along with sliced cucumber, I completely forgot the lime quarters.

Inauthentic or not, this was one of the easiest dishes I've ever prepared. And it tasted great! So there you have the Mexican version of Pad Thai, which is about as close to the real thing as the Mexican food I've had in places like Istanbul, Madrid and Buenos Aires. And a recipe for Pad Thai is just as absurd as a recipe for a taco.

What I learned. Rice noodles only need to be soaked! Cooking them is wrong, wrong, wrong. I will not go to Pad Thai hell for omitting the egg and tofu. Next time I think I'd deploy a vegetable other than edamame, just for more texture and color.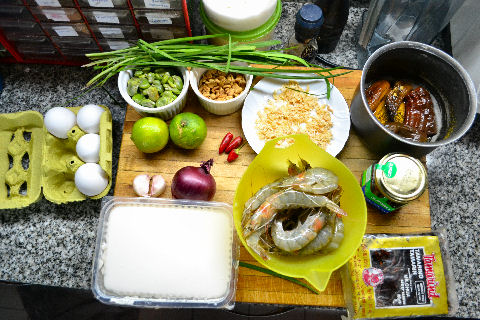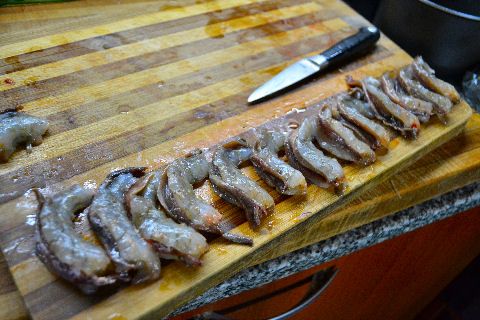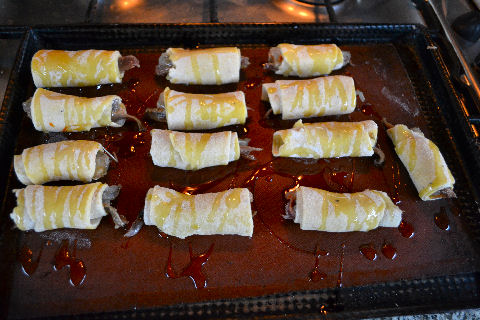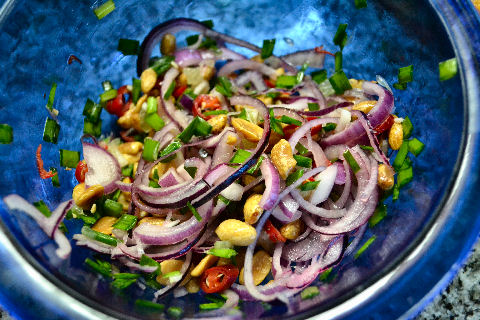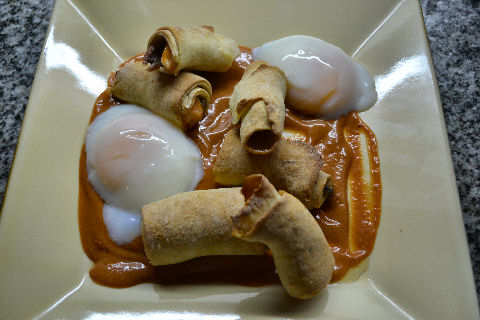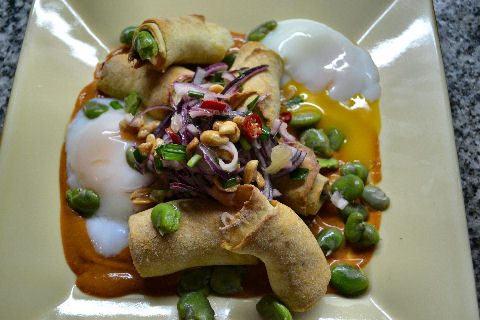 Clearly, my version has gone a very different direction. But what's not immediately obvious is that many if not most of the components are the same as in a traditional Pad Thai, just, shall we say, repurposed. First off, I knew I was going to make my own pasta, and almost immediately after deciding that, knew I wasn't going to make rice flour pasta – I know how, but it's a pain to work with. And especially after I decided not to simply have noodles on the dish, it became clear that I was going classic wheat flour egg pasta – with a twist, I took the dried shrimp, ground them up in the spice grinder and added them to the pasta dough to give it a fairly intense, shrimpy flavor.
And the decision not to just have noodles on the dish was when I started thinking about a different way of using the pasta dough – Kevin at one point suggested some sort of lasagna idea when we were bouncing thoughts around. Instead, I went, more or less, "pigs in a blanket" – with the pigs being prawns that I'd shelled, veined, butterflied, and then replaced the vein in each with an anchovy (my replacement for the fish sauce). Drizzled with oil, into the oven at high heat, and baked until golden brown – these would be very cool as passed hors d'oeuvres, especially with the sauce (as a dip in that case):
Here I brought in the classic tofu component, but went silken tofu and used it as the sauce base – I threw about a cup of silken tofu in the blender with some rehydrated ají panka (Peruvian red chilies), tamarind paste, garlic, soy sauce, lime zest, and raw sugar (I thought I had palm sugar in the cupboard but didn't, or I would have used that). Then I poured that in a small saucepan and let it simmer away for about ten minutes. I replaced the common addition of beansprouts with fresh fava beans.
The only other oddball component is the egg one, I decided to go with a couple of "onsen eggs" – eggs that had cooked sous vide for about an hour at 64°C. The balance of the dish is actually somewhat classic, I made a little salad of chopped garlic chives, red chilies, roasted peanuts, red onion, and some chopped lime segments.
All in all, a very satisfying and delicious dish! And, should the situation come up, I have a new party canape!
Stay tuned for Episode #7!