Continuing my stroll through Palermo Botanico's Little Italy, last time we left off with a critique of the mediocre Annetta. This time, we hit a branch of the small chain of Italian joints I've checked out before, with a stop in at La Parolaccia Casa Tua, Ceviño 3561. Now, I've been to a couple of more outposts of this group, and while each has some specialties, particular they "del Mare" branch in Puerto Madero where I'll shortly be posting a look at their parrillada de pescados y mariscos (as I continue in that search as well), but on the pasta end of things I've found the lists to be pretty much the same, and the food that comes out of the kitchen to be as well. So, it's no surprise that this branch serves up all the usual suspects. And that's not a bad thing, but we decided to try a few different things this time around.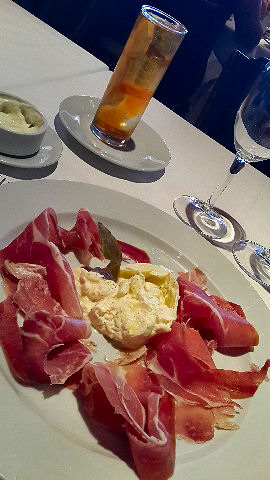 First off, kudos to this chain (and the one thing that I gave kudos to at Annetta), not a blink of an eye at the request for iced tea. Same was true at the seafood branch. The speed with which it came out would suggest that they're smart enough during these hot summer months to have some prepared and on hand. And, thankfully, "unsweet". We shared a burratta with some thin sliced prosciutto, all drizzled with olive oil and a little cracked pepper. Perfect start to a meal.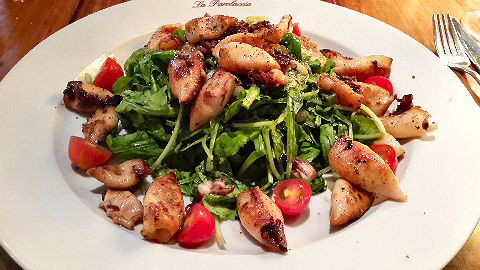 For those not looking to dive into a plate of pasta, there are other options. This perfectly dressed arugula salad with smoky, grilled chipirones (baby cuttlefish) and sauteed cherry tomatoes was absolute heaven. I'd go back and just have that (and an iced tea) for a summer lunch, any day.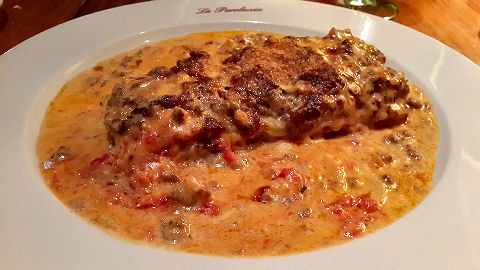 I'm on the fence about this lasagna. It's not bad, but it's not really that good either. It's odd is what it is. Now, partially I may be thinking back to my recent blissful sampling of lasagna at Trattoria Olivetti, but it's more than that. La Parolaccia Casa Tua offers two different lasagnas – della nonna and della momma – grandmother and mother style. The former is the one pictured, and is the more classic – with bolognese sauce; the latter is a chicken, ricotta and spinach lasagna that also sounded quite interesting. Here's the problem with grandma's lasagna – the pasta is a little thick for my tastes. There are five layers of pasta, and in a classic lasagna there'd be fillings of tomato sauce, ricotta, and bechamel sauce, and then the bolognese would be over the top. Now, they got the last part right, the bolognese is ladled over the top of the pasta and all over the plate. And it's okay bolognese, not great, a bit too cream laden for my tastes (and probably those of anyone in classic Italian cooking). But it's the filling where this fell down – it's nothing but ground beef between each layer of pasta – no tomato nor sauce, no bechamel, no ricotta – nada – just crumbled, unseasoned (well, salt, but nothing else evident) ground beef, and kind of dry. Not my cup of tea, iced or hot. Then again, this is the first pasta I've had at any branch of La Parolaccia that I wasn't happy with, so they're batting average is still pretty high.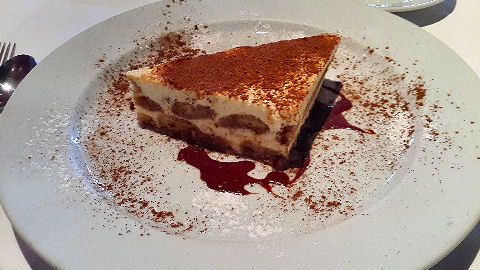 The tiramisu is great on the flavor end of things, but the texture is odd – the whipped cream and mascarpone topping have been gelled to a firmness that allows it to wobble, and probably bounce if need be. Not a fan.
So, in the end, I'd still Recommend this place. I've had enough good meals, especially pasta, at other branches, the appetizer and the lunch salad were perfect. I would just not particularly recommend the lasagna nor tiramisu. There're plenty of other things to order on the menu. Service is friendly and efficient. The room is a bit darker and more formal than some of the other branches, but that may just be the whole Palermo botanico vibe, hard to say. It's certainly better than Annetta, though not nearly as good as Olivetti, all three being in the same three block stretch. Guess which place I'm most likely to be found at?