I suppose I should get back into Season 1 of Spain's Top Chef before Season 2 rolls around, I mean, it's been over for weeks now. So, picking up after episode 5, let's see where episode 6 takes us.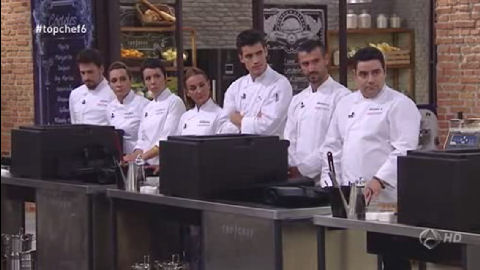 We're down to seven contestants. They arrive to find themselves confronted by seven large plastic "mystery boxes", for the first time. Come on, those aren't mystery boxes, they're coolers. Look at every other version of Top Chef or Masterchef out there, the boxes are boxes. Chopped, it may be noted, uses picnic hampers, but then, I think that's a fashion statement on Ted Allen's part.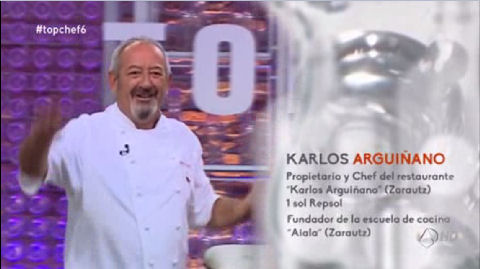 We are not, however, going to see what's in those "boxes" right now. We're going to be introduced to Karlos Arguiñano, chef and proprietor of his eponymous restaurant in the Basque country, TV star, businessman…. Head Judge Chicote tells them that inside the boxes are seven different parts of the same animal, one for each of them, and their selection is based purely on where they randomly chose to stand. After dragging it out a bit more they're told to lift the boxes, where they discover different cuts of pork: loin (Antonio C), shoulder (Miguel), head (Elisabeth), trotters & tail (Begoña), belly (Javier), leg (Antonio A), and ribs (Barbara). They get an hour to create a plate. Apparently the visiting chef isn't going to do anything but stand there and then help judge. A weird challenge – some of these cuts can be cooked in minutes, others typically take hours of slow cooking.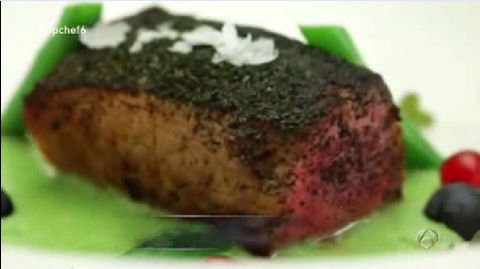 Elisabeth makes a lentil stew with bits of pork cheek, spicy crispy chips of pig's ear, and some salt cod – great flavors, they love it, only criticism is the ears are bit too chewy. Miguel has made a seared bit of shoulder in Thai spices with a coating of nori seaweed, smoked potato cream, and berries – they love it. Javier has grilled pork belly served over croutons with grapes, mango, garlic, onions and bell pepper – another hit. Begoña has pressure cooked her pig's feet and then shredded the meat to make a sort of coarse pate, served over a spicy lentil salad – they like it but find it a little greasy. Barbara has spiced her ribs in a "Hindu spice oil" and served them over couscous with sweet onions – they like it. Antonio C's seared pork loin with sobrasada sausage, mushrooms, and ham sauce seems to be good, but they don't really say, and it's the first dish they don't finish off every bite of. And, finally, Antonio A has made ravioli filled with smoked pork leg and served with porcini and a curry sauce, and lots of edible flowers – they love it, but joke about his masculinity with all the flowers.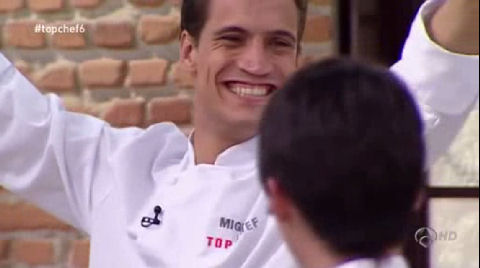 Karlos is thrilled by it all. More dragging it out. Finally, winner of the trial by fire and with immunity for the day, Miguel.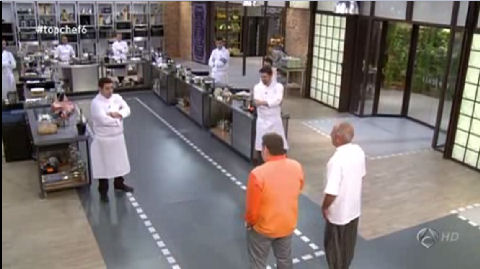 Next up, the main challenge. Miguel isn't going to have to cook, he's going to "play another important role". The remaining six are going to be split in two groups to cook. Miguel gets to pick the two team leaders. He picks Antonio A and Javier because he says they always work together and it's time to split them up. Antonio wins a coin toss to start the team picks – he picks Begoña. Javier picks Antonio C. Antonio picks Elisabeth, and no surprise, last pick of Barbara goes to Javier. Karlos is thanked for his service and asked to leave – he parts with telling them all to work "clean and organized". Strangely, however, he doesn't leave, the seven contestants do.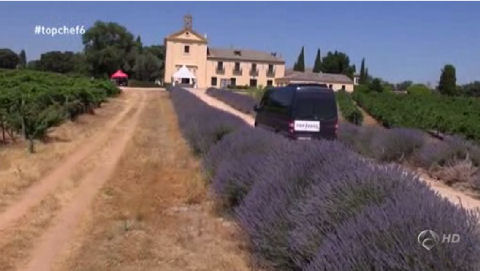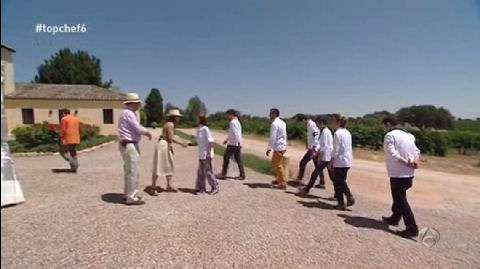 It's into the minivan and putting on their orange and grey kerchiefs, and off to the house of "someone very important". We cut to Chicote standing in a vineyard and a house in the background, and are told that it's the home of Carlos and Xandra Falcó, owners of Marqués de Griñon winery. The contestants are going to cook for them, their family, and some invited guests. What they're not told, but we are, is that among the invited guests are some of the country's Michelin starred chefs. They head into the house to see the kitchen and pantry – they're limited to whatever's in the house to come up with their two course menu, and 90 minutes to cook it.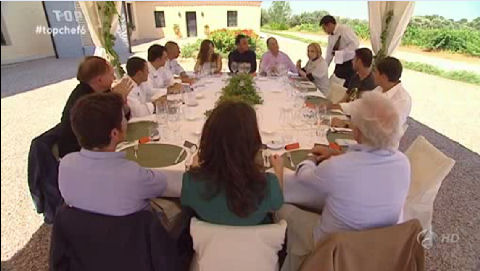 It's no time at all before the guests arrive, while our contestants figure out the kitchen equipment and where things are. Miguel gets to join the guests.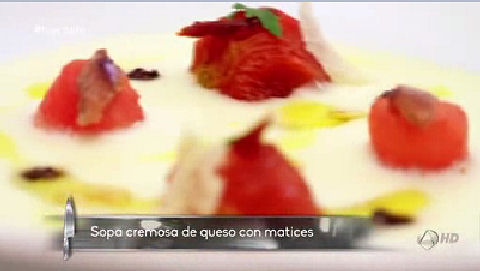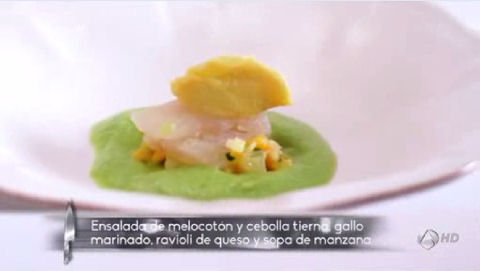 Javier's team presents their first course, a creamy cheese soup with "tones" of red – a semi-dried cherry tomatoes, watermelon, bits of anchovy and croutons. Antonio's team puts up an apple and chamomile soup with peaches and onions, marinated chicken and a cheese raviolo. Juan Pozuelo, chef of Vaca Nostra restaurant in Madrid says the latter soup is a great idea but is poorly presented, with the ravioli being hard, the vegetables undercooked, the sauce not well blended, and a lack of harmony in the dish. The hostess says it lacks "definition". The cheese soup is more successful, chef Pozuelo saying it has interesting flavors and he likes the presentation. We hear from the hostess again, who says it has intense flavors. Chef Ramon Freixa basically agrees with the above assessments. Chef Dario Barrio, whom I met one evening here at Sucre, nods in agreement. The host, however, disagrees, finding the freshness of the apple soup and its accompaniments more interesting for a midsummer lunch than a heavy cheese soup. The overall feeling seems to be that while both dishes were acceptable, neither was of the caliber that any of the guests expected.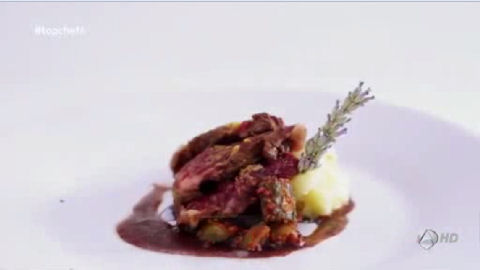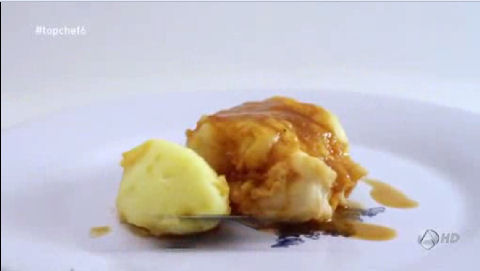 On to the main courses – Javier's team puts up a sirloin of beef with olive oil crushed potatoes, pickled capers and cucumbers, and a reduction of the winery's own wine and vinegar. Antonio's team has put up a dish of fried hake stuffed with crayfish, topped with a sauce americaine, and olive oil crushed potatoes. Both, of course, used the winery's own olive oil. The general consensus seems to be that the fish is a little overcooked and dry, that both presentations remind the guests of bad banquet food in the 1970s, and that the beef in particular is not very appealing, and no one thinks that either dish would be allowed to be served in a restaurant of any quality. Miguel gives a stab at defending his companions, but has to admit that he's not overly fond of either dish, particularly the beef. He tries again to excuse things for them being outside of their own kitchens, but the other chefs reject that, basically saying, if these people want to present themselves as top chefs, then it's bullshit to blame the setting or tools. I'd agree.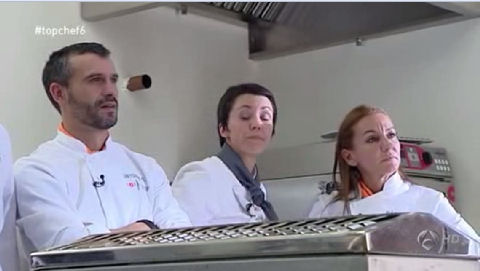 The chefs clean up inside, the guests vote outside. Miguel votes and then scoots into the kitchen to tell his companions what the guests thought of the food. They don't take it well, and demand that all criticism of their dishes should be constructive, not just critical. WTF? In side interviews pretty much all of them are in tears.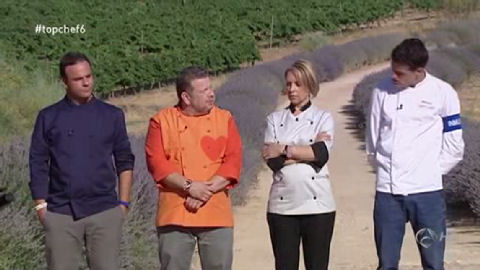 The judges and contestants gather outside. Chicote asks what the hell happened – in the trial by fire, seven contestants all cooked spectacular dishes, in the group challenge, six contestants couldn't put up an edible plate of food? Susi says that they had good ideas for the appetizers but neither of them was executed well. For the main courses, not only were they badly cooked but neither was even a decent idea. Antonio C speaks up and says that the people at the table clearly had no respect for the contestants or they wouldn't have been so critical. Further that if they judges are not going to be constructive and instructive, they should just announce the winner and loser and not give critiques. Another WTF?
Angel jumps in and says that the only thing to be decided here is what was the worst dish of the day since there was no best dish. Antonio objects again, saying the whole format sucks. Chicote lays it out – fifteen of you started, you all knew the setup, we're not your mommies, this is a competition, not dinner at your home or your restaurant, not a cooking school, and if this was as good as you think you could have done, none of you deserve to be here – suck it up and act like professionals instead of coddled babies. At least that's my paraphrase of what he said. Miguel tries once again to defend everyone, Chicote counters with, the only thing that's important to the diner is what's on the plate, no one gives a rat's ass about the kitchen conditions. People eat the food in front of them, not the imaginations of what the food was intended to be in the chef's mind. He's clearly furious at not only their performance but their attitude.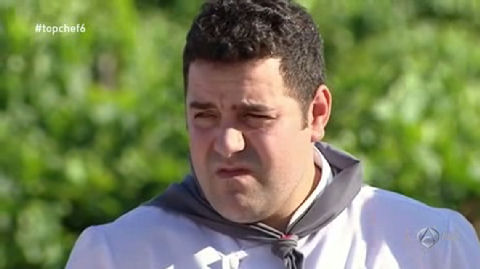 In the end, Javier's team wins and it's time for Antonio C's team to head back to the kitchen and cook for their last chance. Antonio looks ready to kill, or cry, again.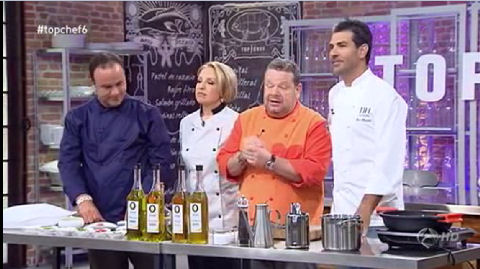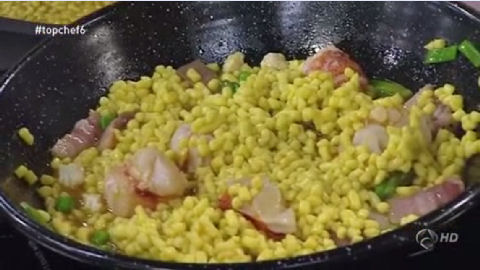 Guest chef Paco Roncero demonstrates his take on their challenge – to showcase olive oil. He makes a risotto, substituting gelled olive oil for rice. He makes a whisked emulsion of rice broth and olive oil, then fills a syringe with it. He then drips it into hot broth forming little pellets. I'm not clear how that works – he doesn't mention any gelling agents so I'm not clear if there's just a high concentration of rice starch in the broth that cooks to form the pellets. He then drains the little pellets of olive oil and sautes them in a mix of rendered bacon, shrimp and asparagus. He then presents the pan atop a pillow that's filled with wood smoke, which he pinpricks at the moment of serving so that little wisps of smoke curl out as you dish up the plate. It sounds interesting, but at the same time, like a plate full of olive oil that you're eating… right?
70 minutes allotted for our contestants to prepare their own dishes. Let's jump ahead. The judges taste the three plates blind, not knowing who cooked which. The first plate up is a tomato and olive oil soup with a canneloni made out of a large prawn filled with tabouleh and served with a cucumber gelatin (Antonio C). Given that it's decorated with various flowers they might guess that it's Antonio's, but they don't let on. The first thing they find is that the "canneloni" still has some of the plastic wrap used to form it wrapped around it. The contestants are watching via closed circuit TV from another room, Barbara leans over to Elisabeth and repeatedly tells her that this means Antonio has lost and Eli is safe. The judges carry on a bit about it, much is made about the plastic from every angle possible. Note, that bad as it is to leave a piece of plastic on a dish, the piece is roughly the size of a quarter. They love the dish, but, the plastic, you know?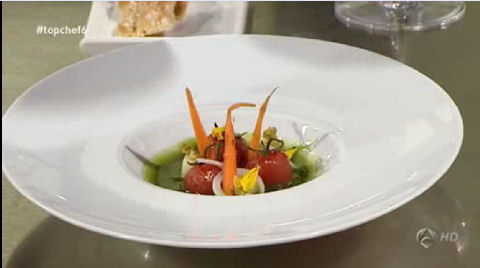 Next dish up is salt cod with pil-pil, an olive oil and garlic emulsion with the juices of the fish (Elisabeth), and topped with "textures" which seems to mean a cracker and some cooked vegetables. They like the fish, but they don't feel like she's captured the essence of what a pil-pil is. Barbara points out once again that there's no plastic on her plate. And last, Begoña's "ensalada paco", a salad with an herb and olive oil base, baby vegetables, and "tomatoes" that are made of thinly sliced tuna wrapped around, something, which is never stated. They love it. Paco was apparently her grandfather, recently deceased. Barbara keeps harping on Antonio's plastic and finally the others have had enough. Miguel explodes on her, telling her to STFU and keep her useless opinions to herself. It's pretty clear everyone else agrees, but step in to calm things down. She goes into tears again and starts screaming about how no one respects her. Well at least she finally got something correct.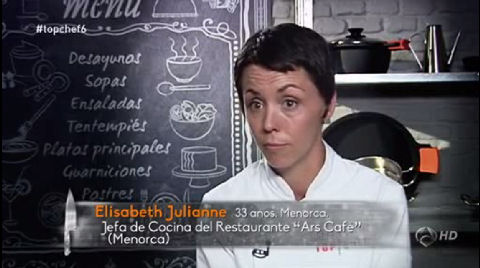 Winner, Begoña, she gets to head back in to join the others. The other two are called on to explain themselves. In the end, Antonio is saved simply because his dish is so good that they're willing to forgive the piece of plastic. Elisabeth heads home. A shame, I liked her. Then again, I like Antonio too, though he has a tendency to tear up a bit too easily. Back in the waiting room all the contestants except Barbara are cheering. She's just sitting there looking like the world has ended, even though she wasn't the one eliminated. Elisabeth says she thinks the judges made a fair decision and she'd rather go home having cooked a dish that wasn't up to the Top Chef standards than to get a pass because another contestant who cooked a better dish left a small piece of plastic on the plate. Class act.