A couple of weeks ago I wrote up Trattoria Olivetti, a real find in the Italian world of food here in town, and hoping against the odds, I decided I'd continue checking out spots in "Little Italy". Just a block away at Ugarteche 3212, corner of Cerviño, is Annetta, 4807-8398. The place gets mixed reviews – generally people seem to like the pastas, and there are several references (both positive and negative) to opera-singing waiters – I didn't experience any on two visits, but both times were at lunch, so likely it's an evening thing – but generally find that service is slow and inattentive.  [Closed]
The space is a little odd, it's located down a few steps from street level, a half-basement, so the windows are up above sight line which is just an odd angle for watching people walk by and vice versa, as a passerby you're looking down into the restaurant. I noted other oddities – the manager's desk is located at a table setup by the entrance and she just sort of sits there with paperwork spread out, working, making phone calls, having meetings with suppliers, etc., but that's right at the top of the steps going down, along a railing, sort of hovering over the dining room – it can be a little distracting to dining, especially when the conversations get a little louder. The entryway also seems to be used for storage and samples, so there are things leaning against the walls and scattered around as you come in. And, on one of the two visits I found noted that the flowers in all the vases were well past their prime. On the other visit, none were in evidence. And overall, at least for my tastes, I can't say I find the room all that attractive – very plain and a bit worn.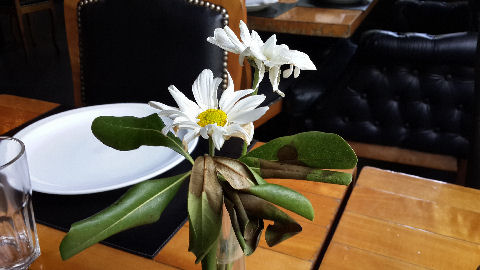 While I didn't find the service to be particularly slow or inattentive, I did find it to be just sort of scattered. On both visits there were few people in the place. The first time I was greeted by my waitress quickly and she was full of energy and suggestions, and there were two other people working in the dining room. On the second, the same waitress, while recognizing me, seemed to be off in space, and appeared to be the only one working, and her recommendations started in on that whole "everything is good, you could try this, or this, or this, or…" routine. The first visit, I hinted at the idea of an iced tea, it was a scorching day – normally here in BA it's really hard to get people to understand the concept and at best you end up with a cup of hot tea and a couple of ice cubes. But she jumped right on it, bringing a full pot of tea, a large glass, and a small ice bucket filled to the top with cubes. The second time, she brought a pot of hot water, a tea cup, and the ice bucket with just a few cubes in it – no tea. But then, prompted, not only brought the tea and a glass, but after I'd used up the small amount of ice on the first round of cubes, refilled the bucket. So, points there. I also note that the waitresses seem to just sort of disappear much of the time – back in the kitchen or something, but time goes by with no one in the room but the manager up at that hovering desk.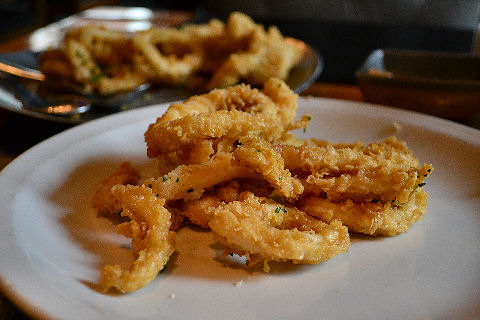 Fried calamari are plump and tender as can be, perfectly cooked, with a crispy batter. Personally I think they could use a little more seasoning, some salt, perhaps, in the batter, and they needed to be drained of oil a little better, but overall, a really good plate of
rabas romanas
– and plenty big enough to share between two or three people.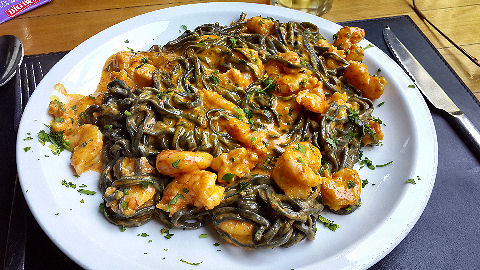 All housemade pastas on the menu, and a quite decent list of them, with a mix of classics and some creative sauces as well. Squid ink linguini with prawns in a saffron sauce were delicious. Seasoned well, the pasta cooked
al dente
, the prawns abundant and cooked well, the sauce flavorful, if a bit, well, gloppy – I'd say it was thickened with a little cornstarch or something similar.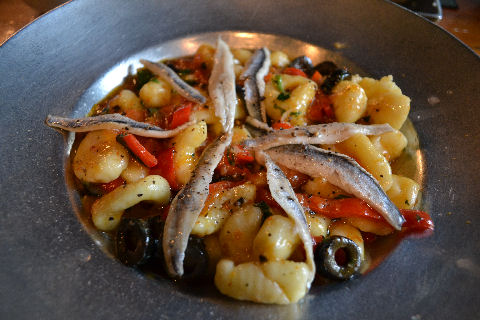 Gnocchi were light and cooked just right. They're a little haphazardly formed and uneven, but hey, so are mine when I make them – it does sort of emphasize that homemade feel. Why this particular dish is called "a la mala vida", or "bad life" gnocchi, I'm not totally sure, though I'd assume it to be their play on
puttanesca
sauce, which is classically a mix of anchovies, tomatoes, garlic, olives and capers in olive oil, usually with a hint of peperoncino chilies. Here it's a mix of boquerones, olives and bell peppers in a bland, strange, slightly gooey sauce, and again, that same sort of cornstarch thickened texture. Way too much sauce for the quantity of gnocchi, and it desperately needed seasoning (salt and pepper available, and the pepper grinder actually filled with peppercorns), and the bell peppers would have been far better roasted. I'll stick with puttanesca, if it's a good one.
So, overall, mixed feelings. The food is okay, and probably if I was getting any of those dishes off of the prix fixe lunch menu at a fairly reasonable price of under 100 pesos, I'd be okay with it, but the choices on the prix fixe are more basic. Given that the pastas run around 100 pesos per plate, I found it a bit pricey for the quality. And generally just a sort of blah feel to the whole place. I'm going to give it just an "Okay", especially since Olivetti is only a block away, with far better food and service.