Just a look back at last week's dinners. I've been sketching out an idea for a many-layered lasagna for several weeks now and trying out the components with each other, and it was finally time to spring it on guests. It was my favorite dish of the week, Henry hated it, I haven't heard back from any of the guests on how they felt about the dish in specific, though so far all commentary that I have gotten has been quite positive on the meal overall. It's not quite what one would expect in a lasagna, by any stretch, and I put the term in quotes on the menu. I feel the need to put it out there again during an upcoming menu and ask for feedback….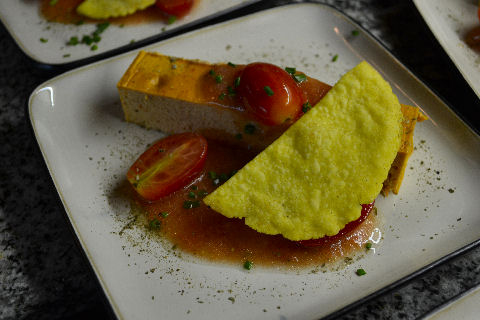 We started off with our smoked tomato cheesecake with tomato and olive oil sauce, kombu-marinated cherry tomatoes, curried polenta crisp, chives, caper powder. One night we had a guest who is mildly allergic to tomatoes, but I didn't find that out until last minute, so she got to eat all the extra curried polenta crisps.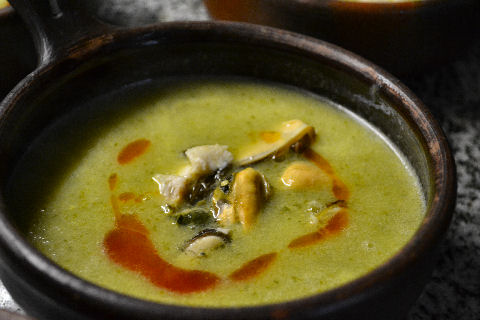 On to timbuche, our spicy cilantro based fish soup, this time with pacu, palometa and mussels. Those palometa don't look so fierce when they're in fillets (locals will get that).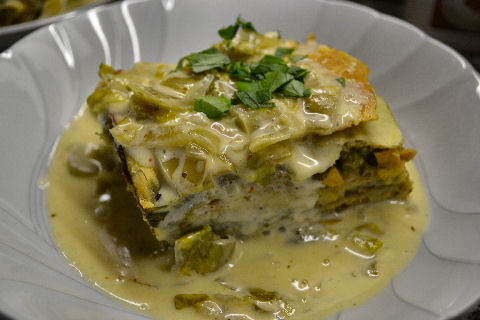 And, the aforementioned "lasagna". Seven layers of delicate semolina pasta. Three different fillings, starting from the bottom, a spicy chicken mousseline flavored with onion, ginger, tomato, garlic, chili, cinnamon, turmeric, fennel, cumin, clove, black pepper and salt; then finely chopped fennel and walnuts quickly sauteed in olive oil with salt and pepper; and finally a charred eggplant hummus with garlic, chickpeas, mint, chili, salt and pepper. The top was covered with a layer of romano cheese and a drizzle of olive oil and then the whole thing baked to order. The sauce is a creamy endive sauce – sauteed onions and garlic, endives, parsley, salt, white pepper, cream. Okay, there's a lot going on, some complex flavor interactions, but I think they all work together. It's sort of a Middle Eastern with tinges of French chicken lasagna.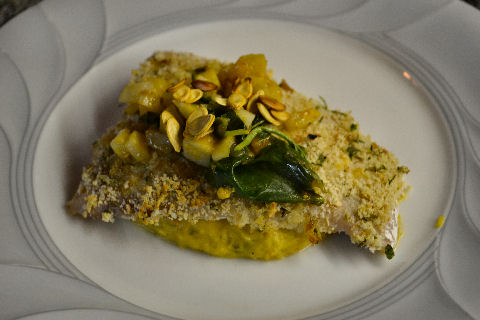 I did hear back on this one, quite a few people loved it. Cod coated with smoked mustard and an herb breadcrumb crust and quickly broiled. Served over a squash puree flavored with leeks, celery, oregano, ají amarillo and mascarpone. A saute of pears and watercress with more smoked mustard and ají amarillo. Sprinkled with toasted squash seeds.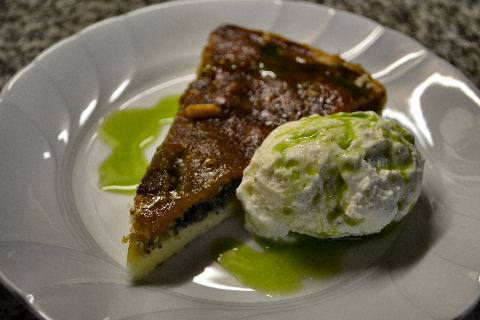 And, brought back our new "bakhlava tart" with black pepper ice cream and basil syrup. It works, but I'm thinking to change the syrup to something else, the flavor combination is just slightly "not there" for me, though everyone seemed to love it again.