Let's pick up right where we left off, our young guardian has procured a boat for us to plunge into the Itaya River, one of the two main tributaries of the Amazon at Iquitos.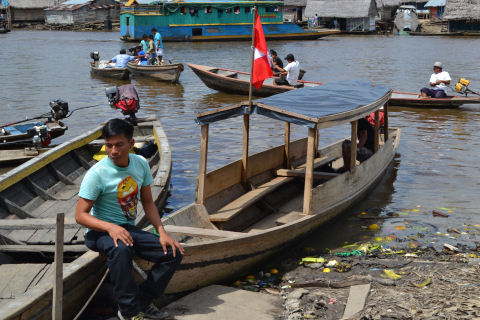 And oh what a stalwart craft she is.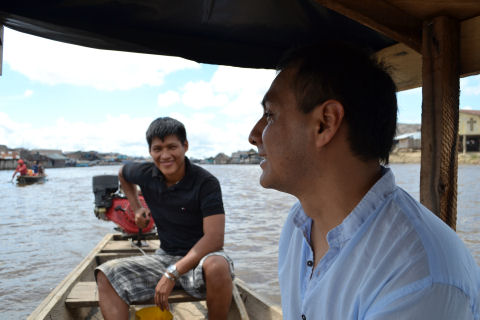 And her captain is a pretty young thing as well.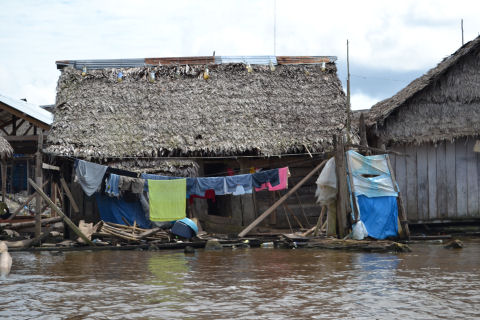 Typical of the homes along this section of the lower Belén district, they simply float, held in place horizontally by poles driven into the riverbed, but otherwise, they rise and fall with the height of the river.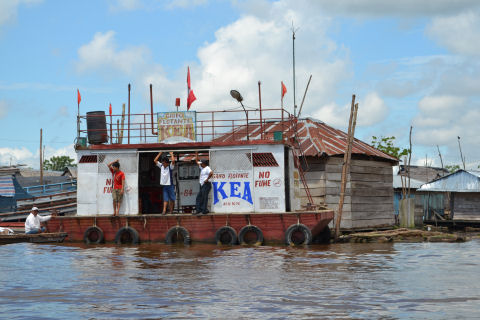 With all the boats darting to and fro one needs a floating gas station and convenience store.

Or, perhaps a potato delivery.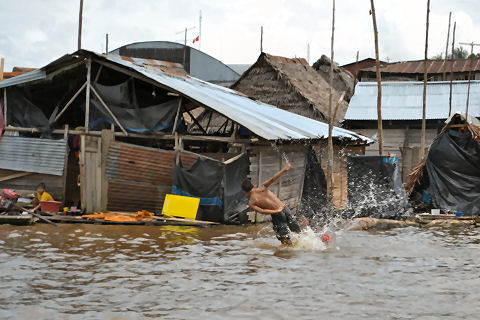 Amid the squalor, kids just gotta have fun.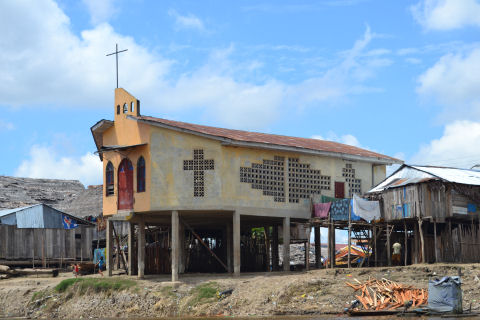 Despite professed Catholic convictions, the folk here love to tell the tale of this church – built from concrete rather than floating wood, and up on stilts, as many of the homes in the area are, but not quite as high, every couple of years the waters reach above the level of the floor, leaving behind a church full of fish and garbage when they recede.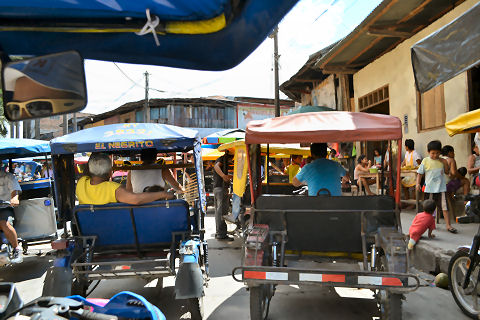 We return to our launch point after a 45 or so minute introduction to life in lower Belén and grab a couple of moto-taxis to head across town. The city of Iquitos is basically where old motorcycles go when they die, to be resurrected as either themselves, for private transit, or mounted by a sort of buggy as a taxi. There are roughly 20,000 of each in the city – it makes sense when you think about it, the only way here is by plane or boat, although there are cars and trucks here, they're much more difficult and expensive to ship into town than an old bike.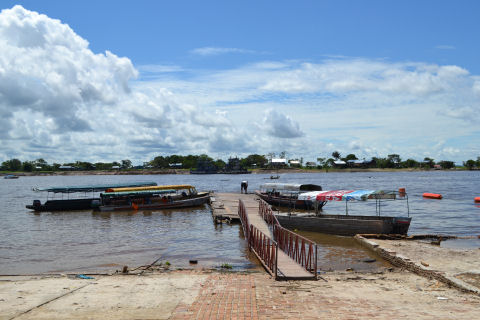 After a bone rattling twenty minute ride we arrive on the other side of town at the Nanay River side of things, where a boat awaits us at the local private membership fishing and boating club…. yes, really. Our yacht is the far one on the right.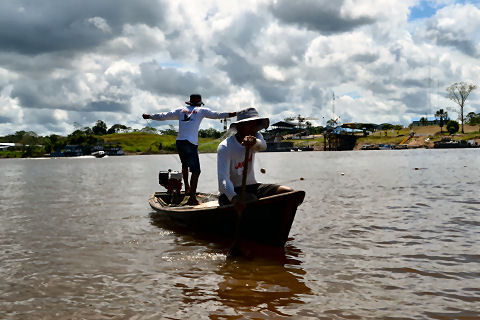 Into the Nanay River, which seems to be fairly non-contaminated, presumably because it's not at the receiving end of the population of Belén and its massive market. We regularly pass small fishing boats – thrown nets seem to be the primary fishing method.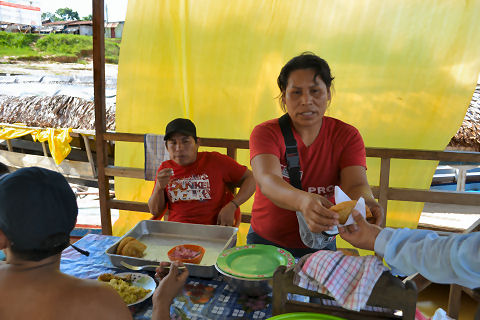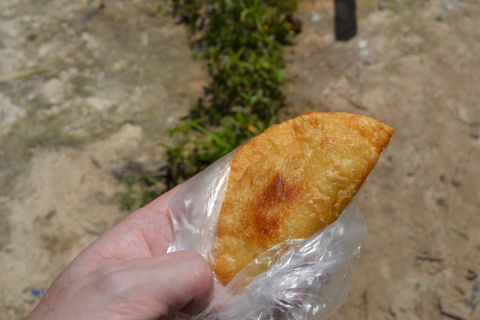 A twenty or so minute ride brings us to Pilpintuwasi, our next destination. Unfortunately the ripple effect of the morning's delay from the Canadian duo mentioned in the last post hits us, our tour leaves in mere moments and we've had to skip lunch just to get here on time. Henry and I aren't happy about that on the ride over, but luckily this woman is selling vegetable empanadas at the dock when we arrive – 1 sol apiece – we grab a couple to take the edge off. They're really delicious, and later on we'll grab more before heading back.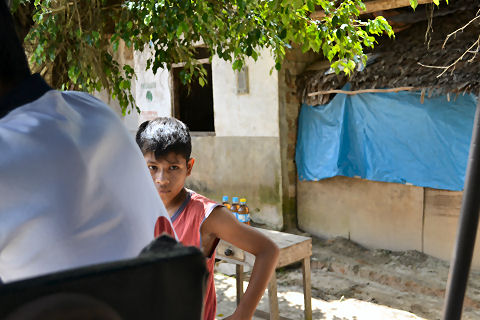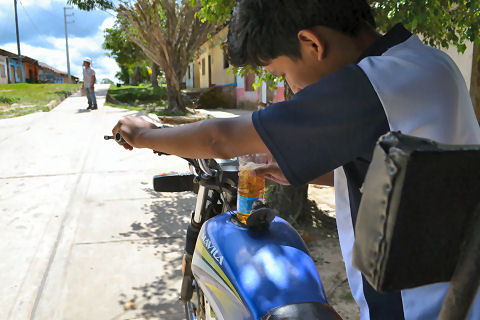 Another moto-taxi, and midway through the short five minute ride we have to stop for gas – sold at curbside by young children in 500ml soda bottles. Presumably the family treks to somewhere that has a larger storage facility for gas and fills up bottles to sell for the day(s).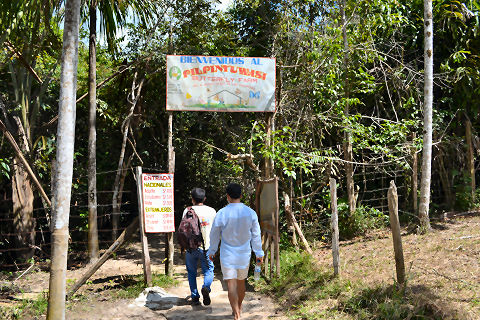 At the end of another jarring ride we trek a short way through the forest along a path to the Pilpintuwasi Butterfly Farm where we will shortly be treated to an afternoon's tour of the facility. The conservancy works to breed, maintain and restore the populations of seventeen different butterfly species (out of 3500 in the Amazon, we're told). It's not clear why these particular 17 have been singled out, but they have, and it's a fascinating learning facility, organized around teaching local children about the world around them, and supported by tourists like us.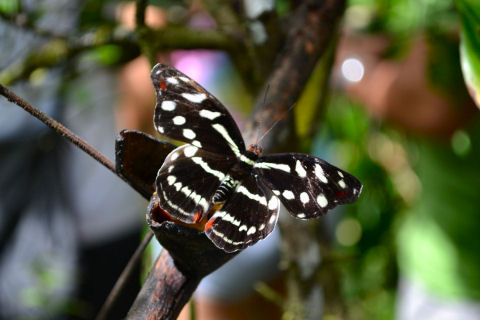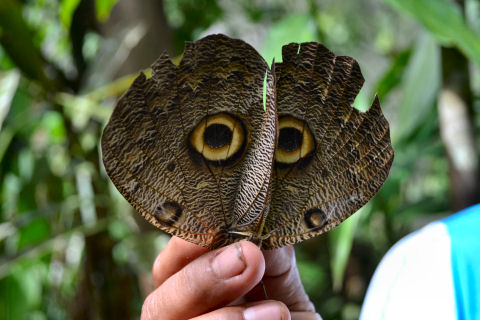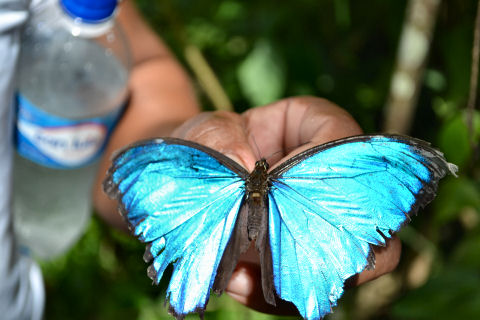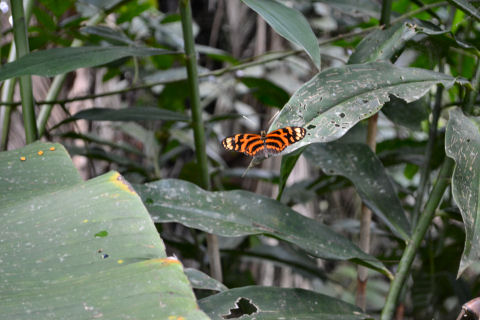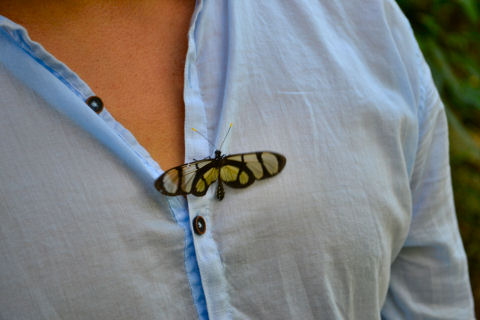 We end up seeing around six or seven different species, which our farm guide tells us is typical, as the seventeen they work with have different breeding seasons.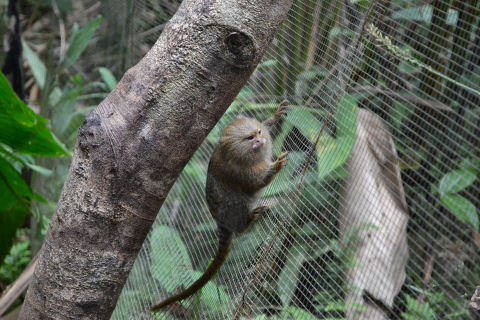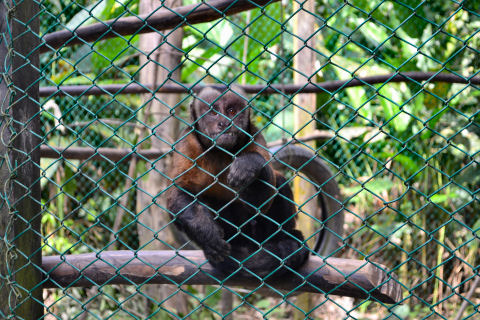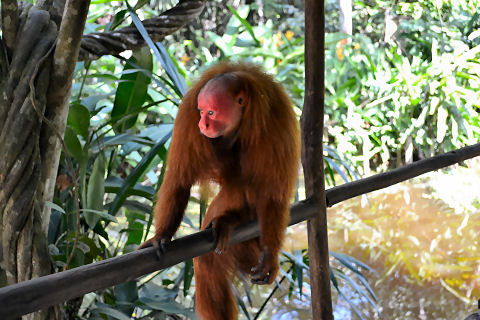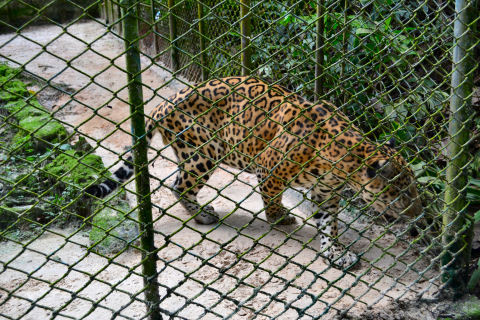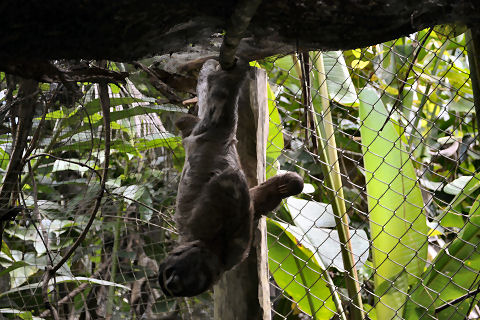 The owner of the facility has a soft spot for abandoned and injured animals, and the farm has become something of a recovery zoo and treatment center. Depending on the species and animal, they are sometimes released back into the wild and sometimes not, depending on whether they'd survive and/or be a danger to the local populace.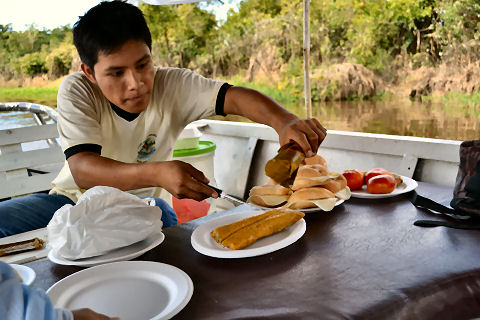 After this rather cool trek we return to the boat (with more empanadas in hand), and head back onto the Nanay River for a leisurely motor to the point where it joins the Amazon, where we are going to try to find the famed pink dolphins of the river. Lunch is served – plates of fresh fruit, tamales, and bread and cheese sandwiches.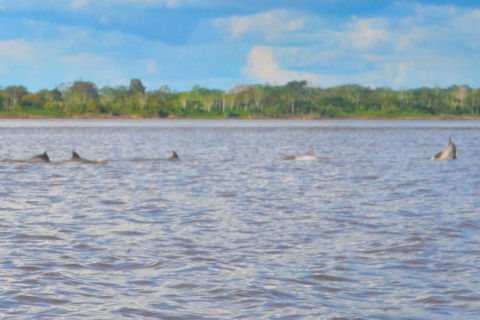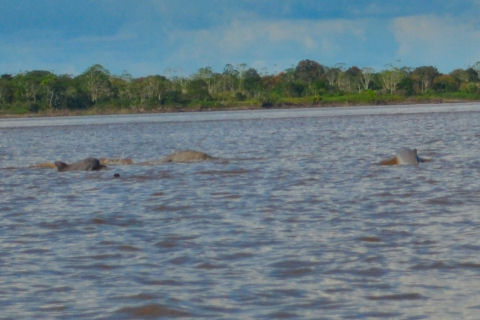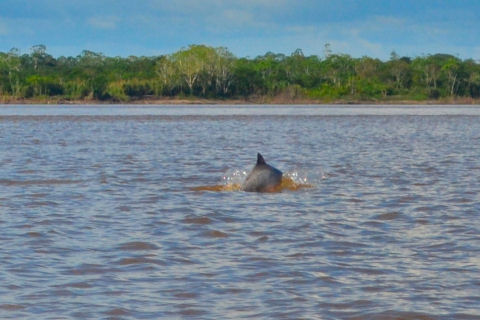 Okay, no spectacular action shots, but we did see dolphins. Now, we didn't get closer than about 100 feet from them, and I didn't have a telephoto lens, just the limit of the zoom on the regular camera lens, and then I cropped out the section with the dolphins, which was about 1/16th of the original size of the photos, and then blew that up to get these shots. Still, they didn't come out bad – actually I can see more here than I could see in person. It does appear that the only dolphins we saw, from the various shots I plowed through, were grey ones, not the pink ones. It was still pretty fun searching for them.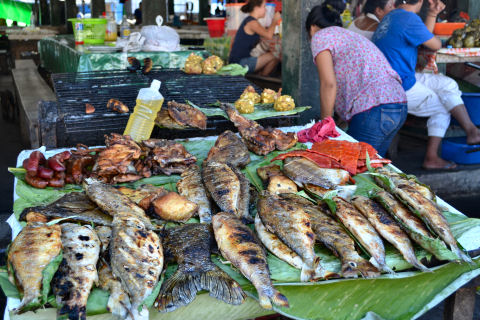 A return to port, where we took a brief walk through the Mercado Nanay – it's got a different focus than the Belén market, here it's all cooked food, which people buy and eat sitting at small tables scattered around each grill or fry stand, or get bagged up to take home. It's also only about one square block. Billy, our guide, recommends against trying anything here as he says that by this time of day most of it's been sitting out way too long and isn't fresh, plus is dusted with soot from the air. And that ends our tour for the day – we bid goodbye to the chicas, and then head back to the hotel for a little rest before dinner.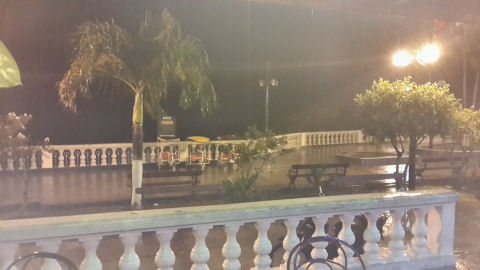 We planned to return to Dawn on the Amazon Cafe and sample more local fare this time, but it's jammed, both inside and out, so we pop in to the place next door just as the first droplets of rain start to hit. La Noche is a pretty rundown affair, and service is beyond lacking, but we sit and watch the pounding rain from a dry table inside as we wash away the day with a couple of beers.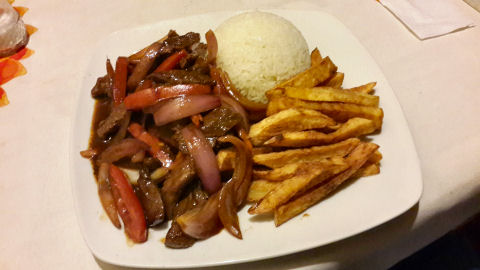 Henry has a lomo saltado, which turns out not to be bad when it finally arrives – I thought it a little too salty from a bit much soy sauce, but he liked it. The one big plus here, they serve up a housemade hot sauce, a puree of rocoto and charapita chilies, that we absolutely loved and spooned over everything.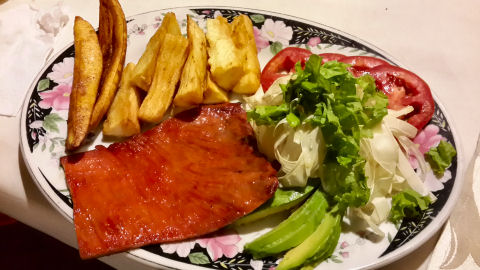 I decide to try the cecina, the glowing red pork flank that we saw in the market earlier, and it, too, is pretty tasty, though rather tough for my preferences. On the other hand, it comes with a nice fresh salad of lettuce, tomato and heart of palm (which just added to that before our main courses we'd split a mixed salad of lettuce, tomato, heart of palm, radish and carrot). Fresh veggies aren't a bad thing, I finished it off, along with the over-fried yuca.