Sunday was a bit of a down day – no tours planned, our young guide needed a day off for a family birthday. And, we'd decided to head to what is probably Iquitos' most famous restaurant, which probably isn't a wide reaching fame, but still, it's there. We slept in, then I did all that posting about the Belén market, and then we headed a short moto-taxi ride away to the huequitos, a small dock, where there are a mix of different rental boat services for private tours, and, a private dock for Al Frio y al Fuego, a restaurant floating about on the other side of the river. The restaurant seems to have a trio of launches that just run back and forth as needed, gratis, to take folk to and from.
The place is noted for its creative takes on both local dishes, more generalized Peruvian dishes, and some international cuisine. Obviously the first two are more in line with what we were seeking out. The restaurant also hosts a pool, that while ostensibly a private one, turns out to be a bit more public than we figured on – given that the boats are free, we were surprised at how many families just simply take advantage of that, grab a table at poolside, and just order some bottled water or soda and then spend an hour or two splashing about in the pool before heading back. I guess it's probably good public relations for the restaurant with the community, but my guess is a good number of those families will never make the trip back to eat, it's probably completely out of their reach financially.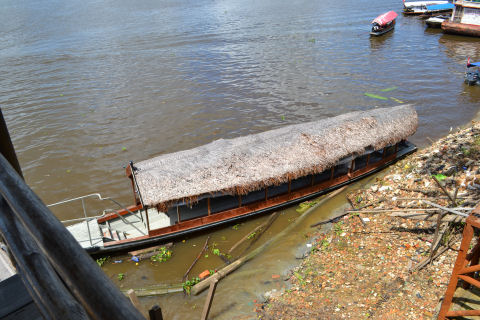 The dock and our launch.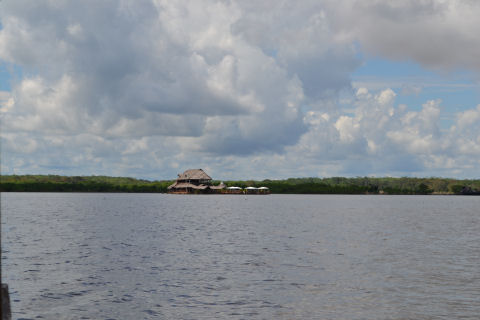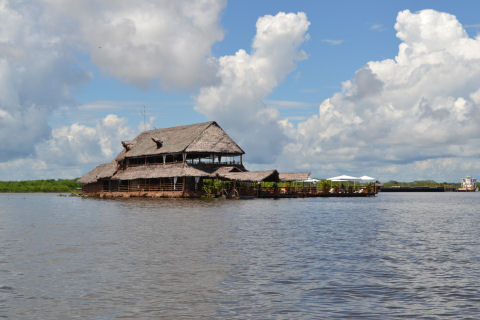 At first vista, and as we get closer. The restaurant consists of two floating rafts, one with the main building, the other with the pool.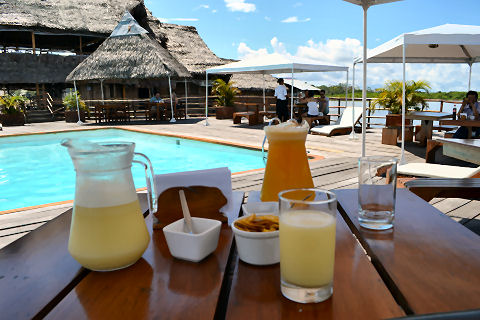 And, in short, we're at poolside, and some fresh juices (passionfruit for Henry, cocona for me, are at hand. We take some time in the pool first, and then order – we stretch it out for a good part of the afternoon, one plate at a time interspersed with sun and splashing about.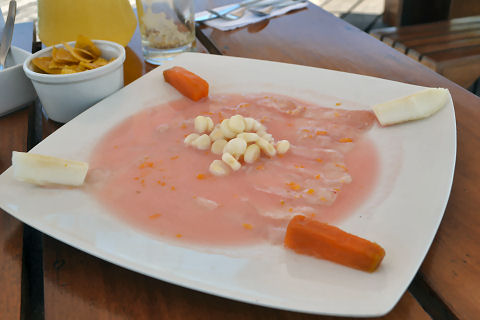 We start with a tiradito – the fish is a river fish called doncella (Pseudoplatystoma fasciatum), in English the "barred sorubim", a type of catfish – it seems to be pretty much the most popular fish to use here. The dish is described as the fish, in a camu-camu cream (you can see a photo of the fruit back on the Belén market day post), fresh chilies, fresh corn, steamed yuca, and roasted corn. It clearly arrives without the last of those, though with the addition of a couple of pieces of sweet potato. Really good dish, if a little over simple in presentation.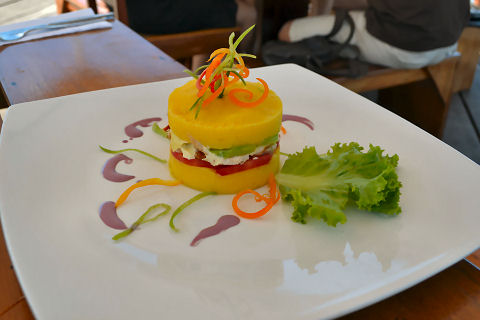 A bit later, a causa – nothing much different from the usual – layers of lemon and chili spiked potato, avocado, mayo, tomato, chicken, though beautifully presented and perfectly balanced in flavors.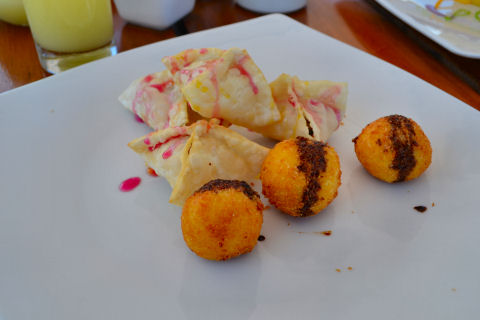 Next up, a dish recommended by our waiter – wontons filled with ground pork, then fried, and potato stuffed with chorizo, coated in panko, and fried, and served up with guacamole. This dish fell short on a lot of fronts. First, the wontons seemed to have the chorizo in them, and the potato, which was basically the causa mixture, had nothing stuffed in them. And, there's no guacamole. Now, part of that may just be bad translation – there's nothing in the Spanish on the menu to suggest that the potato spheres are stuffed with anything. But the guacamole is pretty clear, and when asked, our waiter simply said, "oh yeah, sure, I'll go get some if you want it," and returned shortly with a little ramekin of mashed, unseasoned avocado. The dish was reasonably tasty as a sort of bar snack, but for the 32 soles price, a bit outrageous for what you get.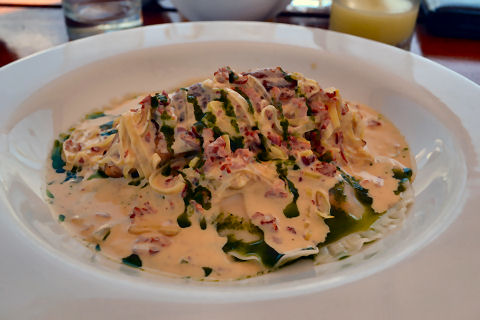 And, we finished off with one main course, Henry wanted some pasta, so we ordered the raviolis loretanos (Loreto is the province that Iquitos is in), which were delicate, perfectly cooked half moons of pasta filled with cecina, the cured pork flank, some sweet chilies, cream cheese, and cilantro. On top, a fillet of doncella, and the whole thing coated in a creamy leek sauce. Really excellent dish – maybe a bit heavy on the cream for a hot day in the sun, but in the cool of the evening, it would have been perfect.
A little pricier than most other restaurants in Iquitos, though not highway robbery or anything – with three appetizers, a main course, two pitchers of fresh fruit juice, and one cocktail on Henry's part, plus an afternoon at the pool, and with tip it came in at an even 200 soles, or around $72. I'd recommend it on a lazy afternoon (I'm not so sure about the evening, I'm sure the restaurant becomes all sort of elegant while lit up internally, but there's no light on the river, which means you lose the river view, part of what we truly enjoyed during the day). Bring a bathing suit and a towel, they don't provide either, though they do have changing rooms.
The rest of the day was real downtime, first off, about five minutes after getting back to our hotel we got hit with another storm that stretched on for a couple of hours, and then later neither of us was particularly hungry and just grabbed some sandwiches off of a food cart near the hotel.