Spending all my time eating pizzas on your behalf I've forgotten to present a little write-up on last weekend's dinners. I'm not sure if it's seasonal or something else, but last week and this we've gotten tons of last minute cancellations – not a good thing when you're prepping food. Thankfully last week we were able to get the few remaining people organized into two full evenings – though we did have to bring back the dreaded kids' table one of the two nights in order to make the numbers work. This week, I have no idea what's going to happen – we've gone from three nights fully booked to six people spread between tomorrow and Saturday, all between yesterday afternoon and tonight. Fingers crossed and all that, especially since two of them are folk we rearranged from yesterday to come tomorrow…. But, enough griping, something will work out, one way or the other. On to last weekend's food.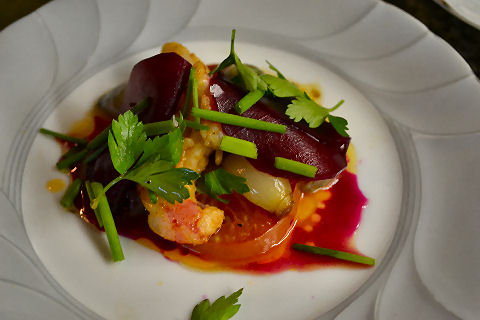 Started off with the warm prawn salad that a month or so back got rave reviews. Quickly sauteed prawns, smoked eggplant puree, caramelized shallots, pickled beet slices, roasted tomato slices (enhanced this time by infusing it in kombu broth), herbs, orange vinaigrette, sea salt. One of the two nights we had a vegetarian guest – all the same except some thin carrot ribbons sauteed the same way as the shrimp.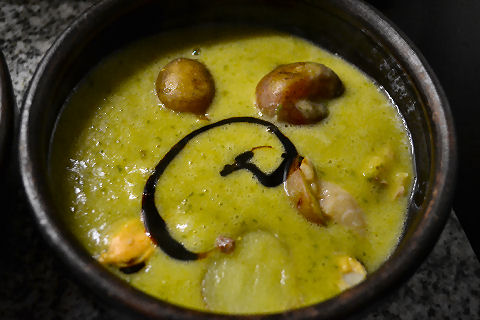 New version of the timbuche soup that was a hit recently – instead of just fish we mixed in sauteed Andean potatoes, clams, mussels and a different freshwater fish, sábalo, a sort of small tarpon. Even better than the last time. It's a soup that's a guess on my part, never having had the real thing and only reading various descriptions of it. But, next month Henry and I will be in the Amazon, and it's one of the dishes we plan to check out.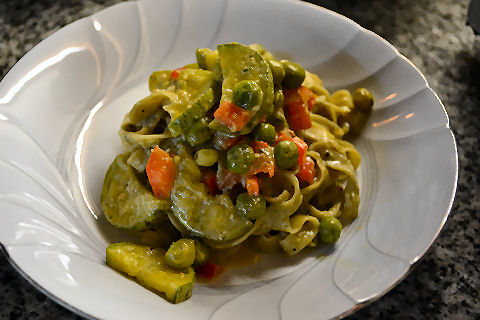 Semolina fettucine infused with sun-dried tomato powder, a sauce of basil and cashew cream, fresh peas, zucchini, red bell pepper. New dish to the repertoire, but I like how it's playing out.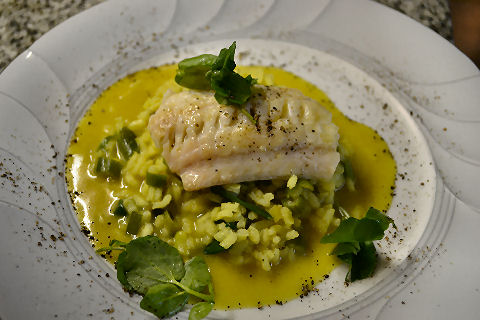 Quickly sauteed pollack over a risotto flavored with all the spices that go into a classic Indonesian, or Malaysian, rendang – ginger, garlic, chilies, lemongrass, turmeric, coconut, tamarind and more, and then finished with grilled green beans and green onions. Yum! The little dusting around the plate are toasted and ground papaya seeds that give a little light peppery bite.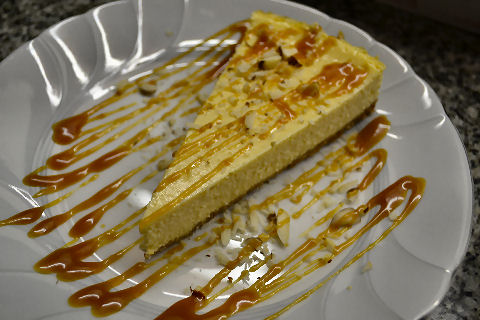 And, we didn't get the papayas just for their seeds – fresh papaya cheesecake with an orange liqueur caramel and toasted brazil nuts.