In English, someone who is a "black sheep" is someone who is a rebel, an outsider, or just simply different. Depending on where you stand on that, they're either someone boldly going where no one has gone before, or they're an embarrassment or even pariah, or pretty much anywhere in between. When I sat down to write this I started to wonder if the direct translation term in another language has the same meaning. After all, why should it? It's an idiomatic expression. Would being an oveja negra mean much the same to someone who speaks Spanish? Or for that matter, and more to the point, would a pecora nera be what the black sheep of the family would be called in Italian? Based on cursory internet research it seems that in some languages it does – the direct translation being found in French, Serbian, Bulgarian, Hebrew, Portuguese, Bosnian, Greek, Turkish, Dutch, Afrikaans, Swedish, Danish, Spanish, Czech, Slovak, Romanian and Polish. Hmm, not Italian, though there is an Italian Wikipedia page for the term, which describes what it means, but as a foreign expression so that Italian readers can understand it – it doesn't give a mother tongue equivalent, however.
Still, I think Daniel Hansen, ex-chef of the now defunct Sette Bacco probably had the idiomatic term in mind in naming his more recent restaurant incarnation, La Pecora Nera, Ayacucho 1785 in Recoleta, 4804-2000. If you go back and read my review of his earlier restaurant, you'll find that in general I liked the place, if I wasn't wowed by it, and if you delve into the followup commentary you'll find that while I never went back to re-review it, there were definitely some negative comments further down the line. But I've been hearing about the new place pretty much since it opened and decided to go check it out. Two visits were made, both at lunchtime, one with a friend where we tried the "menu", or fixed price lunch, and one solo where I cherry-picked from the a la carte listing. I did ask about the difference between the lunch and dinner a la carte and was informed by my waitress that the latter has more dishes (she brought me a copy) and it was slightly more expensive. Comparing them, the menus are near identical, with a few extras on the dinner side, though the prices are more than slightly different, they run between 40-50% higher. The question, I suppose, would be if the dishes are the same or, do, perhaps, the dinner plates contain larger portions? I forgot to ask. Let's dive in.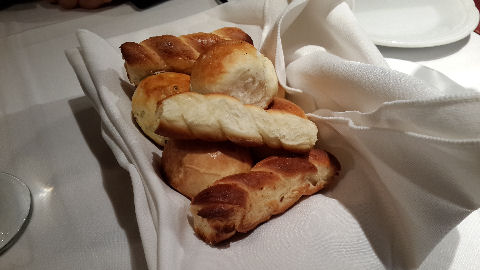 Let's start at the bread basket. Nice selection, warmed, a trio of breads – small twists that have a slightly sugary top, and then two different kinds of small rolls, plain and herb. On the second visit there were only plain rolls.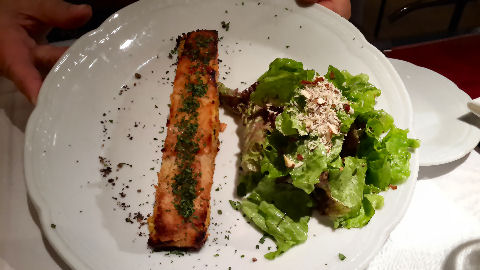 The "menu" runs 110 pesos and includes three courses plus a bottle of water or soda. A corn "strudel" with bacon and gruyere cheese. A bit sweet for our tastes – basically the local classic humita, which is a fresh corn puree with cheese, plus the bacon, but the crust on top was sugar glazed. Decent little salad on the side. My lunch companion mentioned how sweet it was to the waitress when she asked how things were, she just shrugged and walked away.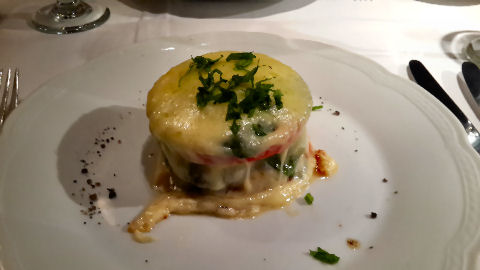 A slightly different take on a caprese salad. A stack of slices of eggplant and tomato all coated with melted pizza type mozzarella and a little chopped basil. It was okay at best – one of the things I love about a good caprese salad is that beautiful hit of fresh basil and fresh mozarella cheese, and both were simply missing under a wallop of melted goo.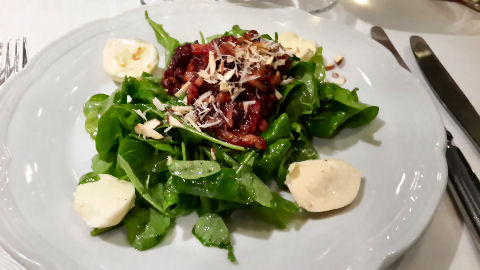 On my solo visit, all I can say is, bizarre. This salad is billed as a sweetbread salad, with "arugula, crispy strips of sweetbreads, mushrooms, boconccini (mozarella balls), and almonds. First off, if there was any sweetbread in it, I couldn't find it, it was all little strips of panceta, and salty as can be, an ingredient that wasn't even mentioned on the menu. There might have been two or three slices of mushroom in the mix. And the whole thing was sauteed in a sweet and salty soy glaze that reminded me of really bad Chinese food, the rest of the salad was lacquered in more of the same. My waiter came over to ask how it was and I commented on the lack of sweetbreads, that all I could see and taste was bacon, and his comment was "Oh, you didn't find a piece of sweetbread in there?" I said no, and asked if it was normally all or mostly all bacon rather than sweetbreads and he said yes. Sorry, that doesn't pass muster, especially at a 57 peso price tag.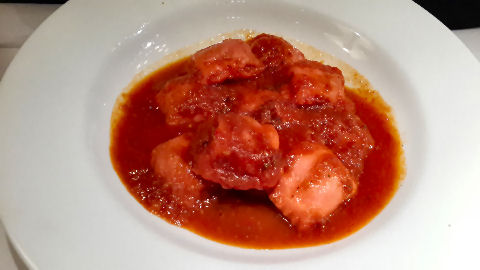 My companion on the first visit ordered lamb panzotti (round, plump ravioli) for her main course. Nicely flavored – a good lamb braise inside and a fresh tomato sauce outside, though a bit on the sweet side. Pasta cooked a perfect al dente. Just lacking a bit in presentation (perhaps some herbs or a drizzle of something for contrast…), but we were generally happy eating it.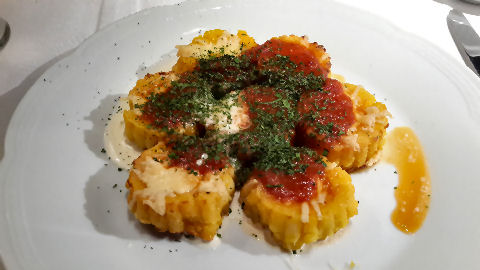 I love Roman style semolina gnocchi and when I see them on a menu tend to order them. Flavors were good here, a little melted cheese, some tomato sauce, fresh herbs. Texture-wise they were a little mushy – you can see they seem to have been molded in little tart molds and it almost seemed like rather than sauteing the gnocchi what they'd done is packed the semolina mix into the molds, stuck them under a broiler, and then just tapped them out on the plate where they just barely held together – they didn't get that nice browned outside all around, nor the flavors of the olive oil or butter that they'd normally be cooked in. Okay, but not great.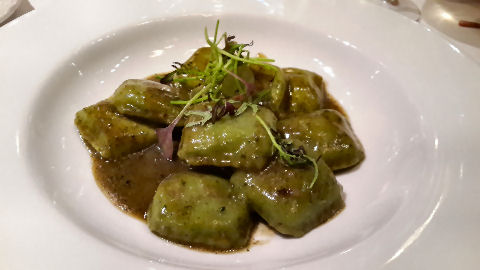 On my solo visit I ordered the crab, broccoli and mascarpone ravioli. Presentation is again a bit of an issue – if you're going to serve up something green, try to make it vibrantly green – blanch and shock that broccoli before making pasta or sauce out of it so that it doesn't turn Army fatigue green. The filling was mostly mascarpone with a bare hint of crabmeat that I really had to search for. Again, the pasta was cooked perfectly al dente. Still, at 65 pesos kind of a rip-off, and the same dish at 98 pesos on the dinner menu would be highway robbery. I liked the dish, I just don't think it was worth the price.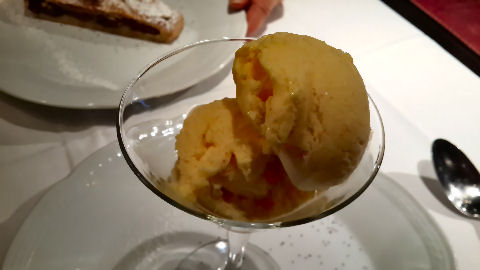 It's interesting, I see back in my original review that I had a criticism of the semifreddo served then for its texture, which was gelatinous. A semifreddo, traditionally, is a folded together blend of ice cream (really, gelato) and whipped cream to lighten it to the texture of a mousse – i.e., what we might call a "frozen mousse". This time around, it was simply ice cream, and there was no discernible flavor of the promised passionfruit.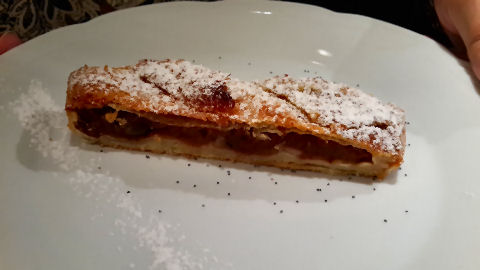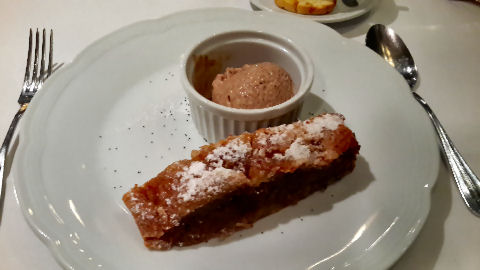 Demonstrating the difference between the "menu" and "a la carte" – the first photo from the former, the apple strudel, served solo on the plate. The filling more like apple sauce than what I'd normally think of for a strudel, you know, sliced apples or something. But tasty. The latter photo, from the a la carte lunch, accompanied by a scoop of cinnamon ice cream, which was unfortunately rather grainy, I'm not sure what that was from, it didn't seem like ice crystals, almost more like they'd curdled the eggs in making the base and hadn't strained them out.
So, let's see. Love the space – it's beautifully setup with white tablecloths and nice silver and crystal. Service is friendly and fairly efficient, though, perhaps, a bit "oh well" in response to criticism. The food – on the flavor front it's generally good, though tending towards overly sweet and salty, at least from what we tried, and presentation is surprisingly lacking given the overall ambiance of the restaurant. And if you're going to bill something as a main ingredient, it ought to show up pretty obviously, not be something that's either missing or that one has to search for (the sweetbreads and crabmeat being the main culprits here). The pricing on the lunch prix fixe isn't bad for what you get, especially given that the new location is in the heart of "old Recoleta", where everything is pricey. Even the pricing on the a la carte at lunch wouldn't bad if you got what the menu promises, though the dinner prices seem a little obscene, even for this 'hood, for food that's not amazingly creative or something. Or maybe they are high, if I tote up three similar courses plus a bottle of water, it'd run 189 pesos (plus coffee and a glass of wine brought the total to 256 pesos). To be honest, I'd have to say I was disappointed – not that it was bad, it just didn't live up to the billing. Would I go back? I'd have to leave that as a maybe, and then likely only because it's just a couple of block walk from home. There are too many other Italian restaurants in the area, some less expensive, some more, some less creative, some more. In my mind it's Recommended for the prix fixe, but probably just Okay for the a la carte, and I think I have to go with the latter.