As I promised in the last post, a more in-depth look at the cod viennoise, semi-MPW style. I have no doubt his standards would be far more exacting and everything would be trimmed and lined up and all that, but then, he's got a kitchen brigade working on the dishes with each person responsible for maybe just one component at a time. That, and I'm just more rustic than he is. I was working from the pdf version of the recipe from the Masterchef Australia website, it turns out, now that I go back and look, there's a completely re-written version – it would have made it much easier had that been up on the website when I started this. It's also, in several places, different from the way I ended up doing it and covers in detail some of the steps I guessed at. I may just have to go back and try it again!
Let's start with some of those components. First, the duxelles. Now, the way I learned how to make duxelles back in cooking school was pretty classic (I just pulled out my notes from oh so many years ago just to see: mince ½ pound of mushrooms and then a handful at a time place in a kitchen towel and twist into a ball to squeeze out as much liquid as possible; melt 2 tb butter with 1 tb oil and saute 2 tb minced shallots for 1 minute over medium heat; add the squeezed out mushrooms and cook 6-8 minutes, stirring regularly, until they just start to brown; add salt and pepper to taste). But there are variations on the theme and while it wasn't specified in the cod viennoise recipe, an online search for a Marco Pierre White duxelles led me to this one – had no idea at the time if it was the one he had them use in this dish, but it works (looking at the now detailed recipe online, he used button mushrooms and instead of wine added cream).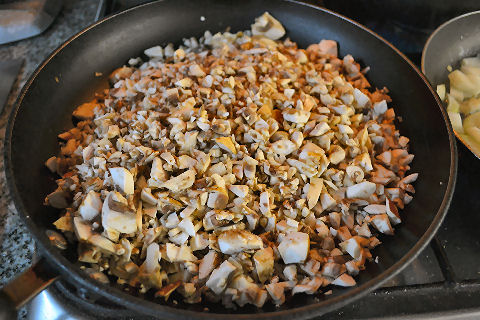 Chop ½ kilo of portobellos finely and place in a dry saute pan over low heat. Toss with a little salt and pepper. Interesting that this version is done with no butter or oil.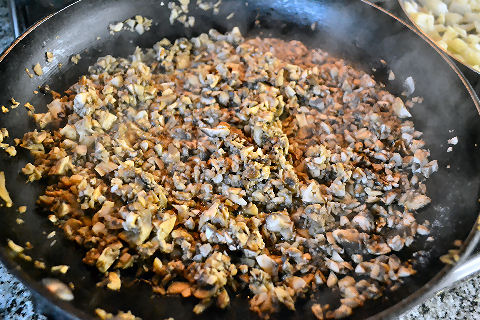 Cook over low heat, stirring regularly, until the mushrooms have given up their liquid and just started to brown. It takes about ten minutes.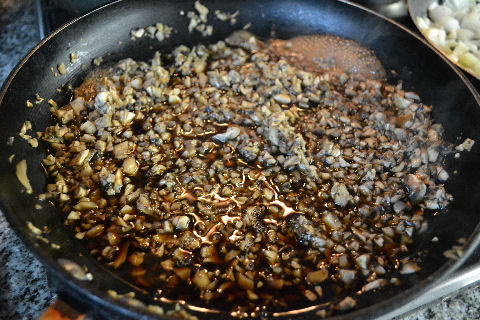 Add 100 ml port and 100 ml madeira (which I couldn't find here, I used marsala) and continue to cook until the wines are absorbed and/or evaporated.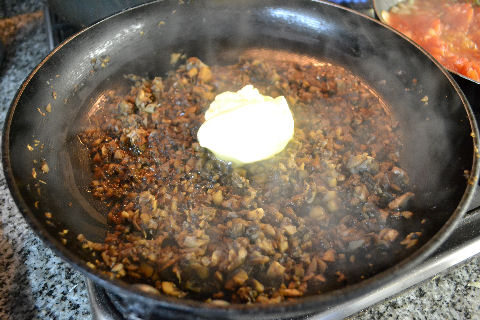 Remove from the heat, add 50 gm butter and stir to combine – ah, there's the butter.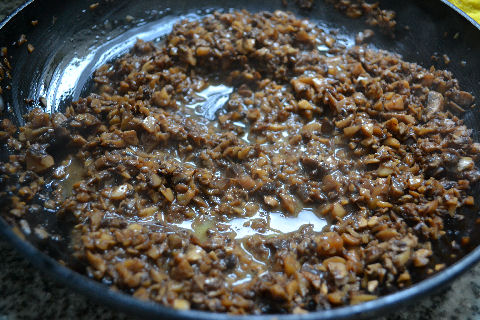 Season to taste with salt and black pepper. Set aside to cool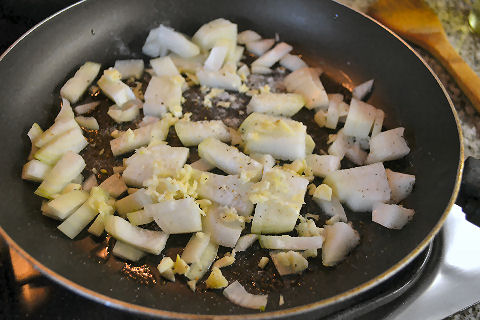 Next step, a tomato fondue. Again, a pretty classic preparation, and again an online search for an MPW version, which came up with something completely classic, no surprises here. Chop a medium white onion and mince a large clove of garlic and sweat them down in 2 tb of butter until soft and translucent (in the new details, he uses shallot instead of onion, plus a bay leaf).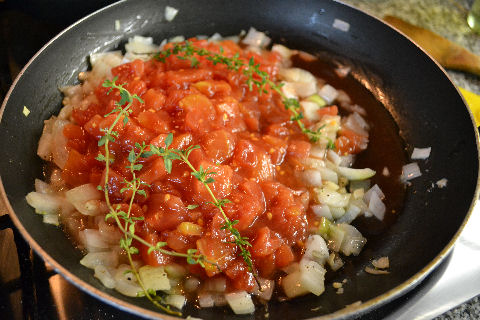 Add 2 tb of tomato paste, a can of chopped plum tomatoes (roughly 500gm with their liquid), and a few sprigs of fresh thyme. Continue cooking over low heat, stirring regularly, about 15 minutes.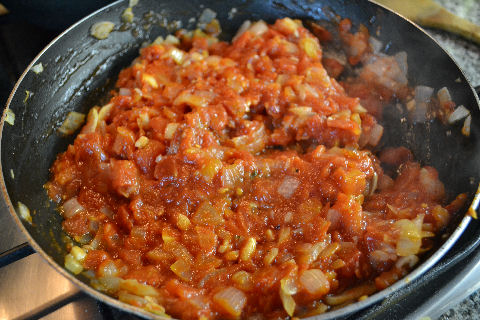 At this point you should have a paste like consistency. Not dried out, but there shouldn't be any puddling liquid. Season to taste with salt and pepper and set aside to cool.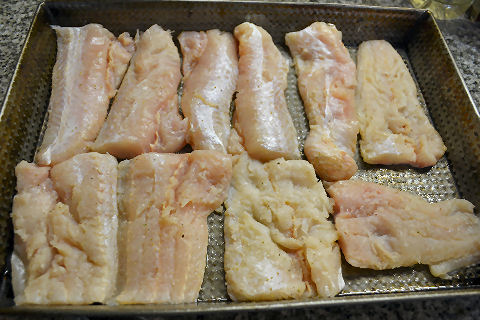 Fillet and bone your cod into serving portions and lay them out in a lightly oiled pan. Sprinkle with salt and white pepper.
Lightly coat the top of each fillet with Dijon mustard.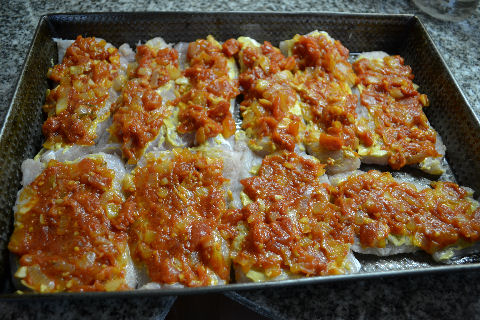 Spoon some of the tomato fondue on top of each and spread it out relatively evenly.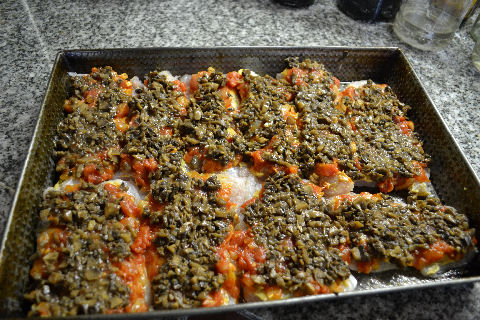 Top that with an equal layer of the duxelles.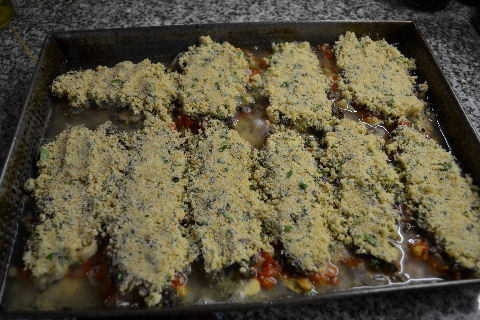 Make an herbed breadcrumb mix. Here, it became a bit of a guess. The version used on the show was something they were able to roll out, so I guessed it was more of a dough made from fresh bread probably processed with butter and herbs to form something that could be rolled out between two layers of plastic wrap, which is what they were doing (and, in the updated recipe link, that's exactly what it was, and mixed with gruyere cheese as well). I went with a more classic dried breadcrumb crust – basically just mixing breadcrumbs with chopped parsley, rosemary and thyme (not specified in the MPW recipe, but relatively common flavors that I thought would work well), and a good amount of butter, to form a sort of wet sand consistency. Top each fillet with a layer of that roughly equal in thickness to the tomato fondue and duxelles combined. Add enough hot fish stock with a good splash of white wine to just come up to about the middle of the fillets – you don't want so much that it reaches the top and washes away the layers of vegetables and crust. Pop it in the oven and cook until the crust just turns golden, about 10 minutes. Note, I said the fish stock/wine has to be hot – if you add room temperature stock the crust will burn long before the fish is anything much past raw. I brought the stock to a simmer, added the wine and then poured it in directly.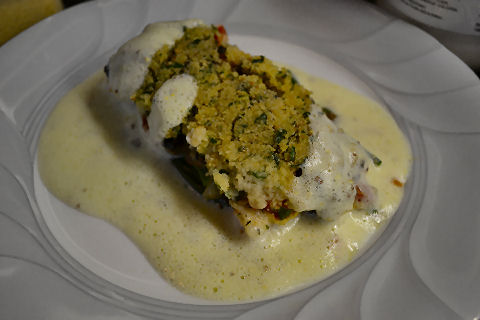 Now, somewhere in here I forgot to take pictures of the process of making the sauce. Here, what was specified was a sabayon made with fish stock and white wine. If you've never made a sabayon, it's a bit of a pain, definitely a workout – classically, you whisk egg yolks in a double boiler over simmering water until they're light in color, roughly doubled or tripled in volume, and thick. Then you whisk in wine and/or stock and continue cooking until the whole thing has a light, airy consistency, but is thick enough that it can be spooned over something without running all over the place. And, that's basically what I did, using four egg yolks, 50 ml of white wine and 100 ml of fish stock (other stocks are fine too – and the night we had several vegetarian guests we used vegetable stock so that we could use one sabayon on both versions of the dish) and about a tablespoon of grain mustard. I'll do a post on sabayon step-by-step one of these days….
As I mentioned in the last post, in the show they served the fish over some sauteed spinach. I served it over sauteed green beans. The sauce is spooned around it. In the show they then stuck the plates under a salamander, a very intense broiler, to lightly brown it, though he mentioned you could also use a kitchen torch. I decided against doing that at all, I started to do it one night and found that it was popping too many of the light, airy bubbles in the sauce – likely, that means I hadn't whisked the sabayon quite as thick as he was looking for, probably more of a custard consistency. As I said, sabayons are a pain to make.
One option I've found that can work is to whisk the yolks in the bowl of a high speed mixer until light in color and doubled or more in volume, and nice and thick, and then place the mixing bowl over the double boiler and start whisking by hand – it saves a bit of strain on the forearms. It's still going to collapse somewhat when you add the stock and wine, and you have to whisk and cook it, it just takes a little less time. The downside is you have to be really, really attentive, because I've found that the yolks sometimes seem to cook too fast this way, turning into eggy omelette bits, perhaps simply because you're starting with a less liquid preparation.
A bit more involved than my usual step-by-steps, but I think this one is worth making for a special evening, and the feedback we got on the dish was all quite positive.