Before this week is over I ought to get around to posting about last week, no? Between the new book and a half dozen pizzas, there've just been other things to focus on. Let's jump right in.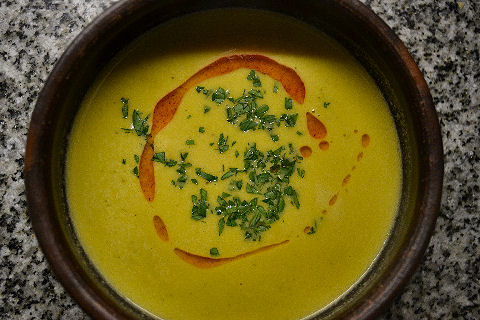 One of our favorite fall soups is our brussels sprout bisque, and since they started showing up in the markets in the last couple of weeks I thought it a good week to bring it back. Over time I've changed it a bit, so these days: I peeled and coarsely cut up a white onion, a red onion and two carrots. Tossed them in a pot with roughly a pound of cleaned and trimmed brussels sprouts and cooked them in a little butter. When they were just starting to caramelize a bit I added a tablespoon of worcestershire sauce (we get so many vegetarian folk these days that I keep a vegetarian worcestershire on hand – the "real stuff" has fermented anchovies in it – recipe in next paragraph for those of you who are interested), 100 ml of rose wine, some salt, pepper and nutmeg, and topped it off with 1½-2 liters vegetable stock, brought it to a boil, reduced to a simmer, and cooked until the vegetables were soft. Then pureed in the blender, added ¾ cup of cream, adjusted the seasoning, drizzled with smoked paprika oil and chopped parsley.
Vegetarian Worcestershire Sauce

120 ml apple cider vinegar
2 tablespoons soy sauce
2 tablespoons water
1 tablespoon brown sugar
¼ teaspoon ground ginger
¼ teaspoon dry mustard
¼ teaspoon onion powder
¼ teaspoon garlic powder
½ teaspoon cinnamon
½ teaspoon pepper

Place all ingredients in a medium saucepan and stir thoroughly. Bring to a boil, stirring constantly. Simmer 1 minute. Cool. Store in the refrigerator. Makes about 180 ml.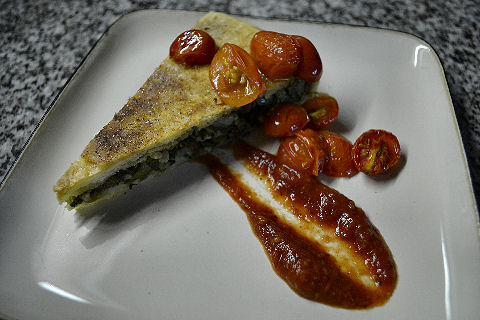 I almost changed my mind on this one, more or less a b'stilla of chard – not because of anything wrong with the dish, but I couldn't find any phyllo or strudel dough last week. But, then I thought I'd get ambitious, after all, we learned how to make it back in pastry school. So, homemade phyllo dough. Filling is swiss chard with raisins, sunflower seeds, peperoncino, garlic and more. Lightly dusted with cinnamon and sugar on top. Served with our house cocktail sauce and some roasted cherry tomatoes.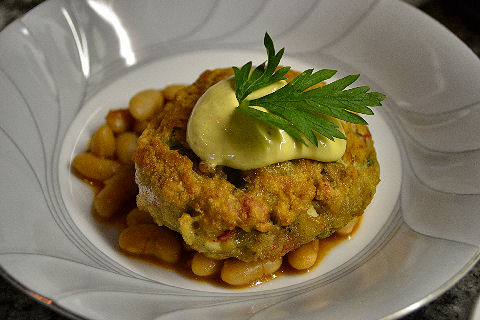 Spicy seafood cake (crab, calamari, prawns, white fish) over spicy white beans and topped with an avocado and orange vinegar mayo. For the vegetarian folk we made our heart of palm fritters, served up the same way.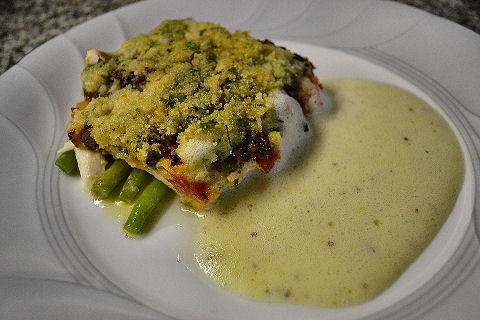 I was inspired by one of the last episodes of Masterchef Australia Professionals that aired just a week or two ago. One of the tasks was to recreate a Marco Pierre White dish, cod viennoise. Now, that's not a dish he invented, but rather re-invented. A classic cod viennoise is a fillet of cod breaded in a mix of breadcrumbs, chopped hard-boiled egg and parsley, fried up until golden brown and then served with a lemon, anchovy and parsley butter sauce. It's a classic way of preparing things – think "weiner schnitzel" for the "viennoise" – and is often seen with veal scallops or chicken paillards. White re-imagined it, keeping some, but not all of the flavors, and adding in others. I couldn't find a real detailed recipe, the masterchef website has a limited detail version on it, but a bit of online research and some experimentation and, while not an exact, by any stretch, recreation of his dish, I came up with a version I liked. The cod is lightly coated with dijon mustard, then a tomato fondue, then a portobello duxelles, and finally an herbed bread crust (in his version they were rolling the crust out, I'm guessing they were using fresh bread, I used breadcrumbs with rosemary, parsley and thyme). The whole thing is broiled in the oven with a little bit of fish stock and white wine, and then served up with a whole grain mustard sabayon (wow, that one's going to get some use here and there, loved it) and some sauteed green beans (his used spinach, but we'd just had the chard b'stilla…). Coming up sometime this coming week I'll do a step-by-step for you of how I did the whole thing.
For the vegetarian folk I sauteed thick slices of eggplant until just golden, then cooled them, coated them the same way as the fish, and put them in the oven to finish cooking.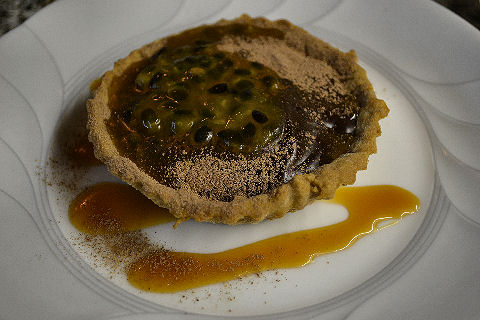 And, brought back a recent hit – chocolate lemon ganache tart with espresso crust, topped with a dusting of cocoa and mace and a spoonful of passionfruit bayleaf syrup. A little rum caramel underneath.
And that was last week….