This is a tale, a short one, of an attempt at burger bliss here in this land of lack. I was clued in to the opening of Dean & Denny's, Malabia 1591, corner of Honduras – the site of the very short-lived Monarca sandwich shop that just never quite took off – by friend Liza over at NOLAchef and decided to give it a shot. I have to admit, we had rather different experiences. But, it turns out in conversation post-eating, that we also like different types of burgers.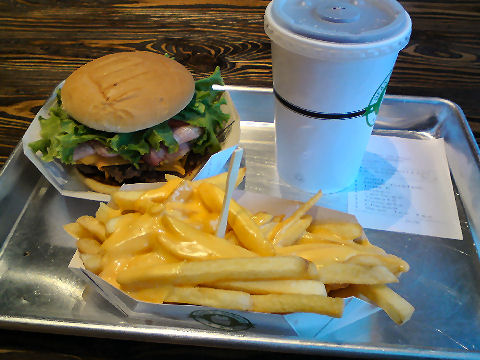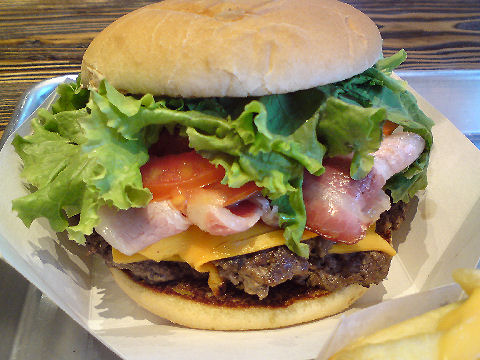 First off, no question this is a fast food style burger. It's not a plump juicy, charred half-pound of ground chuck and sirloin with attendant seasonings and condiments. The place isn't fancy, it's got a counter in front of a currently gleaming stainless steel coated kitchen with a couple of folk back there assembly-lining burgers. It has some nice touches to it – a semi-almost commitment to being "green" that shows up in things like the packaging (all paper, no plastic), except where it doesn't (french fries are served with a useless wooden hors d'oeuvre pick that requires you to either use your fingers, which is green and which I did, or grab one of the plastic forks from the sidelines, or the individual mini-condiment packages, plastic again, how about some refillable bottles, or condiment pumps off to the side?). Rather than stand at the counter waiting for your burger you get a plastic beeper and can go grab a seat, though I noted that almost no one did, everyone just sort of stood at the counter staring at their beeper waiting for it to go off – mine didn't say anything in any language, let alone the reported English, it didn't even beep, it just flashed a bunch of lights around its border and vibrated – maybe it has a silent setting.
Ostensibly it's a "fresher" experience of a fast food burger, but not by much, if at all. I watched as the grill guy stuck a couple of near paper thin meager patties on the grill and then cooked them to death – I didn't find them remotely juicy – just overcooked and a bit gristly – and in combination the two patties are probably smaller than a typical fast food single patty. The toppings are not kept in cold bins like they might be at, say, your typical McD-BK-W sort of place – they're just piled up in open containers on the countertop. I watched as the barehanded cook reached into each and pulled out what he needed, time and again, and handling other things in the kitchen, not once did he nor the other workers wash their hands nor clean their stations while I was there. And the toppings, at room temp, just don't do it for me – a slice of ambient temperature cheese, barely cooked bacon, wilted lettuce and tomato atop the hot patties results in a sort of insipid mix – no crunch from the veggies, a fatty, unpleasant bit of bacon (albeit a bacon that had good flavor – maybe if you ask them to throw it on the grill and get it hot and crispy), and unmelted cheese. Fries were hot but not crispy, rather soggy – and yes, I know I got the cheese fries, but even the parts that weren't under the melted goo were soft and undercooked. The iced tea was good, though the small cups make for not much liquid once you take into account the ice in them – just not quite enough to wash down the burger. And it's not cheap for a burger – this trio of items came in at 62 pesos, at official exchange rates that makes it a slightly over $12 fast food burger combo, which strikes me as pretty high.
Now, all that said, it struck me that I have no real fast food burger reference with which to compare it. I could say that as of that point, the last time I'd had a fast food burger from one of the big chains was the week that McDonald's introduced the very temporary Arch Deluxe (1996 according to Wikipedia), and prior to that it had probably been since college that I hadn't had one (late 1970s), at which point it was likely a Wendy's burger of some sort. In a way, this reminded me of how I vaguely recalled Wendy's – maybe it was the thin patty thing, and I resolved myself to strike down for a moment my long standing eschewing of said things. So the next day I toddled off to one of the two new Wendy's in town just to see.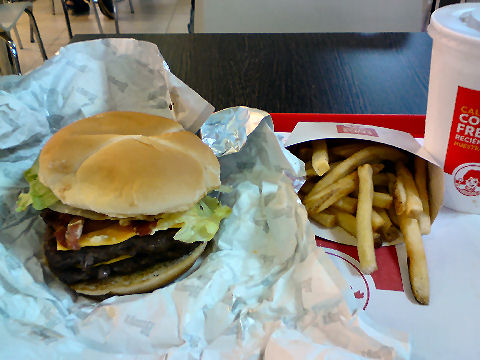 Okay. Dean & Denny's wins hands down. I have this recollection of Wendy's burgers being not all that bad – hot and juicy, topped with crispy cold lettuce and tomato, crispy hot bacon, and melted cheese. I don't know if it's simply that things have changed in the 35+ years since I had one or if its that vastly different here in Argentina versus back in the States, or completely faulty memory. First off, really surly, unpleasant staff at the branch in the Alto Palermo mall. Yeah, I get it that it's the "flavor of the month" (it literally just opened a few weeks ago) and that the Argentines are lining up by the dozens per minute to try it and it's paired KFC counter, and it's in a mall, and you're tired, but get over it. You took the job. Don't like it? Quit. Go do something else. But I didn't see one person behind the counter interacting pleasantly with customers. It also isn't fast. It took more than 10 minutes to get a bacon double cheeseburger. Why? Because I noticed burgers flying out of the kitchen. Because, as the young lady manning the assembly line behind my counter person snapped when asked by said counter person, "I'm making the easy ones first, the ones with all the toppings have to wait until I'm done with those." Neither manager standing by with clipboard in hand said a thing, nor did anything about it, in fact, they seemed about as disinterested in their jobs as the rest of the staff. I also noted that the burger preppers here are barehanded as well and busy doing other things in between burgers, without washing their hands or cleaning their stations.
On to said burger. Two very dried out, nearly chalky pitiful excuses for a burger – the stereotype of what a fast food burger is – though as suspected, individually each was bigger than the combined two at D&D. At least the two collar-stay size pieces of bacon were crisp and hot, and the cheese was melted, and the lettuce and tomato were cold and crisp. The pickle and red onion were simply missing – had I, after taking a bite of this travesty, wanted any more, I might have gone back to the counter to demand their inclusion, but I didn't – want more nor demand. The bun was slathered with so much mayo that for a moment I thought I was back in Santiago. The fries were mealy and tasted of rancid oil (one might note in the photo that the carton of fries seems a bit meager, it wasn't, but some twenty something in line grabbed a handful of mine to feed to her boyfriend – and then apologized, realizing it wasn't her tray, but didn't offer any of hers in return). The included soda was, like the one above, too small of quantity to wash down a meal, thankfully it was enough to wash down a bite, and without asking my nemesis at the counter stuck a coke on my tray – I asked if it could be a different one of the selection of sodas and her retort was, "you should have ordered it, otherwise you get coke". Umm, you should have asked. At least she changed it. I don't know why, but I ordered a small frosty – I remembered that fondly as well – this was a soupy, artificial tasting mess in a cup, not the borderline soft-serve ice cream I recalled from days gone by. The combo trio here came in at 52 pesos, or about $10, still, I think, expensive for a burger combo no? I may just be out of touch with what they cost back in the States.
So, I return to, most importantly, never again eating a fast food burger from one of the big chains; probably not going back to D&D – it wasn't awful or anything, it just wasn't that good, and, the search for a really decent, plump, juicy burger in BA. The last time it happened were the both now long gone The Office and Randall's, the latter of which was basically across the street from Dean & Denny's. Top of the heap, at least as of the last stab at it, is currently Sugar Bar's burger, I'm just not fond of the ambiance at night – though at lunchtime it's perfectly fine.