Monday morning started with a mission. You see, I discovered after two days of snapping a couple of hundred photos (I'm not subjecting you to all of them, trust me), that I didn't have the battery charger with me, and I still have a couple of weeks of travel ahead of me. So, off to the downtown area to try to find a camera or electronics shop – the Olympus website was of no help for finding a dealer – they had one listed for Santiago, but somewhere on the outskirts of town. I figured I'd hit a couple of stores and see if they either had what I needed or had a recommendation. Now see, this is where, despite their protests to the contrary, Argentines and Chileans are very similar. Everyone's extremely helpful, if you're buying from them. But try to get them to recommend someone else when they don't have what you need and they clam up – or, as happened in one camera shop, it was suggested that I just scrap my camera and buy a new one with charger from them.
Eventually I found an older gentleman who recommended a nearby electronics shop, Casa Royal. Now here it gets fun. The salesman I was talking to checked the inventory and found they were out of Olympus chargers. So he began to try out various universal chargers – a process that took a good twenty minutes of him trying one after another to no avail. I asked if there was another possibility, and at this point he tells me that their store in the Plaza Oeste has four of them – but it's an hour and a half away by bus. Still, it might be my only possibility. So he spends another 5-6 minutes figuring out how I can get there by bus (if I don't want an outrageously expensive cab ride), and detailing it for me – but then, he's not sure they really have them in inventory, and no, he can't really call them and check, it'd be too complicated. So, any other possibilities – keeping in mind that I've now spent more than half an hour in this store – and he says, well, our other downtown branch supposedly has three of the chargers, but it's quite possible that they don't have them either. So where is it? Two, count them, two blocks away. I walk out, go the two blocks, they indeed have three chargers from Olympus in stock, I buy one and am out of there in five minutes. I have to curb the NY impulse to go back and cuss him out, ya know?
I do get in a bit of downtown wandering, though the area is not my goal for the day as most of the museums and monuments are closed on Mondays, so I have that slated for Tuesday. But, I snap a few photos…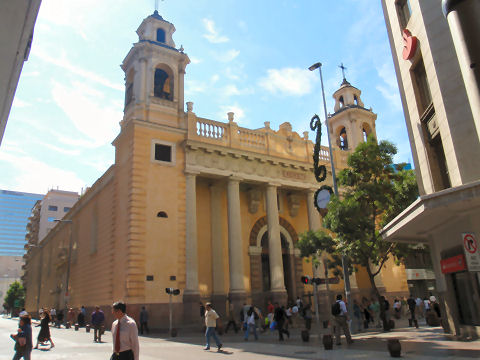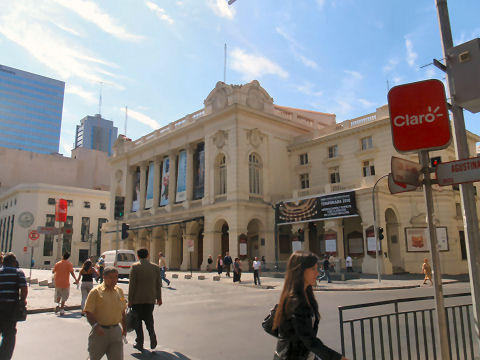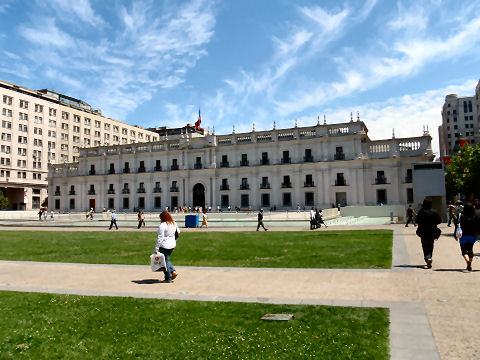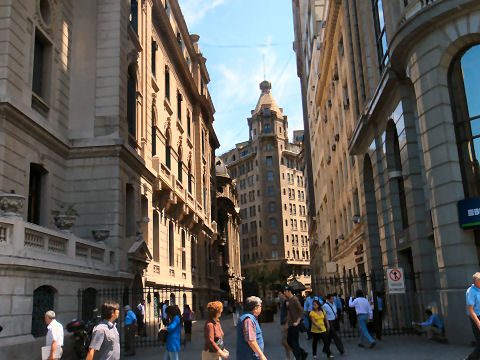 Then it's off to the eastern part of the city and the barrio of Providencia, with the goal in hand of finding Fuente Alemana, touted by many as the holy grail of the lomito sandwich. Have to love the way television makes things look, Bourdain hit this spot too while on his Chilean sojourn and they made it look like this huge, old-time sandwich shop. Turns out when I find it, it's a chrome and gleaming sort of spot on a tree-lined street in the middle of the commercial district. It may indeed have been around for awhile, but it's clearly been updated. And it isn't all that big, seating maybe 20 people at one long lunch counter and a window counter about half as big.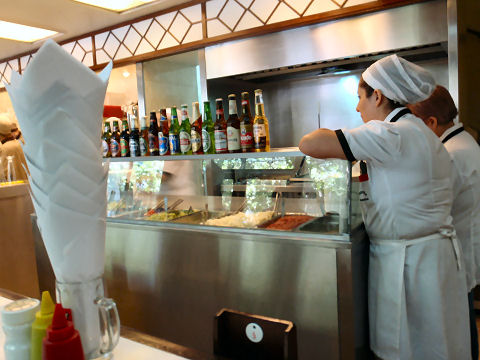 The hair-netted ladies rush for your attention – I have the feeling they're paid by the sandwich – an impression doubled when I go to pay later and my waitress runs over to get her copy of my receipt and carefully puts it on her own little spike. It's all very officious, I wouldn't call them unfriendly, but it certainly isn't a warm welcome, it's just making sandwiches and getting customers in and out. By the way, one of the negatives I discovered in Santiago dining – unlike in BA where you pretty much have the table for as long as you want it, and no one tries to get you to leave or order more, the Santiaguenos are at your table seconds after you finish asking if you want more and if you don't, the check is on the table within a minute, don't let the door hit you on the way out.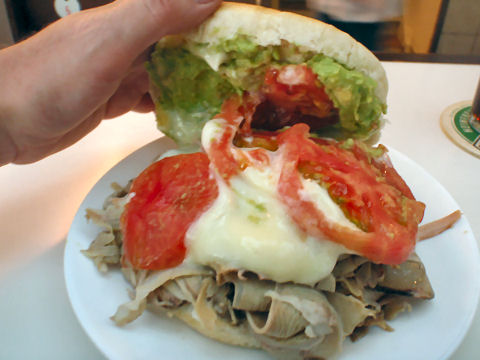 So this is the lomito italiano – a steaming pile of tender as can be pork, likely fresh ham, dripping with its juices, and piled with the tri-colors of Italy, green avocado, white mayo and red tomatoes. And there's a whole lot of mayo on that sandwich – she dipped in a serving spoon that you'd normally use for dishing up a stew and slopped that whole heaping mess on the sandwich – has to be a solid third of a cup of mayo – the sandwich just drips with it. Now, here's the thing. It was a good sandwich. It wasn't a great sandwich. The pork was delicious, the rest of it, well, it was fine. Maybe it was just too much mayo for me. Or maybe Fuente Alemana is one of those traditional places (I think they may have been the originators of this particular sandwich) that holds a place of honor in the hearts of locals and so nobody questions that it's the place to go. I've got to say though, that if this is the best lomito in the city, I'd hate to be eating it anywhere else.
Now see, there I've gone and done it, I'm probably banned from Santiago for life.