No, not cacerolazo, the pot banging method of protest here, but, a "little casserole" – and my favorite dish of this past weekend's menu.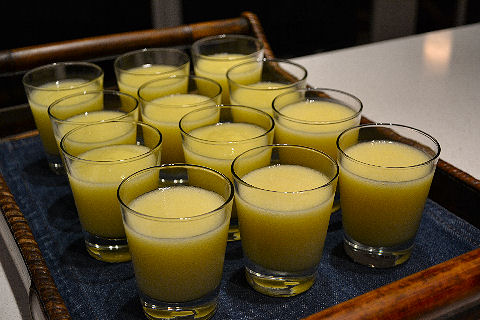 First off, we had a private catering affair for 15 folk in Palermo, where we picked out a menu from past dishes – a ceviche mixto, a gazpacho blanco, eggplant-ricotta filled manicotti with a fresh tomato sauce, seared salmon with napa cabbage, white beans and kiwi relish, and a date, almond and coconut cheesecake. Henry whipped up mango and peach sours for the group to help get them in the mood – it was a company end of year dinner and I don't think they were quite prepared for what their hosts had arranged. All went well!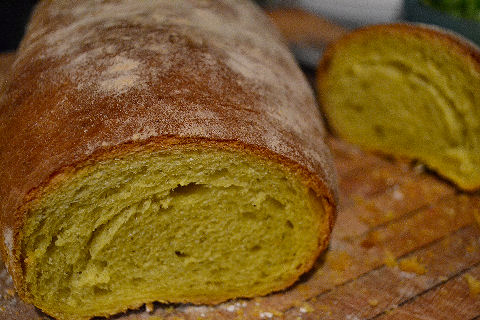 On to the weekend dinners. Saffron bread to accompany the meal, vivid yellow and delicious! And have I mentioned that we've started making our own butter to accompany the bread on the table? We have. Just picturing me, early morning, milking the cow on the patio and then churning away.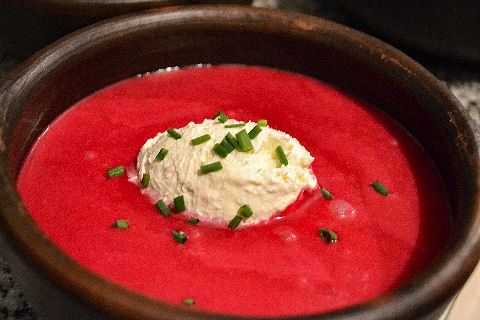 Started them off with a chilled beet soup – made it a little smoother and lighter this time around. And kicked up the spice a touch with the ice cream made with serrano chilies rather than jalapeños, and used honey rather than corn syrup (except one evening when someone was attending who was allergic to honey – that was a new one for me). This was actually, at least from the folk I heard from, the most popular dish of the week. Color me vermillion….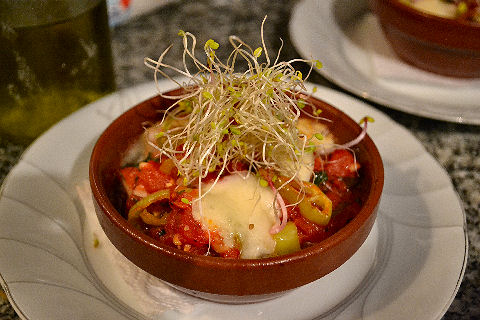 This was the dish of the week for me, and for a good number of the folk who came. A seafood casserole, a take-off on a dish we make in our Greek cooking class. Into each little casserole dish a bit of really good olive oil, then some calamari rings, prawns, and whitefish (hake). Separately sauteed a mix of garlic, dried chilies, sweet peppers, crushed tomatoes and parsley. Let that cool, ladled it over the seafood, topped with diced feta cheese, and then baked in the oven for dinner. Bubbling, spicy, and delicious!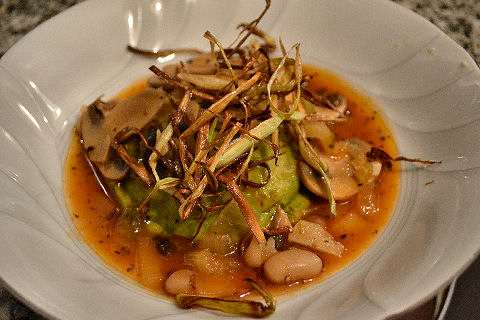 Although this dish got good responses, it was probably the least favorite, though that was, I think, just by comparison (other than one guest who described it as "an amazing wall of flavor that smacks you right in the face"). Spinach pasta dough made into raviolones and filled with a mix of homemade ricotta, charred eggplant, mint, thyme, sesame, and egg. Baked in the oven like a toasted ravioli, just without the breadcrumb or cheese crust. Topped with a mushroom sugo and crispy fried leeks.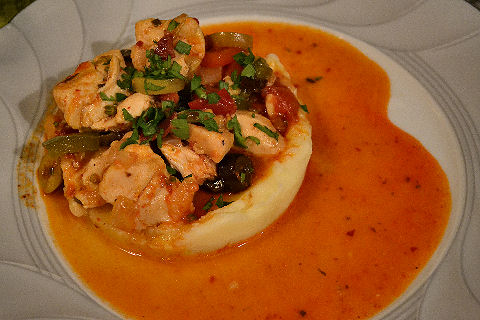 Pollo al chilindrón over mashed potatoes – the only difference, two of the nights there were "no pork" requests, so I used cured, smoked lamb in place of the jamón serrano. I think I might actually like it better that way, and it got me thinking about maybe making a cordero al chilindrón one day – the flavors certainly work with lamb as well as or better than with chicken, and a quick internet search reveals it's already an extant dish, with more links than the chicken version!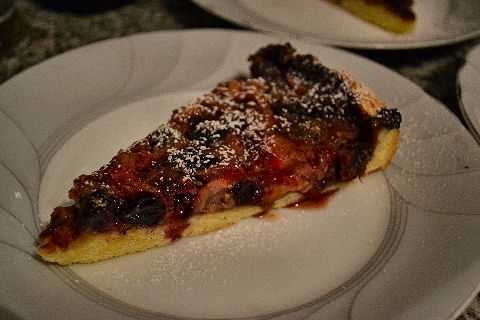 A strawberry, blueberry and walnut tart. I should just stop there. But, since several folk have already asked about the recipe. The crust and the filling are based on the engandiner nusstorte that I've made many a time. I make 2/3 of the crust recipe because I don't need the top crust (120 grams butter, 100 grams sugar, 200 grams flour, pinch of salt, 1 egg). The filling, caramelized 200 grams of sugar, add in a tablespoon of maple syrup, 250 ml heavy cream, bring to a boil to dissolve well. Separately slice 250 grams of strawberries and mix with 250 grams of blueberries, 100 grams of chopped walnuts, and 2 tablespoons of cornstarch (if you don't, the filling stays too liquid from all the fruit juices that come out). Spread out the fruit in the chilled bottom crust (I usually stick it in the freezer for about half an hour while preparing everything else), and then pour the bubbling caramel mixture over it. Into the oven for about 45 minutes and then let it cool, chill it, and serve dusted with powdered sugar.
Now I'm thinking about that seafood cazuelita and trying to decide what to have for lunch… hmmm… maybe a walk up the block to El Burladero.